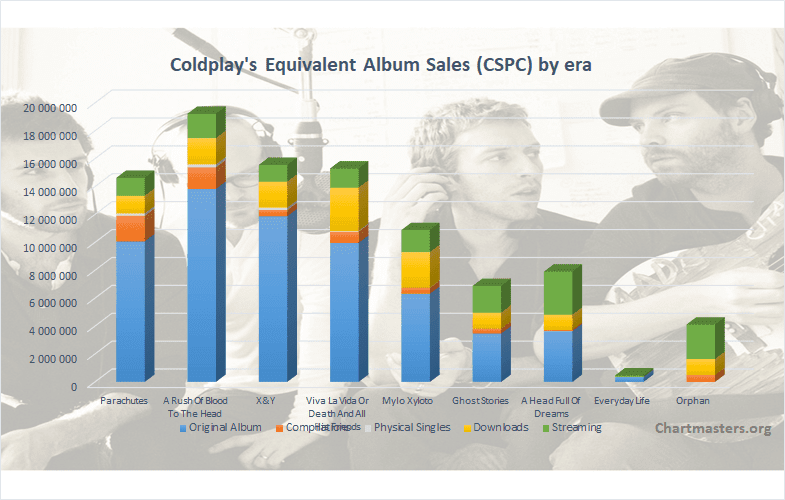 British giants Coldplay are back! After a 4 years hiatus during which they still issued the global smash Something Just Like This, the band returns with their 8th studio album Everyday Life.
While the hype is struggling to build up, Chris Martin and his colleagues know what it means to be successful.
Often called the biggest rock band of the century, is this reputation accurate according to factual data?
Who are Coldplay?
Coldplay are a British Pop / Rock 4-members band led by popular singer Chris Martin. They issued their first album nearly two decades ago, Parachutes, in 2000.
Is the band global?
While the popularity of the band is undisputed in their native UK and several other large markets, the question is often raised for other regions like Latin America and Asia. As we will see throughout this article, their numbers are great everywhere.
What's their signature song?
Coldplay's signature song is hard to identify. They have 5 songs frequently airing on radio: Yellow, The Scientist, Fix You, Viva La Vida and Paradise.
It's easy to overrate the success of an artist. Many journalists love to inflate everything and to write titles more appealing than accurate.
Many would be surprised to know that Coldplay's debut album, Parachutes, never managed to reach the Top 50 chart in the US or in Germany.
This goes against the popular belief that the band has been a massive seller globally from day 1.
They obviously grew a lot since then up to a point where they are capable of grossing over $500 million with one tour only as they did with their A Head Full of Dreams Tour.
This leaves us wondering how popular they really are.
Are their extraordinary touring results matched by their album sales? With popular songs from virtually all their records, what's their biggest era to date? How many 10 million sellers do they have?
As usual, I'll be using the Commensurate Sales to Popularity Concept in order to relevantly gauge their results. This concept will not only bring you sales information for all Coldplay's albums, physical and download singles, as well as audio and video streaming, but it will also determine their true popularity.
If you are not yet familiar with the CSPC method, the next page explains it with a short video. I fully recommend watching the video before getting into the sales figures. Of course, if you are a regular visitor feel free to skip the video and get into the figures.
The Commensurate Sales to Popularity Concept (CSPC)
There are two ways to understand this revolutionary concept. The first is the Scribe video posted below. If you are unaware of the CSPC method, you will get the full idea within just a few minutes.
If you are a mathematical person, and want to know the full method as well as formulas, you can read the full introduction article.
Now let's get into the artist's sales figures in detail in order to apply this concept and define the act's true popularity!
Coldplay Albums Sales

Original Album Sales – Comments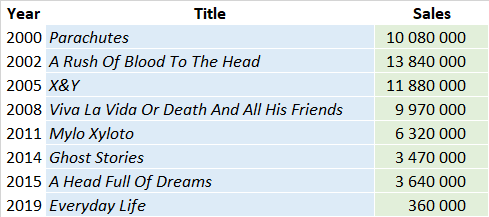 From its August 2002 release to the end of March 2003, A Rush Of Blood To The Head sold 5,6 million copies worldwide. By March 31 2004, it was up to 9,1 million copies.
Why do I mention these old figures from EMI Annual Reports? Mostly for two reasons.
Firstly, because it shows very well how the combination of a modern day classic plus the absence of a greatest hits package generates massive catalog sales, as this album is now up to a huge 13.84 million units.
Secondly, because it reveals that more recent albums like A Head Full Of Dreams, aren't complete bombs in comparison.
In fact, it sold roughly 40% of the amount sold by A Rush Of Blood To The Head in the same time-frame despite a worse market environment for album sales.
This will get very clear later in this article with A Head Full Of Dreams benefiting way more from streaming than the 2002 blockbuster.
The same can be said of pretty much all their albums. All of them were proportionally successful upon release – although Parachutes had yet to break the main audience outside a few countries like the UK – and all of them keep going strong year after year.
Coldplay's ongoing popularity added to the unavailability of a compilation does wonders, with Viva La Vida soon to be their 4th 10 million seller and their cumulative tally soon to hit 60 million.
In the other side, due to both lack of interest and dreadful market conditions, Everyday Life seems unlikely to add much. Initial results suggest a net shipment granted of 360,000 units so far, but it will need some legs to go any higher.
Coldplay Songs Sales

Physical Singles Sales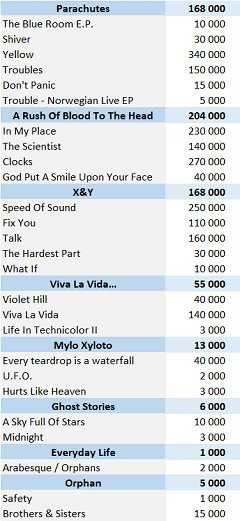 As a reminder, the weighting is done with a 10 to 3 ratio between one album and one physical single.
Coldplay became a huge worldwide phenomenon in 2002 thanks to A Rush Of Blood To The Head.
At that time, physical sales had started their downward spiral but they were still quite relevant in countries like the UK, France or Germany.
As the group was clearly an album selling act, they were unable to fully exploit this market.
Their biggest hits, like Yellow and Clocks, sold roughly 300,000 units a piece. This is anecdotical in comparison to how many album sales each of them fueled.
It's still interesting to note that The Scientist, possibly their most well known song, sold at first less than In My Place and Clocks.
Naturally, with this format now pretty much dead, singles from this decade sold close to nothing.
In total, the band moved an estimated total of 2.05 million copies of all their singles in physical forms.

Digital Songs

As a reminder, the weighting is done with a 10 to 1,5 ratio between one album and one digital single.
Adele and Ed Sheeran apart, there have been no true blockbuster in years. While the quick – and wrong – conclusion would be that it is due to the market collapse, the fact no album really destroys the competition anymore is due to the distribution of the consumption in the digital World.
Sometimes you only need to check one example to understand the whole story.
In the past, we used to heavily concentrate our music purchases into a dozen of albums per year. Nowadays, instead of buying a few records, we listen to thousands of tracks.
As shown by their early years, Coldplay never managed to be a big selling physical singles act, selling albums instead.
This separation of "singles acts" and "albums acts" doesn't exist anymore with digital sales. Indeed, the band moved truly huge numbers in tracks downloads from the very first days of iTunes.
On the back of catalog sales alone, at least one song from each of their first three albums sold 4,5 million or more. Yellow, The Scientist, Clocks, Fix You, they all did it.
The band isn't about a few hits only though, songs from these albums sold past 33 million downloads and ringtones cumulatively.
Then came the album Viva La Vida which got released when digital sales were booming.
The title track was absolutely massive, shifting over 14 million units to date. Remaining songs push the album total of singles sales to over 20 million.
Yellow, Clocks/The Scientist, Speed of Sound, Viva La Vida… it is difficult to maintain a string of insanely popular singles with each era as they did.
These songs weren't all chart toppers as physical singles sales were purchased almost exclusively by teens in early 00s, but all of them have been an impressively efficient traction for album sales.
With Mylo Xyloto, the unstoppable train that pushed the Coldplay-machine to one more successful era was Paradise.
This song sold many millions less than Viva La Vida in the US and in South Korea, but it was just as massive elsewhere, en route for nearly 8 million units sold to date.
Both the lower success of Ghost Stories' singles as well as the sharp drops of the downloads market prevented subsequent singles to climb as high as Paradise.
Coldplay still recorded at least two 2 million sellers from each era, including two singles from A Head Full Of Dreams, which is now a way more difficult achievement than it was a few years ago.
Their last hit in collaboration with the hyped duo Chainsmokers, Something Just Like This, is up to 4.2 million units, a tremendous number for late 2017 standards.
In total, the British Pop / Rock band sold 94 million digital singles. Even if this format is dying, the group still has a chance to break the 100 million barrier at some point.

Streaming
Streaming is made up of audio and video streams. Our CSPC methodology includes both to better reflect the real popularity of each track. The main source of data for each avenue is respectively Spotify and YouTube. To factor in the growing impact of multiple Asian countries where these platforms aren't always the go-to site for music streaming, more sources have been added.
In order to account for their real popularity in each relevant country, the below sources have been used along with the mentioned ratios that reflect the market share of each area.
Audio Streams
– South Korea : Genie streams * 3.05 (consistent with Gaon streaming numbers)
– Japan : AWA streams * 100/5.5 (AWA has 5.5% of the Japanese streaming market)
– Elsewhere : Spotify streams * (370 – 8.5 – 9.5 – 33 – 9) / 207 (370 million global subscribers minus 8.5 million from South Korea minus 9.5 million from Japan minus 33 million from China divided by the number of Spotify only users minus 9 million more Asian users) + Genie streams * 3.05 (uses Genie rather than Spotify to extrapolate markets like Taiwan, Thailand and Vietnam)
Video Streams
– China* : Xiami streams * 125/6.5 (Xiami has just over 5% of the Chinese streaming market)
– Elsewhere : Youtube views
*since 96.4% of Chinese streaming platforms are free users, that paid-for users pay less than $2 a month and that they are also used as video streaming platforms, their streams are weighted in par with YouTube streams.
Audio Stream value – 1500 plays equal 1 album unit
Video Stream value – 11,750 views equal 1 album unit
Equivalent Albums Sales (EAS) = ( Spotify * 310/207 + Genie * 3.05*2 + AWA * 100/5.5 ) / 1500 + ( Xiami * 125/6.5 + YouTube ) / 11750
Top Hits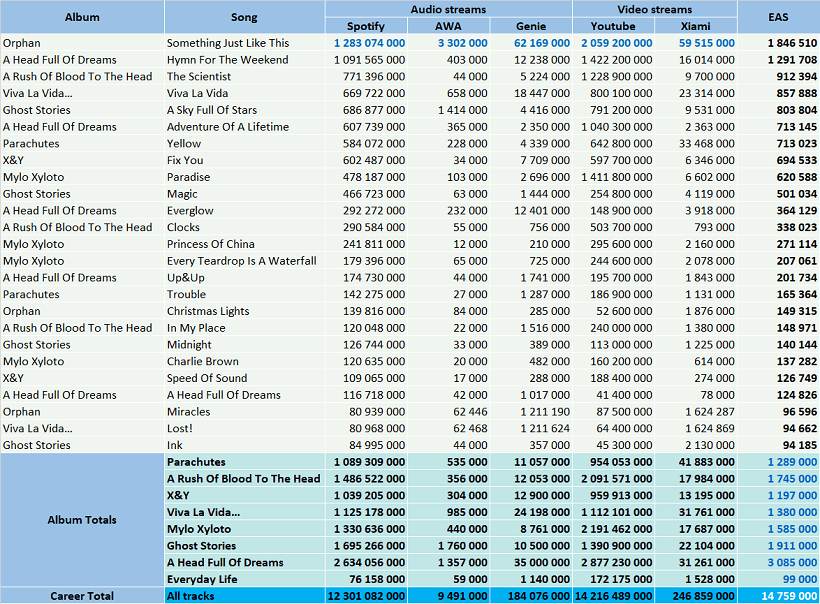 Something Just Like This is Coldplay's only proper single to have been released after the explosion of streaming and which still got the time to live its entire life.
It thus comes at an expected number one spot among their top streaming songs, although the amazing results of their older hits imply it still had to do extraordinary to reach this ranking.
In fact, the song stands at nearly 1.3 billion streams on Spotify alone, plus over 2 billion streams on YouTube.
The contribution of the Chainsmokers, a highly popular group in Asia, grants the song an even larger lead on AWA (Japan), Genie (South Korea) and Xiami (China).
All in all, this hit records a terrific 1.85 million EAS from streams.
Hymn For The Weekend is a massive runner up, also registering over 1 billion streams on both Spotify and YouTube.
On the latter platform, The Scientist, Paradise and Adventure Of A Lifetime are all in 10 digits as well. Viva La Vida, A Sky Full Of Stars, Fix You, Yellow and Clocks crack 500 million each.
All these songs are enjoying huge recurrent streams everywhere. As a result, a song like Yellow is only their 8th top hit on Spotify in spite of 585 million streams, a tremendous number for anyone else.
The band has several super successful songs, but also a stunning consistency.
Album totals show that each of their first 7 million scores 1.2 million or more EAS from streams. Absolutely amazing.
Their leader on this category is their last fully exploited album, A Head Full Of Dreams, which blows past 3 million.
Overall, their discography adds for 14.76 million EAS on this format, a tally which keeps booming day after day.
Here too their last output, Everyday Life, is struggling so far though. At the moment, it's reaching 100,000 units, but none of the singles has been able to receive some momentum.
Full catalog breakdown
If you are familiar with the artist's catalog and want to check details of each and every song, you can access to all of them right here.
Keep yourself up to date
Our website provides you a fantastic tool which fetches updated Spotify streams as you request them, use it to watch these results grow day after day!
Coldplay compilations sales
It sounds fairly logical to add together weighted sales of one era – studio album, physical singles, downloads, streams – to get the full picture of an album's popularity. For older releases though, they also generate sales of various live, music videos and compilation albums.
All those packaging-only records do not create value, they exploit the value originating from the parent studio album of each of its tracks instead. Inevitably, when such compilations are issued, it downgrades catalog sales of the original LP.
Thus, to perfectly gauge the worth of these releases, we need to re-assign sales proportionally to its contribution of all the compilations which feature its songs. The following table explains this method.
The distribution process

How to understand this table? If you check this example of Live, these figures mean it sold 2,290,000 units worldwide. The second statistics column means all versions of all the songs included on this package add for 1,528,135 equivalent album sales from streams of all types.
The second part on the right of the table shows how many equivalent streams are coming from each original album, plus the share it represents on the overall package.
Thus, streaming figures tell us songs from Parachutes are responsible for 54% of the Live tracklist attractiveness, which means it generated 1,234,000 of its 2,290,000 album sales, and so on for the other records.
Compilations sales figures listing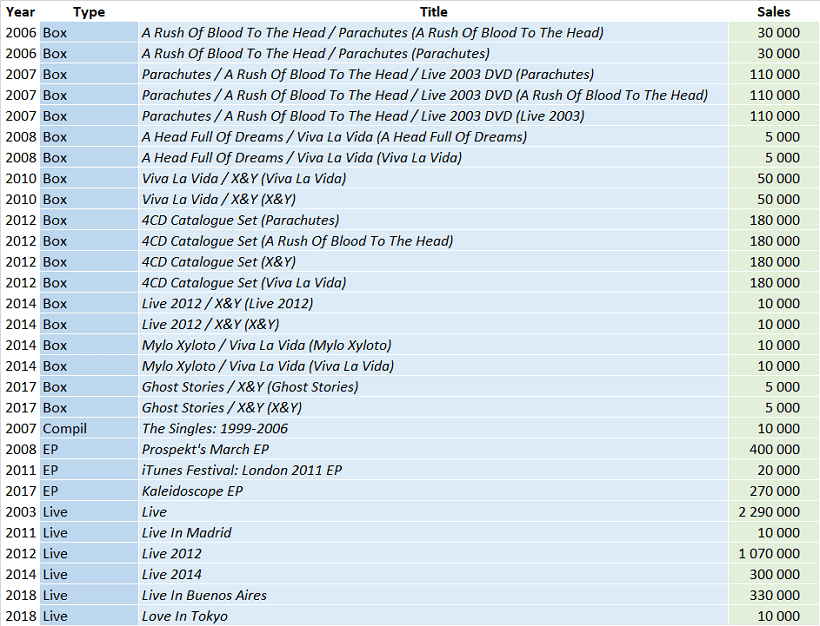 Full Length related records Sales – Summary

Here is the most underestimated indicator of an album's success – the amount of compilation sales of all kinds it generated. Due to the dependency of sales of the original studio albums on these releases, they are a key piece of the jigsaw
These numbers are obtained by applying the method from the section The distribution process to all packages listed under Compilation sales figures listing category.
Total solo Album (all types) Sales per Country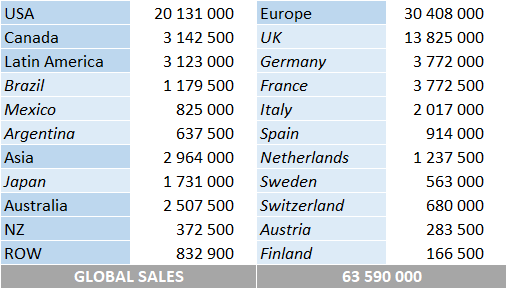 Please note country-specific numbers may miss sales of some minor releases, although continental and global totals are complete.
Coldplay Career CSPC Results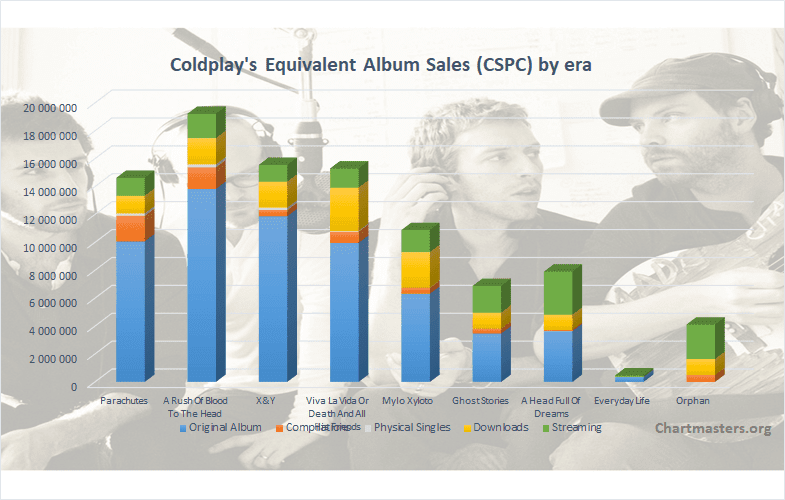 So, after checking all the figures, how many overall equivalent album sales has each album by Coldplay achieved? Well, at this point we hardly need to add up all the figures defined in this article!
In the following table, all categories display figures that way, e.g. in equivalent album sales. For example, singles from Mylo Xyloto released in digital format sold the equivalent of 2,547,000 album albums – 16,980,000 downloads with a 10 to 1,5 weighting.

As a reminder:
Studio Album: sales of the original album
Other Releases: sales of compilations generated thanks to the album
Physical Singles: sales of physical singles from the album (ratio 3/10)
Download Singles: sales of digital singles from the album (ratio 1,5/10)
Streaming: equivalent album sales of all the album tracks (ratio 1/1500 for Audio stream and 1/11750 for Video stream)
The current totals of Coldplay's albums are already superb. What's even greater is that they all continue to rack up significant sales year after year.
At this game, A Rush Of Blood To The Head is ever closer to 20 million EAS. Home of iconic songs like The Scientist and Clocks, the LP is now at 19.2 million.
The runner up spot is highly contested with stiff competition from 3 mega hit albums, Parachutes, X&Y and Viva La Viva Or Death And All His Friends.
At 15.56 million, the 2005 effort still has the lead, but since it's the weakest – or better, the less strong – performer on streaming, chances are that it will be topped at some point.
Parachutes is poised to reach 15 million during 2020, that will be their 4th album to reach this plateau, something that only Eminem did in this millennium.
Mylo Xyloto eclipsed the 10 million EAS too to join its four predecessors. The song Paradise and a solid tracklist also makes it the 2nd strongest album among their first 5 on streaming, a very positive sign for the future.
The initial disappointment of Ghost Stories is now well behind us. A Sky Full Of Stars turned things around for this era which now posts nearly 7 million EAS.
On its side, A Head Full Of Dreams is still very hot, possibly their fastest growing record lately as Hymn For The Weekend is now part of their classics.
The LP as a whole is on its way to reach 8 million EAS and breaking the 7 digits milestone may be only a matter of time.
Things are looking much less positive for Everyday Life. Numbers are quite disastrous so far and the lack of commercial appeal of most of its songs limits its chances of gaining traction.
Indeed, the album is now being called an experimental side project, which makes it feel like the label will soon give up promoting it.
Nevertheless, their discography shots to 94,971,000 equivalent album sales. Considering the strength of their catalog, it's only a matter of months until they move over 100 million.
With these sales, they pass several major rock bands, most notably Nirvana and the Red Hot Chili Peppers.
Singles CSPC results
The list is compiled in album equivalent sales generated by each song. Therefore, these figures are not merged units of singles formats. Instead, it includes weighted sales of the song's physical single, download, ringtone and streaming as well as its share among sales of all albums on which it is featured.
1. 2008 – Coldplay – Viva La Vida [Viva La Vida Or Death And All His Friends] – 9,620,000
2. 2002 – Coldplay – The Scientist [A Rush Of Blood To The Head] – 9,100,000
3. 2005 – Coldplay – Fix You [X&Y] – 8,840,000
4. 2000 – Coldplay – Yellow [Parachutes] – 8,590,000
5. 2002 – Coldplay – Clocks [A Rush Of Blood To The Head] – 4,520,000
6. 2011 – Coldplay – Paradise [Mylo Xyloto] – 4,450,000
7. 2015 – Coldplay & Beyoncé – Hymn For The Weekend [A Head Full Of Dreams] – 3,220,000
8. 2014 – Coldplay – A Sky Full Of Stars [Ghost Stories] – 3,020,000
9. 2017 – Chainsmokers & Coldplay – Something Just Like This [Orphan] – 2,780,000
10. 2015 – Coldplay – Adventure Of A Lifetime [A Head Full Of Dreams] – 1,950,000
10. 2005 – Coldplay – Speed Of Sound [X&Y] – 1,950,000
12. 2002 – Coldplay – In My Place [A Rush Of Blood To The Head] – 1,870,000

If you feel inspired by this list, we just created this CSPC Coldplay playlist on Spotify!
Discography results
Thanks to our new ASR (Artist Success Rating) concept, we know that their sales represent 20.57 million times the purchase of their entire discography. Coupled with their total sales, it translates into an ASR score of 250.
It is similar to the score of artists like John Lennon and the Red Hot Chili Peppers. The ranking of all artists studied so far is available too at this link.
Records & Achievements
At 94,971,000 EAS, Coldplay are the most successful rock band to debut in the last 30 years.
At 94,971,000 EAS, Coldplay are the 3rd most successful act to debut in the last 20 years.
At 66,326,000 EAS, Coldplay's 00s catalog is the 3rd most successful from this decade.
At 14,632,000 EAS, Parachutes is among the 10 most successful albums of 2000.
At 19,228,000 EAS, A Rush Of Blood To The Head is the 4th most successful album of 2002.
At 15,559,000 EAS, X&Y is the 2nd most successful album of 2005.
At 15,305,000 EAS, Viva La Vida Or Death And All His Friends is the 4th most successful album of 2008.
At 10,884,000 EAS, Mylo Xyloto is the 5th most successful album of 2011.
At 6,879,000 EAS, Ghost Stories is among the 10 most successful albums of 2014.
At 7,905,000 EAS, A Head Full Of Dreams is the 4th most successful album of 2015.
At 8,590,000 EAS, Yellow is among the 10 most successful songs of 2000.
At 9,100,000 EAS, The Scientist is the 3rd most successful song of 2002.
At 8,840,000 EAS, Fix You is the most successful song of 2005.
At 9,620,000 EAS, Viva La Vida is the most successful song of 2008.
At 4,450,000 EAS, Paradise is the 4th most successful song of 2011.
At 3,220,000 EAS, Hymn For The Weekend is among the 10 most successful songs of 2015.
At over 3 million EAS, Something Just Like This is the 4th most successful song of 2017.
At 7, Coldplay have the most albums over 1 billion streams on Spotify among rock artists.
At 8, Coldplay have the most studio albums to hit #1 in the UK without ever missing the top.
NB: EAS means Equivalent Album Sales.
You may be interested in…
… best-selling artists, albums, and singles
To improve your navigation we created several amazing cross-artists lists posted inside the CSPC: Data Collector article. Click on it to see the full listing of all CSPC results compiled so far!
… similar artists
To put figures from this article into perspective, click on the images below to reach career breakdowns of similar artists: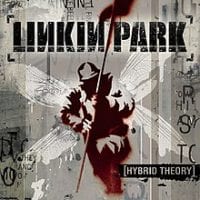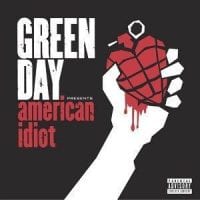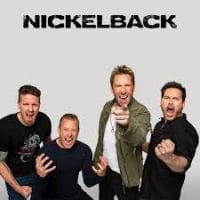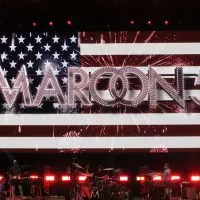 As usual, feel free to comment and / or ask a question!
Sources: IFPI, Spotify, YouTube, Discogs.