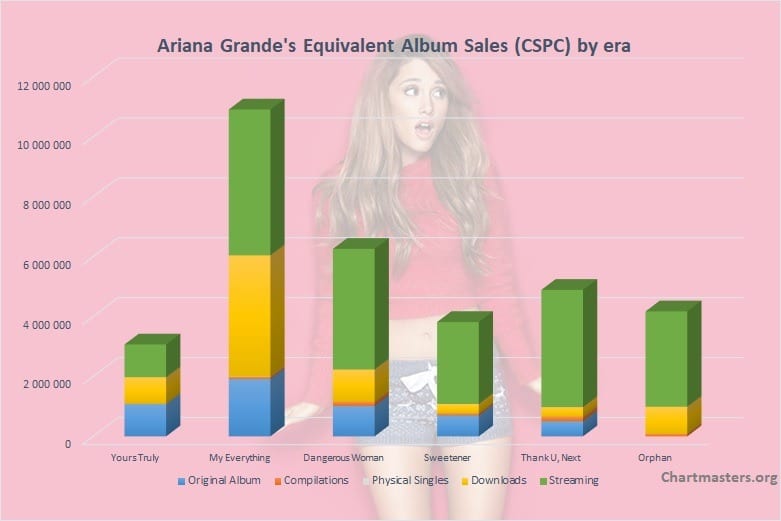 Whether it's for her music or for her personal life, the name Ariana Grande has been inescapable all year-long.
Having released two successful records within the past 14 months, the pop superstar is showing no signs of slowing down.
How successful are those records, though? How does she compare to her peers? We'll find out shortly!
Having amassed 14 Top 10 hits since her debut in 2013, Ariana Grande has impressively turned into one of the defining acts of the late 2010s.
Earlier this year, we updated the former teen star's sales figures, as well as her streaming numbers. That was just a week prior to the release of her latest album, Thank U, Next. Clearly, a lot has changed since then.
Since its release, the pop diva scored her fourth #1 album in the US, as well as another Top 3 hit with Break Up with Your Girlfriend, I'm Bored. How much has the album sold to date, though? Have expectations been fulfilled?
As usual, I'll be using the Commensurate Sales to Popularity Concept in order to relevantly gauge her results. This concept will not only bring you sales information for all Ariana Grande's albums, physical and download singles, as well as audio and video streaming. In fact, it will also determine their true popularity.
If you are not yet familiar with the CSPC method, below is a nice and short video of explanations. I fully recommend watching it before getting into the sales figures. Of course, if you are a regular visitor feel free to skip the video and get into the numbers directly.
The Commensurate Sales to Popularity Concept (CSPC)
There are two ways to understand this revolutionary concept. The first is the Scribe video posted below. If you are unaware of the CSPC method, you will get the full idea within just a few minutes.
If you are a mathematical person, and want to know the full method as well as formulas, you can read the full introduction article.
Now let's get into the artist's sales figures in detail in order to apply this concept and define the act's true popularity!
Ariana Grande Album Sales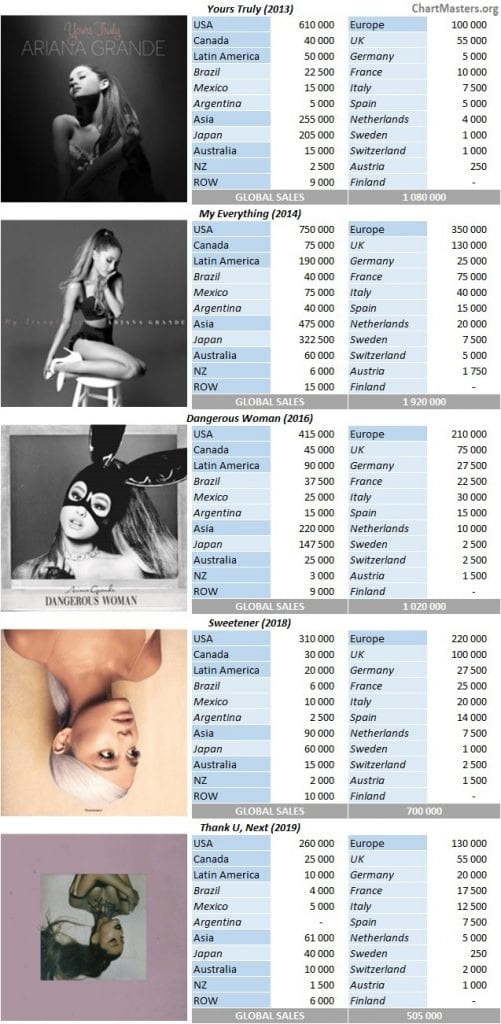 Original Album Sales – Comments

Having released 5 studio albums already, Ariana Grande's album sales stand at just over 5,2 million units. Clearly, an average of barely 1 million per album doesn't seem to be so impressive.
However, pure sales aren't how the music industry works anymore. Pure album sales are now something of the past. Artists who first debuted after the arrival of streaming never got the chance to amass fans who buy their records. Young artists tend to attract young followers and Ariana Grande is no exception. These young followers have never been into purchasing albums.
That being said, one has to applaud the consistency of her album sales. For an artist who debuted in 2013 and only got truly big in recent years, these numbers are nothing to be ashamed about.
The diva's top seller, My Everything, was the 13th best-selling album of 2014, shifting 1,8 million units that year. Though not as big, 2016's Dangerous Woman was the 28th best-selling album that year with 0,9 million units.
The last two albums Sweetener and Thank U, Next. came out when streaming was already inevitable. Naturally, they sold less than their predecessors although their numbers are still respectable by today's standards.
When looking at the pure sales of those records, one would assume Ariana Grande's popularity hit an all-time low with Thank U, Next. Is that really the case, though?
We notice once again that looking at results from every format before drawing conclusions is fundamental. Let's continue our study with singles' formats.
Ariana Grande songs sales

Physical Singles
As a reminder, the weighting is done with a 10 to 3 ratio between albums and digital singles.
In our goal of accuracy and reliability we need to study physical singles sales of an artist even if this format has been dead throughout the career of the artist being studied. This is exactly the case for Ariana Grande who has been around since 2013, years after the collapse of this market.
She still has 5 singles which have been issued in CD format. Three have got regular releases in continental Europe, Problem, Bang Bang, and the recent No Tears Left To Cry, which amassed some sales mostly from Germany, estimated in 15,000, 10,000, and 5,000 respectively.
Then she had two specific releases of singles paired with a poster, The Way (10,000) in the US and Focus (3,000) in Japan. Naturally, all these releases sold very few copies.
The three singles from Thank U, Next all got limited vinyl released through her website (3,000 copies each).

Digital Songs

As a reminder, the weighting is done with a 10 to 1,5 ratio between albums and digital singles.
Ariana Grande started strong in the US with the 2 million selling single The Way. She failed to generate interest abroad though. Her subsequent singles have not been successful even in the US. Thanks to the massive market of downloads by 2013 it was still enough to sell nearly 5.9 million units from songs of Yours Truly.
The era My Everything was both more consistent and more global. She became big in various markets such as the UK, South Korea, Japan, Brazil, and Mexico. The result is amazing.
Problem featuring Iggy Azalea is at 8.67 million sales while Bang Bang with Jessie J and Nicki Minaj sold over 7.3 million. Four more songs sold well also, Break Free, One Last Time, Love Me Harder, and Best Mistake combine for an impressive 10 million units.
In total, songs from My Everything sold a sublime 27 million. This is all the more impressive considering that download sales were declining strongly by 2014/2015 as streaming began to take over.
Speaking about the market going downhill, by 2016 downloads were already the shadow of what they used to be 5 years earlier. This limited a lot the impact of singles from Dangerous Woman, which by themselves were also not as strong as their predecessors. The title track, at nearly 2 million, Side To Side, at 2.48 million, and Into You at 1.6 million still moved great numbers. Remaining songs haven't been as strong although they contribute into the era total of 7.2 million.
From Sweetener, No Tears Left To Cry sold very well, even if very well by 2018 standards is only a bit more than a million. Among other tracks, Santa Tell Me leads the way thanks to booming success in South Korea year after year.
Impressively, the songs from Thank U, Next. have managed to top those of Sweetener in terms of total sales. Although no song has reached seven digit figures yet, these numbers are very respectable given how obsolete downloads are in the year 2019.
In total, Ariana Grande has sold nearly 50 million downloads and ringtones – a very respectable total for someone who missed out on the peak years of those.

Streaming
Streaming is made up of audio and video streams. Our CSPC methodology includes both to better reflect the real popularity of each track. The main source of data for each avenue is respectively Spotify and YouTube. To factor in the growing impact of multiple Asian countries where these platforms aren't always the go-to site for music streaming, more sources have been added.
In order to account for their real popularity in each relevant country, the below sources have been used along with the mentioned ratios that reflect the market share of each area.
Audio Streams
– South Korea : Genie streams * 3.05 (consistent with Gaon streaming numbers)
– Japan : AWA streams * 100/5.5 (AWA has 5.5% of the Japanese streaming market)
– Elsewhere : Spotify streams * (370 – 8.5 – 9.5 – 33 – 9) / 207 (370 million global subscribers minus 8.5 million from South Korea minus 9.5 million from Japan minus 33 million from China divided by the number of Spotify only users minus 9 million more Asian users) + Genie streams * 3.05 (uses Genie rather than Spotify to extrapolate markets like Taiwan, Thailand and Vietnam)
Video Streams
– China* : Xiami streams * 125/6.5 (Xiami has just over 5% of the Chinese streaming market)
– Elsewhere : Youtube views
*since 96.4% of Chinese streaming platforms are free users, that paid-for users pay less than $2 a month and that they are also used as video streaming platforms, their streams are weighted in par with YouTube streams.
Audio Stream – 1500 plays equal 1 album unit
Video Stream – 11,750 views equal 1 album unit
Equivalent Albums Sales (EAS) = ( Spotify * 310/207 + Genie * 3.05*2 + AWA * 100/5.5 ) / 1500 + ( Xiami * 125/6.5 + YouTube ) / 11750
Top Hits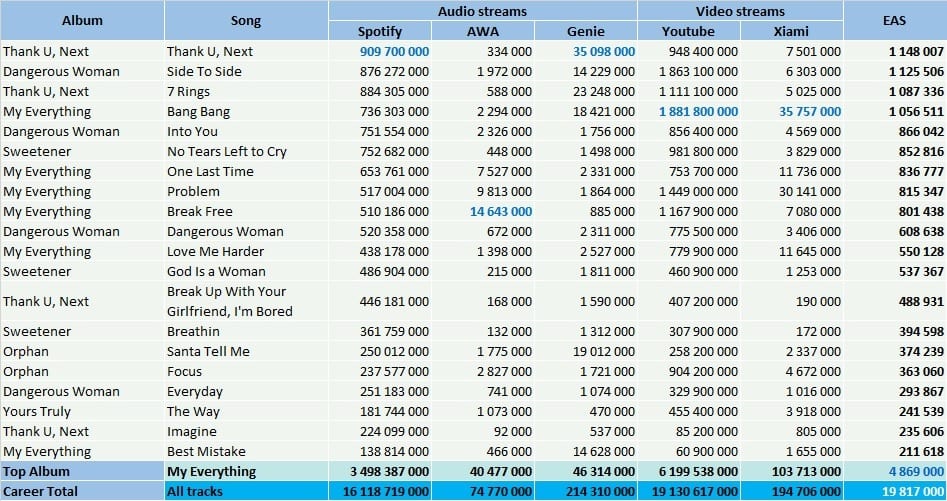 This list sums up perfectly why pure album sales aren't the be-all and end-all of success in our day and age. The three singles from Thank U, Next. are responsible for nearly 3 million EAS!
On Spotify, the smash hit Thank U, Next. has now break the 900 million barrier. 7 Rings and Side to Side will soon join it at 884 million and 876 million streams, respectively. These three songs will all join the 1 billion club by next year.
But Ariana Grande's tremendous streaming power goes beyond those songs. Impressively, Into You, No Tears Left To Cry and Bang Bang are all in the 750 million range.
Streaming was hardly at its peak in 2014, but that's not stopping the singles from My Everything from achieving huge numbers. One Last Time, Break Free and Problem are all in the 650-500 million range, with Love Me Harder coming close at 438 million streams.
On YouTube, Ariana Grande also does wonders. Thank U. Next. is nearing 1 billion views less than a year after its release, while 7 Rings is already at 1.111 billion views in less than 9 months. Impressive!
At nearly 2 billion views, Bang Bang is the diva's most viewed video. Also from My Everything, Problem and Break Free both perform impressively well at 1,449 and 1,167 billion views, respectively.
In China (Xiami), Ariana Grande does rather well with 4 songs at over 10 million streams. As far as international pop divas go, only Taylor Swift has more at 8. Bang Bang remains her biggest song with 35 million streams.
In South Korea, she is extremely popular, too. Thank U, Next. is her leader at a massive 35 million streams with 7 Rings coming at second place. Santa Tell Me is surprisingly her third biggest track in the country with nearly 20 million streams.
In Japan, Break Free remains her strongest song, which is not surprising given the massive success of My Everything in that country. The songs from Thank U, Next. have truly underperformed with the two biggest songs representing less than 1 million streams combined.
Album-wise My Everything is her strongest streaming effort at nearly 5 million EAS.
Full catalog breakdown
If you are familiar with the artist's catalog and want to check details of each and every song, you can access to all of them right here.
Keep yourself up to date
Our website provides you a fantastic tool which fetchs updated Spotify streams as you request them, use it to watch these results grow day after day!
Ariana Grande compilations sales
It sounds fairly logical to add together weighted sales of one era – studio album, physical singles, downloads, streams – to get the full picture of an album's popularity. For older releases though, they also generate sales of various live, music videos and compilation albums.
All those packaging-only records do not create value, they exploit the value originating from the parent studio album of each of its tracks instead. Inevitably, when such compilations are issued, this downgrades catalog sales of the original LP.
Thus, to perfectly gauge the worth of these releases, we need to re-assign sales proportionally to its contribution of all the compilations which feature its songs. The following table explains this method.
The distribution process

How to understand this table? If you check this example of the The Best line, those figures mean it sold 100,000 units worldwide. The second statistics column means all versions of all the songs included on this package add for 8,311,698 equivalent album sales from streams of all types.
The second part on the right of the table shows how many equivalent streams are coming from each original album, plus the share it represents on the overall package.
Thus, streaming figures tell us songs from My Everything are responsible for 51% of The Best tracklist attractiveness, which means it generated 51,000 of its 100,000 album sales and so on for the other records.
Compilations sales figures listing

Full Length related records Sales – Summary
Here is the most underestimated indicator of an album's success – the amount of compilation sales of all kinds it generated. Due to the dependency of sales of the original studio albums on these releases, they are a key piece of the jigsaw.
These numbers are obtained by applying the method from the section The distribution process to all packages listed under Compilation sales figures listing category.
Chinese downloads are weighted as per their price, at selling price / 50, which is roughly 0.4 for Ariana Grande's albums.
Total Album (all types) Sales per Country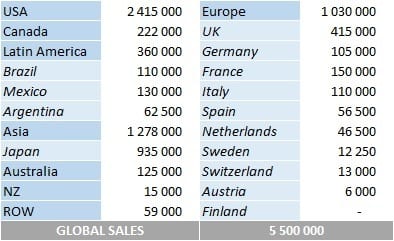 Please note country-specific numbers may miss sales of a few minor releases, although totals are complete.
Ariana Grande Career CSPC Results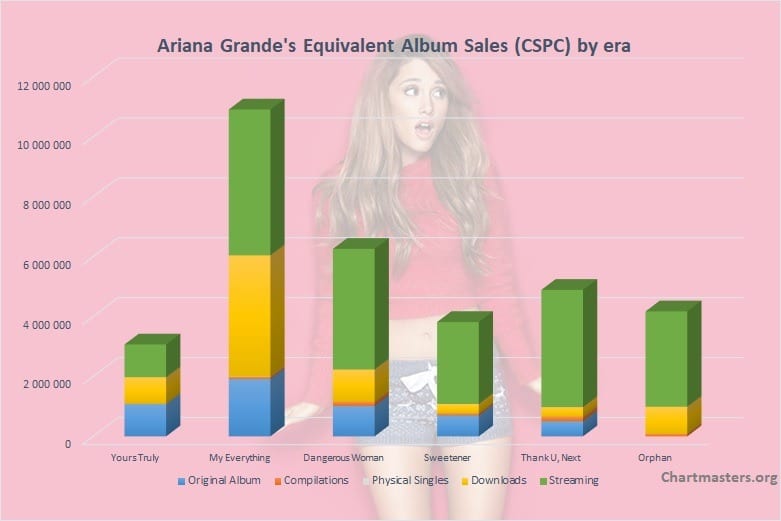 So, after checking all the figures, how many overall equivalent album sales has each Ariana Grande album achieved? Well, at this point we hardly need to add up all of the figures defined in this article!
Albums CSPC results
In the following table, all categories display figures that way, e.g. in equivalent album sales. For example, singles from My Everything released in digital format sold the equivalent of 4,050,000 albums – 27,000,000 downloads with a 10 to 1,5 weighting.

As a reminder:
Studio Album: sales of the original album
Other Releases: sales of compilations generated thanks to the album
Physical Singles: sales of physical singles from the album (ratio 3/10)
Download Singles: sales of digital singles from the album (ratio 1,5/10)
Streaming: equivalent album sales of all the album tracks (ratio 1/1500 for Audio stream and 1/11750 for Video stream)
And there we have it! In only 9 months, Ariana Grande's career total has increased from 26,80 million to 33,11 million. This is mostly thanks to the release of Thank U, Next, but outgoing streams from past albums have also helped.
At nearly 11 million EAS, My Everything is among the Top 5 albums released in 2014, only surpassed by blockbusters such as Ed Sheeran's X and Taylor Swift's 1989.
Since the last update earlier this year, Yours Truly and Dangerous Woman have now surpassed 3 and 6 million, respectively. More impressively, Thank U, Next. is nearing 5 million less than a year after its release and should get there in no time.
We mentioned earlier that pure album sales aren't the be-all and end-all of success in our day and age. This is proven once again by the fact that Thank U, Next. sold about 27% less than Sweetener in original album format, yet the former easily overtakes the latter in overall consumption!
The commercial reception of Dangerous Woman was often considered cold. Its 6,2 million equivalent album sales to date surely prove otherwise. Sure, it is lower than My Everything, but it was easily strong enough to grant a heavy anticipation for her next era and keep her hey-days well alive.
When we first reviewed her career in November 2017, she was at 18,36 million units. She was then a teen star a la Demi Lovato and Selena Gomez, now she is a global pop star about to surpass the career total of veteran diva Kylie Minogue. That's how big Ariana Grande has become.
Singles CSPC results
The list is compiled in album equivalent sales generated by each song. Therefore, these figures are not merged units of singles formats. Instead, it includes weighted sales of the song's physical single, download, ringtone and streaming as well as its share among sales of all albums on which it is featured.
1. 2014 – Jessie J, Ariana Grande & Nicki Minaj – Bang Bang [My Everything] – 2,590,000
2. 2014 – Ariana Grande ft. Iggy Azalea – Problem [My Everything] – 2,450,000
3. 2016 – Ariana Grande ft. Nicki Minaj – Side To Side [Dangerous Woman] – 1,820,000
4. 2014 – Ariana Grande ft. Zedd – Break Free [My Everything] – 1,710,000
5. 2014 – Ariana Grande – One Last Time [My Everything] – 1,540,000
6. 2018 – Ariana Grande – Thank U, Next [Thank U, Next] – 1,460,000
7. 2019 – Ariana Grande – 7 Rings [Thank U, Next] – 1,380,000
8. 2016 – Ariana Grande – Into You [Dangerous Woman] – 1,360,000
9. 2018 – Ariana Grande – No Tears Left to Cry [Sweetener] – 1,260,000
10. 2014 – Ariana Grande & The Weeknd – Love Me Harder [My Everything] – 1,110,000

If you feel inspired by this list, we just created this CSPC Ariana Grande playlist on Spotify!
Discography results
Thanks to our new ASR (Artist Success Rating) concept, we know that her sales represent 9,18 million times the purchase of her discography. Coupled with her total sales, it translates into an ASR score of 99. The ranking of all artists studied so far is available too at this link.
Records & Achievements
At 16.12 billion streams on Spotify, Ariana Grande is the 2nd most streamed female artist of the platform.
At 3.50 billion streams on Spotify, My Everything is the 3rd most streamed female album of the platform.
At 4,869,000 EAS, My Everything is the 3rd most successful 2014 album on combined audio and video streams.
At 10,912,000 EAS, My Everything is the 5th most successful album from 2014.
At 33,313,000 EAS, Ariana Grande is the highest selling artist who debuted in 2013 or later.
At 4,889,000 EAS, Thank U, Next is among the 5 most successful albums from 2019.
At 10 days, Thank U, Next is the fastest song to hit 100 million streams on both Spotify and YouTube.
NB: EAS means Equivalent Album Sales.
You may be interested in…
… best-selling artists, albums, and singles
To improve your navigation we created several amazing cross-artists lists posted inside the CSPC: Data Collector article. Click on it to see the full listing of all CSPC results compiled so far!
… similar artists
To put figures from this article into perspective, click on the images below to reach career breakdowns of similar artists: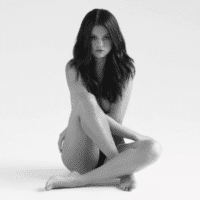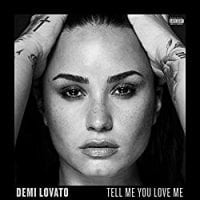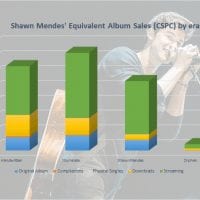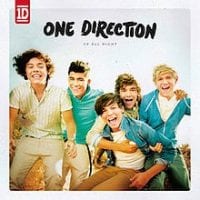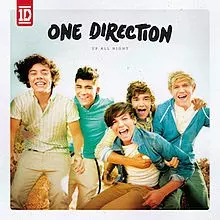 As usual, feel free to comment and / or ask a question!
Sources: IFPI, Spotify, YouTube, Discogs.