Sales per record
Presley issued 29 EPs from 1956 to 1967 in the US, 16 of which went at least Gold which represented 250,000 units in this format. Please notice that Loving You Vol.1 is only Gold while Loving You Vol.2 is Platinum as per the RIAA. Both Ernst Jorgensen's internal figures and Billboard EP charts suggest this is an error, the correct awards must be reversed.
In total, these 16 EPs add for 7,5 million units certified. In the UK, he amassed 15 charting EPs from the introduction of that ranking in March 1960, 10 of which went Top 10. Results for each record is listed below. When there is two titles separated with /, the one at the left is the US naming while the one at the right is its UK partner.
Jailhouse Rock is easily the top seller. The monster single was quickly issued as an EP too, destroying the competition. This record led its format chart for a stunning 28 weeks, storming over a million in the process. It kept reentering the Top 10 during 18 months. That period was really the peak of Presley's hype. In December 1957, Jailhouse Rock was #1, Sings Christmas Songs #2 and 7 more EPs from him were going in and out the Top 10.
*remaining EPs refer to various records locally released that got no US version. There is 8 German titles, 22 French EPs, 5 Italian, 15 from Spain and about 20 more from remaining markets like New-Zealand. There is no trace of them in local charts so their individual numbers would be from 0 to 10,000 copies sold, with possibly a few exceptions. Averages linked to the market size, from 1,000 units sold for New-Zealand releases to 10,000 for German ones, have been assumed, concluding on 370,000 cumulative sales.
Sales per year & area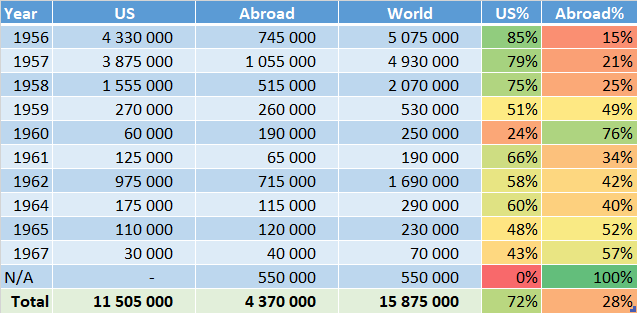 N/A includes all local releases plus years that saw no US release. We can easily see how that country jumped into Presley's EPs before anyone else while foreign sales took over through the years. By the 60s, he was already selling as many EPs abroad than in his native country.
The total falls close to 16 million units sold. That's no surprise since every NME / Joseph Murrels publication assigned him with 15 million EPs sold during his career. With a 0,5 weighting on our CSPC formula, these sales are worth nearly 8 million EAS which may be key to define Presley's final ranking.