AEROSMITH CAREER CSPC RESULTS
So, after checking all the figures, how many overall equivalent album sales has each album by Aerosmith achieved? Well, at this point we hardly need to add up all of the figures defined in this article!
In the following table, all categories display figures that way, e.g. in equivalent album sales. For example, singles from Toys In The Attic released in digital format sold the equivalent of 626,000 album albums – 4,170,000 downloads with a 10 to 1,5 weighting.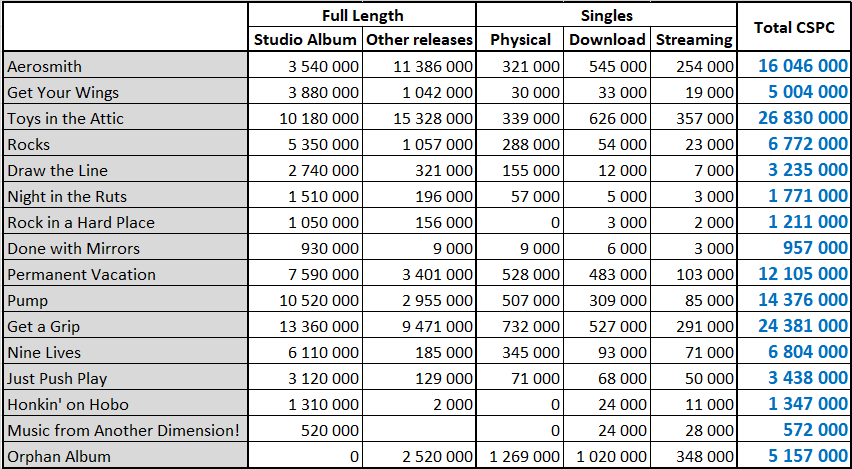 As a reminder:
Studio Album: sales of the original album
Other Releases: sales of compilations generated thanks to the album
Physical Singles: sales of physical singles from the album (ratio 3/10)
Download Singles: sales of digital singles from the album (ratio 1,5/10)
Streaming: equivalent album sales of all the album tracks (ratio 1/1500 for Audio stream and 1/11750 for Video stream)
Conclusions
Aerosmith may not have their Appetite For Destruction, they do have two monster albums which combined for a terrific 51 million equivalent album sales. After closing in numbers, Toys in the Attic edges ahead of Get a Grip by only 2 million. They both continue to register all-around sales with consistent streams, downloads, some pure units and then healthy compilation sales.
At 16 million Aerosmith is a strong bronze medalist. By 1975 very few would have guessed that it was going to do so well in the long run. Furthermore, both Pump and Permanent Vacation top 10 million quite comfortably.
Already out of their personal top 5 Rocks and Nine Lives are still big successes with nearly 7 million equivalent album sales a piece. Below them, sales drop quickly although Get Your Wings is still very respectable at 5 million.
The career total of Aerosmith is at 130,0 million equivalent album sales so far. This number puts them a few millions behind both Metallica and Bon Jovi. No doubt they lost these units with I Don't Want to Miss a Thing which didn't came out from one of their studio album nor compilation. Instead, it powered the Armageddon soundtrack up to more than 7 million sales. This wouldn't have been enough to dislodge the Eagles has the most successful American ever still. Their total of 171 million equivalent album sales remains a good 25 million ahead of anyone else.
To go deeper…
Thanks to our new ASR (Artist Success Rating) concept, we know that their sales represent 31.94 million times the purchase of their full catalog. Coupled with her total sales, it translates into an ASR score of 365. Interestingly, this puts them ahead of Metallica and Nirvana, but below Dire Straits and Bruce Springsteen.
Additionally, the following pages list their most successful songs as well as their records and achievements. Do not forget to check our amazing cross-artists lists posted inside the CSPC: Data Collector which includes the full listing of all CSPC results compiled so far.
As usual, feel free to comment and / or ask a question!
Sources: IFPI, Spotify, YouTube, Discogs, Chartmasters.org.