Full Length related record Sales
It sounds fairly logical to add together weighted sales of one era – studio album, physical singles, downloads, streams – to get the full picture of an album's popularity. For older releases though, they also generate sales of various live, music videos and compilation albums.
All those packaging-only records do not create value, they exploit the value originating from the parent studio album of each of its tracks instead. Inevitably, when such compilations are issued, this downgrades catalog sales of the original LP. Thus, to perfectly gauge the worth of these releases, we need to re-assign sales proportionally to its contribution of all the compilations which feature its songs. The following table explains this method.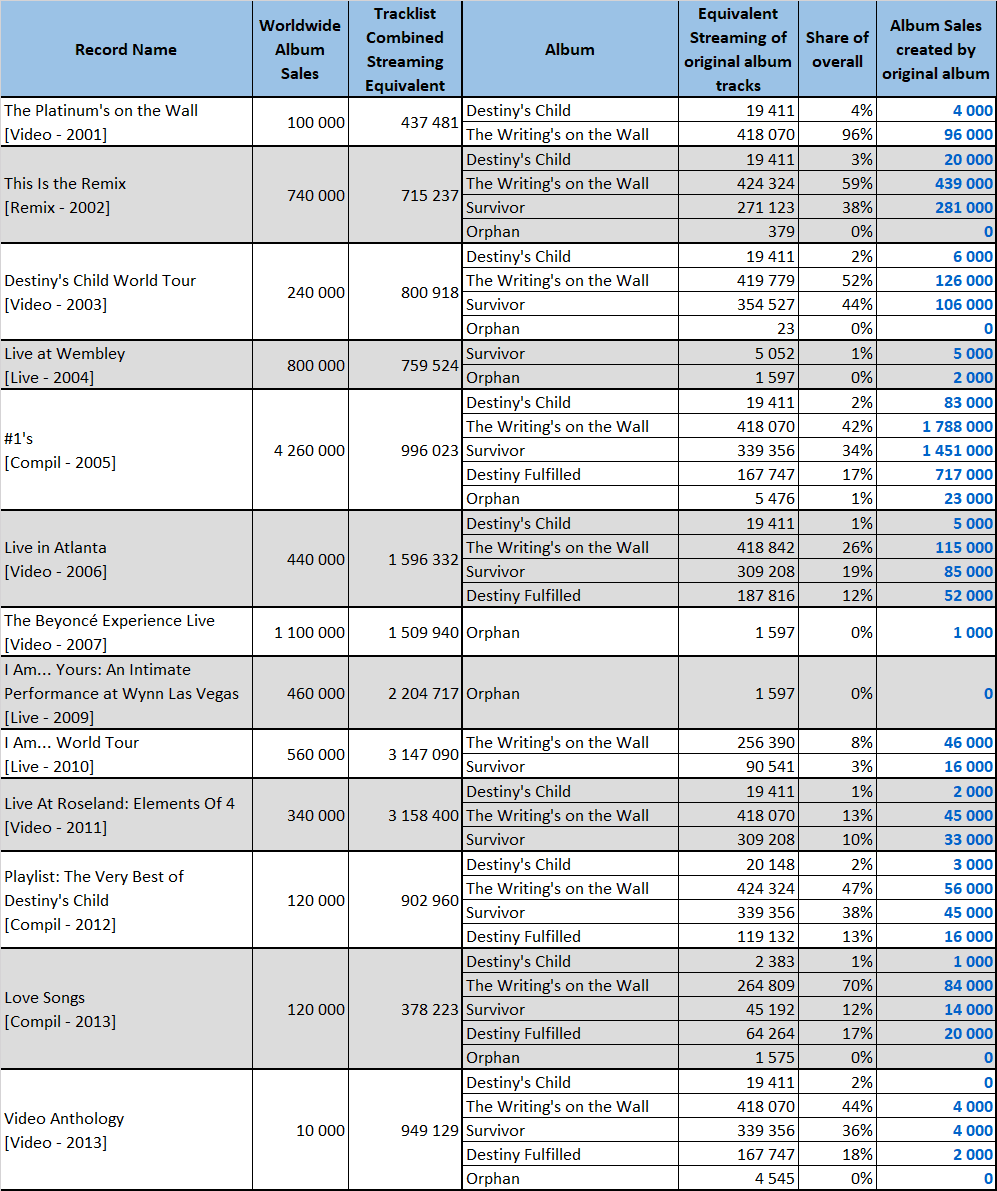 How to understand this table? If you check the example of #1's those figures mean it sold 4,260,000 units worldwide. The second statistics column means all versions of all the songs included on this package add for 996,023 equivalent album sales from streams of all types.
The second part at the right of the table shows how many streams are coming from each original album plus the share it represents on the overall package streams. Thus, streaming figures tell us Survivor songs are responsible for 34% of the #1's tracklist attractiveness, which means it generated 1,451,000 of its 4,260,000 album sales.
Most of these packages follow the same pattern with the pair The Writing's on the Wall and Survivor contributing to the large majority of their sales, the former always dominating slightly the latter.
The record with a very different pattern is Live In Atlanta which has the specificity of containing various hits from Beyoncé debut album plus songs in solo from Kelly Rowland and Michelle Williams too – which is why we do not reach 100% of the track list as those solo singles do not belong to Beyoncé in any way.