Streaming Sales
Streaming is made up of two families – audio and video. Our CSPC methodology now includes both to better reflect the real popularity of each track. The main source of data for each avenue is respectively Spotify and YouTube. As detailed in the Fixing Log article, Spotify represents 157 million of the 272 million users of streaming platforms, while YouTube is pretty much the only video platform generating some revenue for the industry. Below is the equivalence set on the aforementioned article:
Audio Stream – 1500 plays equal 1 album unit
Video Stream – 11,750 views equal 1 album unit
Equivalent Albums Sales (EAS) = 272/157 * Spotify streams / 1500 + YouTube views / 11750
Streaming Part 1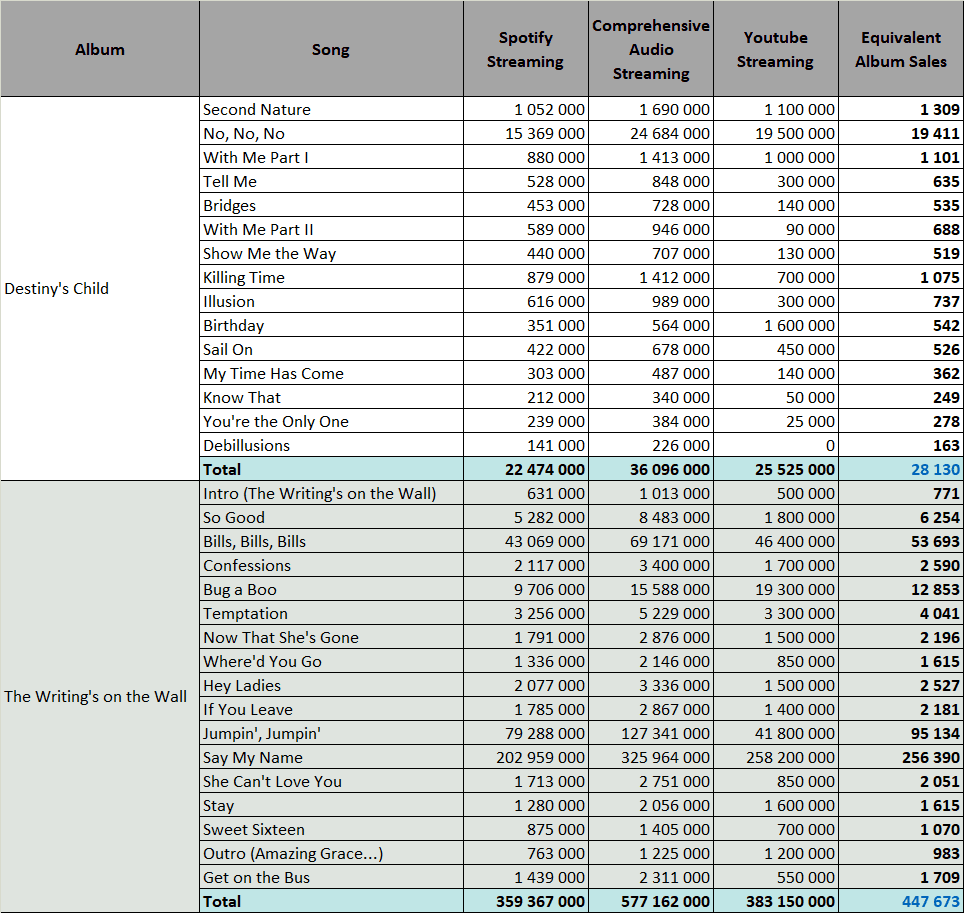 I mentioned already many times in the past how much streaming reveal the real popularity of songs. The low catalog sales of Destiny's Child debut album even during the huge eras that followed it has always been quite bizarre. With these awful streaming results, we understand that its tracks were simply not popular at all and still aren't. Even No, No, No, their largest seller ever in physical single format, has only 15 million streams on Spotify as of now. The album has 28,000 EAS from streams.
The situation of The Writing's on the Wall is clearly different. Say My Name is still hugely popular, recently topping the 200 million plateau on Spotify, a mark already achieved on YouTube. At 122 million combined, Jumpin', Jumpin' and Bills, Bills, Bills remain 90s R&B favorites. Overall, the album sums 448,000 EAS from streaming which is a huge number for such a old record.