CSPC: Phil Collins Popularity Analysis
Streaming Part 2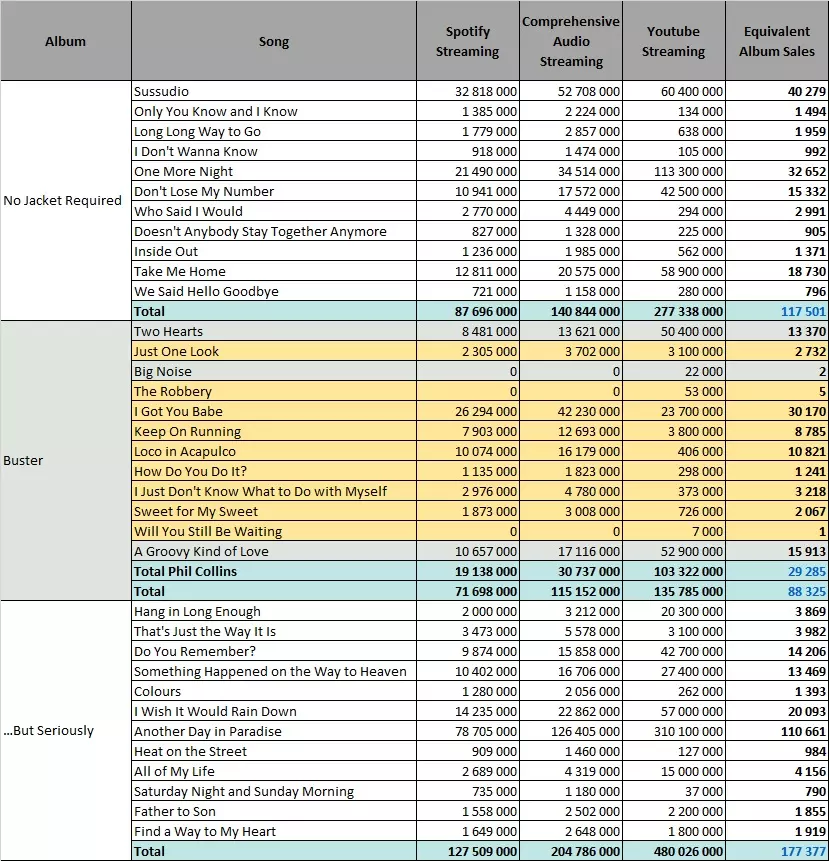 No Jacket Required is often regarded as Collins' biggest album because it went Diamond in the US. Its success is uncontested, but its songs aren't as remembered as the rest of the singer's catalog. Sussudio remains the strongest with 33 million streams on Spotify while One More Night comes second at 21 million. The album is up to 118,000 EAS.
The Soundtrack Buster included 4 new tracks, 3 of which are sung by Collins while he wrote the last one, Loco In Acapulco, performed by the Four Tops. These songs are mostly disappointing on streams but they still add for 40,000 EAS.
…But Seriously was an unreal smash in Europe when it came out, selling 8 million units in 9 months. It was due to its lead single Another Day In Paradise which shot the LP to #1 for several months everywhere. This song has been losing ground though and while its 79 million streams on Spotify are solid, they do not reflect its initial success. Its 310 million YouTube views are more in line with its former reception. The remaining songs have average results although they contribute greatly to the 177,000 EAS of the album.