Kylie Minogue CAREER CSPC RESULTS
So, after checking all the figures, how many overall equivalent album sales has each album by Kylie Minogue achieved? Well, at this point we hardly need to add up all of the figures defined in this article!
In the following table, all categories display figures that way, e.g. in equivalent album sales. For example, singles from Fever released in digital format sold the equivalent of 392,000 album albums – 2,610,000 downloads with a 10 to 1,5 weighting.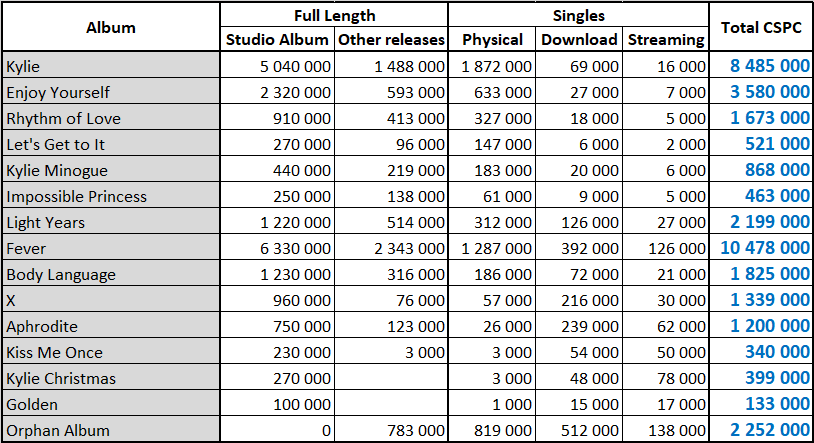 As a reminder:
Studio Album: sales of the original album
Other Releases: sales of compilations generated thanks to the album
Physical Singles: sales of physical singles from the album (ratio 3/10)
Download Singles: sales of digital singles from the album (ratio 1,5/10)
Streaming: equivalent album sales of all the album tracks (ratio 1/1500 for Audio stream and 1/11750 for Video stream)
Fever breaks 10 million equivalent album sales with all formats and further releases exploiting its songs combined. If the figure isn't record-breaking, an era worth 8 digits is still rather impressive. Kylie is logically second with 8,4 million EAS in total.
The remaining albums are much lower. Enjoy Yourself is third with over 3,5 million while Light Years is on 2,2 million. The remaining 9 albums are all below the 2 million mark. Basically, Minogue's popularity is fairly average, although she had a pair of successful records which crossed over the main audience.
All told, the pop star sold 35,76 million equivalent albums.
Thanks to our new ASR (Artist Success Rating) concept, we can also see that the exploitation of her discography has been poorly handled. Indeed, her Equivalent Discography Sales (EDS) stand on 9,5 million. Added to her CSPC units, this implies an ASR score of 105. This puts her much lower than the likes Avril Lavigne and Christina Aguilera and barely ahead of Miley Cyrus.
The following pages list her most successful songs as well as her records and achievements. Do not forget to check our amazing cross-artists lists posted inside the CSPC: Data Collector which includes the full listing of all CSPC results compiled so far to better gauge her position in the history of the music industry.
As usual, feel free to comment and / or ask a question!
Sources: IFPI, Spotify, YouTube, Discogs, Chartmasters.org.