Part 3 – Career-spanning packages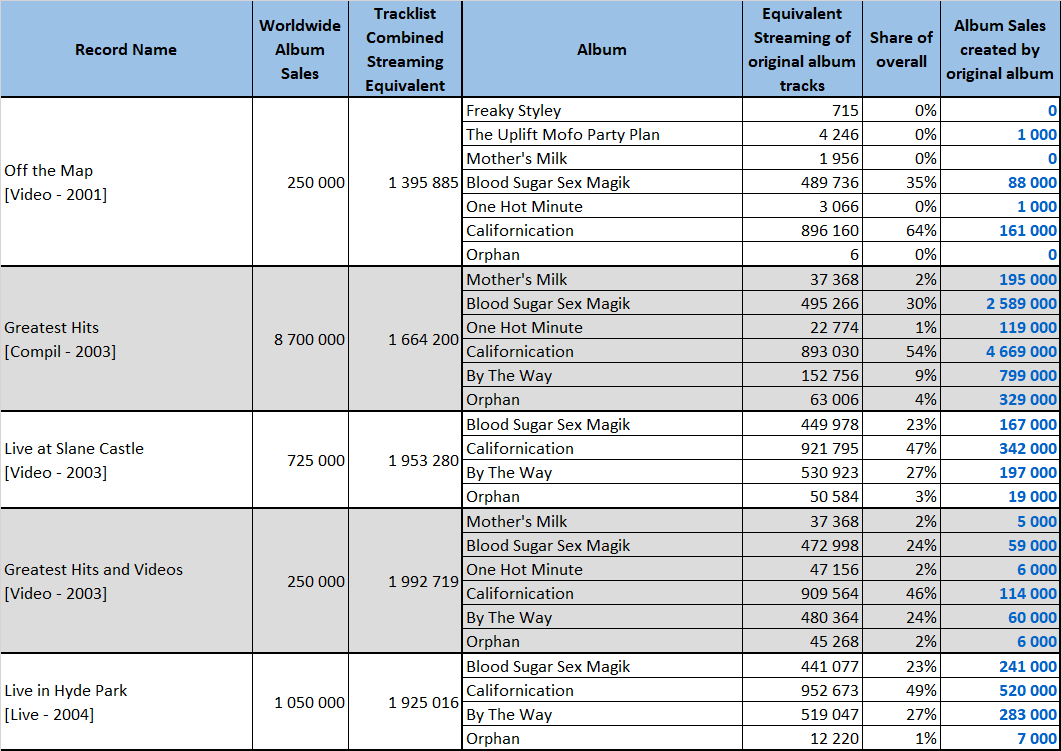 The irony of the aforementioned EMI-Warner deal is that both agreed to let the other label use one of their recordings for a compilation. EMI included Under The Bridge on What Hits?!, a song responsible for 82% of its strength. On its side, Warner had the blessing of including Higher Ground on Greatest Hits, a song which added 2% of value to it… well.
At least, the band went on to prove their popularity through the years and to build a massive catalog. Massive enough to register 8,7 million sales with their 2003 Greatest Hits, one of the biggest compilations of its era. The band sold kind of average numbers on music videos since once again their label issued only sub-par quality packages. Live at Slane Castle still sold a healthy 725,000 thanks to the tremendous fame of the group by 2003.
We can notice that Californication is the main factor of success for all these releases, followed by Blood Sugar Sex Magik. The low impact of By The Way on their Greatest Hits can be surprising. It denotes one more error from the label as both The Zephyr Song and Can't Stop were left out of the track list to let room for the much less popular Universally Speaking.
One more very strange decision is the release of Live in Hyde Park. The package came out a mere 8 months after Greatest Hits while both records contain mostly the same songs. Worst, their first live album ever, it wasn't issued in the US at all, nor in markets like in Brazil where the band was gigantic and which is well-known for being the most receptive market in the World for live sets.