AC/DC CAREER CSPC RESULTS
So, after checking all the figures, how many overall equivalent album sales has each album by AC/DC achieved? Well, at this point we hardly need to add up all of the figures defined in this article!
In the following table, all categories display figures that way, e.g. in equivalent album sales. For example, singles from Back in Black released in digital format sold the equivalent of 2,075,000 albums – 13,830,000 downloads with a 10 to 1,5 weighting.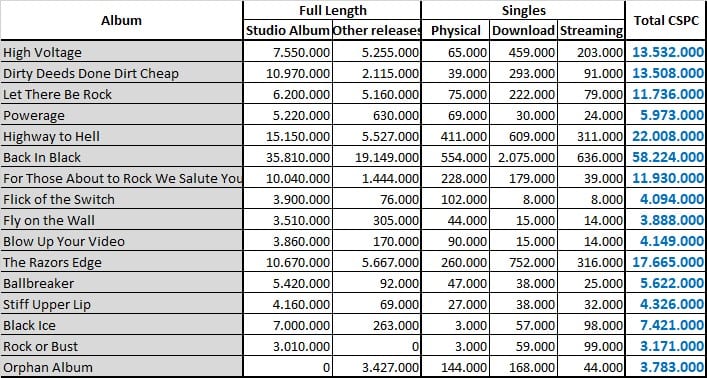 As a reminder:
Studio Album: sales of the original album
Other Releases: sales of compilations generated thanks to the album
Physical Singles: sales of physical singles from the album (ratio 3/10)
Download Singles: sales of digital singles from the album (ratio 1,5/10)
Streaming: equivalent album sales of all the album tracks (ratio 1/1500 for Audio stream and 1/11750 for Video stream)
And the winner is…? Well, Back in Black of course. The real question is rather where does AC/DC's landmark album land on our list of CSPC albums? With a massive 58.224 million it ranks 6th, just ahead of another Hard Rock masterpiece, Led Zeppelin's IV. Also ahead of Nirvana's Nevermind, Bon Jovi's Slippery When Wet, Guns 'N Roses' Appetite for Destruction and Metallica's Metallica. It ranks as the biggest Hard Rock/Heavy Metal album of all time!
The runner-up here is also no surprise. At 22.008 million Highway to Hell is a true smash. Followed by The Razor's Edge at 17.665 million. With High Voltage, Dirty Deeds Done Dirt Cheap, Let There Be Rock and For Those About to Rock (We Salute You) in the 12-13 million region, AC/DC have a total of 7 albums above 11.5 million!
Overall AC/DC's sales total 191,030,000. They're well ahead of the Eagles and just behind Celine Dion on the all time artist list.
The following pages list their most successful songs as well as their records and achievements. Do not forget to check our amazing cross-artists lists posted inside the CSPC: Data Collector which includes the full listing of all CSPC results compiled so far to better gauge their position in the history of the music industry.
As usual, feel free to comment and / or ask a question!
Sources: IFPI, Spotify, YouTube, Chartmasters.org.