Streaming Sales
Streaming is made up of two families – audio and video. Our CSPC methodology now includes both to better reflect the real popularity of each track. The main source of data for each avenue is respectively Spotify and YouTube. As detailed in the Fixing Log article, Spotify represents 132 million of the 212 million users of streaming platforms, while YouTube is pretty much the only video platform generating some revenue for the industry. Below is the equivalence set on the aforementioned article:
Audio Stream – 1500 plays equal 1 album unit
Video Stream – 11,750 views equal 1 album unit
Equivalent Albums Sales = 212/132 * Spotify streams / 1500 + YouTube views / 11750
Streaming Part 1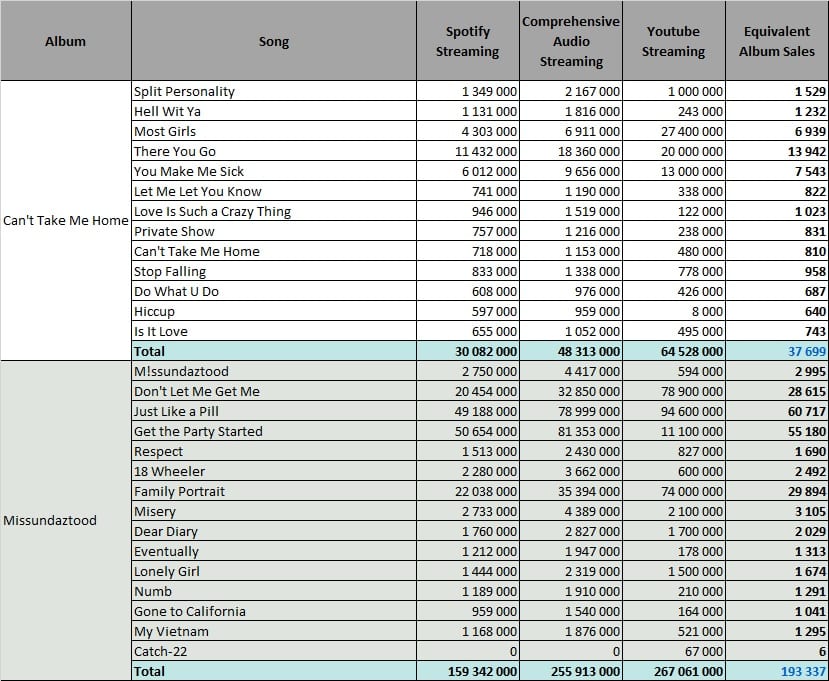 For someone of her status, and as someone who continues to release relevant music, streams from Can't Take Me Home's songs are relatively weak. The 3 leading songs only combine for 21 million streams on Spotify, while the other songs average less than one million. Those streams are worth 38,000 equivalent album sales.
Songs of M!ssundaztood are clearly much bigger. Four songs crack 20 million on Spotify with both Just Like a Pill and Get the Party Started on 50 million a piece. The former has been growing more and more with time and is now rated as one of the most memorable tunes of P!nk. However, its songs only combine for 267 million YouTube plays. The total is 193,000 equivalent album sales.