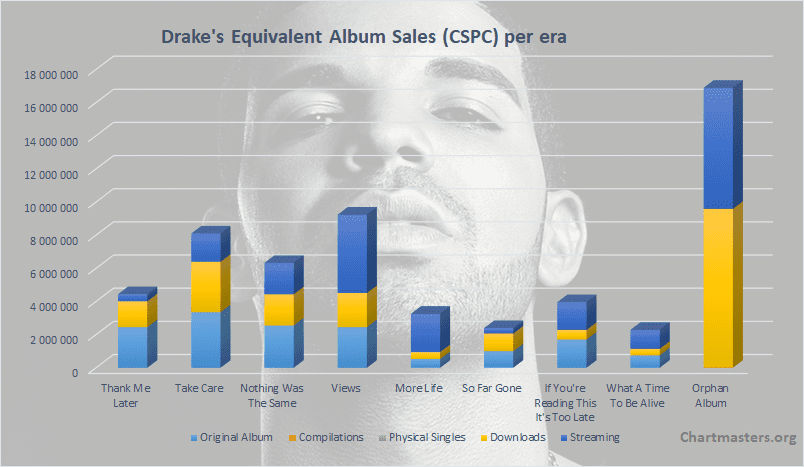 There is a kind of artists who have been around for long, that have never been the biggest selling force in the world and who suddenly just happen to be massive. Drake is one of them.
After his young years spent in acting within' Canadian TV series Degrassi, Drake jumped into the typical road of rappers. That way includes independently released mixtapes, an EP and then ultimately the signing with a major label, which on his case happened in 2009 after the success of his EP So Far Gone earlier that year.
The Canadian artist is well known for being basketball team Toronto Raptors number one fan. Ironically, the rapper has been following exactly the same path as the current start of this team, DeMar DeRozan. A mere four days before his signing for Young Money label, owned by Lil Wayne, DeMar DeRozan was drafted by the Raptors. In the same way that DeRozan became big inside the NBA in 2010 going from 8 to 17 points per game, Drake came from a Gold EP in the US to his first Platinum LP Thank Me Later in 2010. Then, from 2011 to 2015 DeRozan kept growing slowly until reaching All-Star status. From 2011 to 2015, the success of Drake remained consistent too. By the start of 2016 season, Toronto shooting Guard stepped up strongly with a 34 points average over the first 7 games. This has been the year of Drake's definitive breakthrough too as his Views album gave him a new dimension on a worldwide scale.
What we feel about an artist success is not always verified on numbers though. While we do have PER – Player Efficiency Rating – for basketball players, we had no valid indicator to accurately rate a music star. Well, we had none until I introduced to you the Commensurate Sales to Popularity Concept! Let apply it to the subject of today, Drake!
As usual, I'll be using the CSPC in order to relevantly gauge his results. This concept will not only bring you sales information for all Drake's albums, physical and download singles, as well as audio and video streaming, but it will also determine his true popularity. If you are not yet familiar with the CSPC method, below is a nice and short video of explanations. I fully recommend watching it before getting into the sales figures. Of course, if you are a regular visitor feel free to skip the video and get into the numbers directly.
The Commensurate Sales to Popularity Concept (CSPC)
There are two ways to understand this revolutionary concept. The first is the Scribe video posted below. If you are unaware of the CSPC method, you will get the full idea within just a few minutes.
If you are a mathematical person, and want to know the full method as well as formulas, you can read the full introduction article.
Now let's get into the artist's sales figures in detail in order to apply this concept and define the act's true popularity!
Drake's Album Sales
Original Album Sales – Comments
2010 Thank Me Later – 2,450,000
2011 Take Care – 3,350,000
2013 Nothing Was the Same – 2,550,000
2016 Views – 2,450,000
2017 More Life – 525,000
2009 So Far Gone – 1,000,000
2015 If You're Reading This It's Too Late – 1,700,000
2015 What A Time To Be Alive – 750,000
At nearly 14,8 million units sold across four albums, one playlist and three mixtapes, that we will be considering as valid albums as per their length, sales of Drake studio albums aren't the most impressive we met so far. Maybe even more negative is how Views is far from being utterly bigger than his past albums, in fact it sold even easily less than Take Care and the same amount of copies than both Thank Me Later and Nothing Was the Same.
Our CSPC analysis made us understand that we may not jump into conclusions too fast though. To judge Drake's album sales, one need to consider he sold almost exclusively in North America up to Views. A pure urban artist, he managed to cross over the general audience thanks to this recent effort that opened him the door of many countries he hadn't explore before. Selling routinely 2,5 million units of his studio LPs to this restricted audience is already way more impressive. His mixtapes sales are just superb since this format is usually fully ignored by the public, while sales of More Life are bad or good depending on how you consider the playlist spirit. If results viewed that way are great, it is still not the main fort of Drake as we are going to see during the next few pages.
Drake's songs sales

Physical Singles
As many of you may expect, Drake never stepped into the physical singles market, hardly selling anything in this format. By his debut in 2009, the US market was dead for 7 years. Now that he broke German or French markets in 2016, the physical market has been dead there for some 7 years too. Sorry Drake but if you're releasing this it's too late!

Digital Songs
As a reminder, the weighting is done with a 10 to 1,5 ratio between one album and one digital single.

From 2009 to 2011, Drake had no global hit. His success in the US was undoubtable though and moderate to great hits got accumulated at an incredible speed. His first two LPs generated 11 million selling songs and all their album tracks did well too. The Motto, Best I Ever Had and Take Care are all past 4 million downloads.
Take Care album is home for total download sales of more than 20 million singles, worth 3 million equivalent album sales.
This intermediate period wasn't well structured around one specific album. By 2013 Drake had understood already that the whole concept of album was dying. As a result, he started dropping mixtapes at fast pace, plus tons of collaborations that we will see on following page. Hold On, We're Going Home is the biggest hit of that period extracted from those studio albums.
Both Hotline Bling and One Dance sold only 4 million units a piece. The collapse of downloads in favor to streams limited their impact. Forever, Bedrock, Fuckin' Problems and Work are more hits on 3-5 million range.
More than sales of a unique track, the key element is the unreal volume of Drake's catalog. Our Canadian superstar has sold a tremendous total of 137 million units of downloads and ringtones.
This figure may seem unreal considering his top singles are around 5 million units. As mentioned, his consistency and his activity over many years have been unmatched though. In fact, Drake is already the artist with the most entries in the US Hot 100 Singes Chart, an all-time record. He took that incredible distinction when he reached 126 charting hits in August 2016 – a mere seven years after his debut.

Streaming
Streaming is made up of audio and video streams. Our CSPC methodology now includes both to better reflect the real popularity of each track. The main source of data for each avenue is respectively Spotify and YouTube. As detailed in the Fixing Log article, Spotify represents 157 million of the 272 million users of streaming platforms, while YouTube is pretty much the only video platform generating some revenue for the industry. Below is the equivalence set on the aforementioned article:
Audio Stream – 1500 plays equal 1 album unit
Video Stream – 11,750 views equal 1 album unit
Equivalent Albums Sales (EAS) = 272/157 * Spotify streams / 1500 + YouTube views / 11750
Streaming Part 1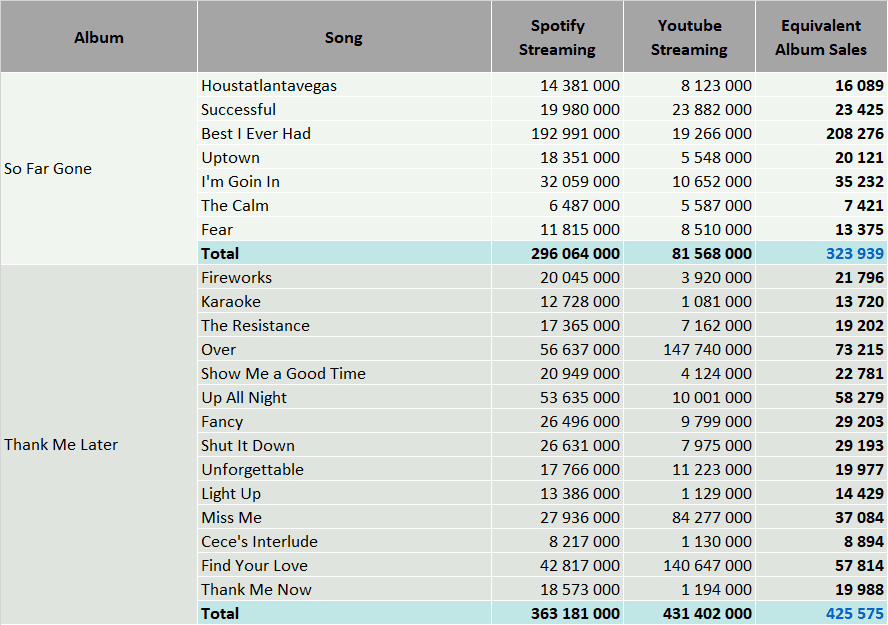 Both So Far Gone and Thank Me Later came out and were over before the streaming era. This isn't very visible considering their numbers that are better than many recent albums. Almost all their tracks are over 10 million streams at Spotify and solid at YouTube too, figures usually achieved by big hits only for most artists. Speaking of big hits, except Best I Ever Had which is growing lately, there is no track really truly high though which prevent equivalent album sales to be even higher even if at 324,000 and 426,000 units respectively they are still quite impressive.
Streaming Part 2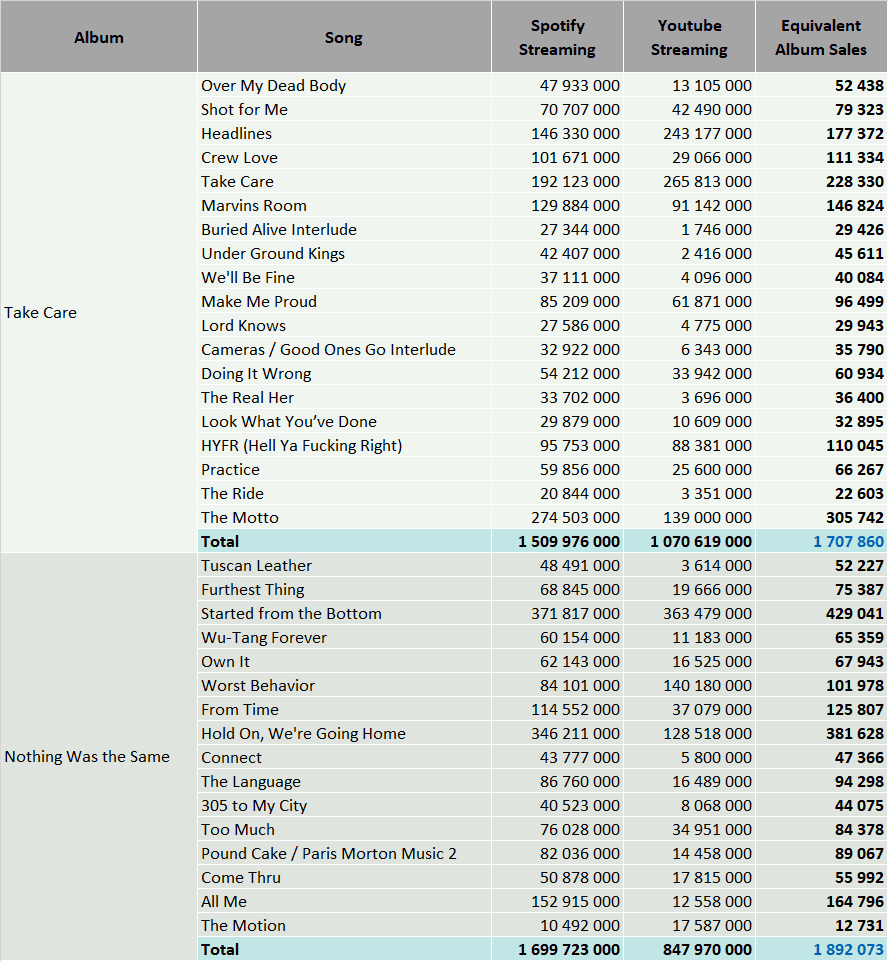 Some 3,6 million equivalent album sales combined. Streaming results of both Take Care and Nothing Was The Same are outstanding. The former came out at the very beginning of the streaming era but still has 21 tracks out of 22 over 27 million Spotify streams, an absolutely unbelievable feat. Headlines and Take Care add for half a million views at YouTube too. In fact, unlike Drake previous albums, Take Care does have huge hits with five songs at 100 million or more. The Motto was on 99 million streams by last November, it now stands at an impressive 275 million.
Nothing Was The Same is even bigger with all its songs, except the recently added The Motion, topping 40 million. Yes, each and every track is over that mark. To put things into perspective, only the very biggest Madonna hit Like A Prayer tops that figure. Hold On, We're Going Home is one of the most remembered songs in recent years up to 346 million. Last November, it was on 295 million while Started From The Bottom had 147 million streams. The latter song is growing immensely now with its Spotify count up to 372 million plus nearly as much from YouTube.
Streaming Part 3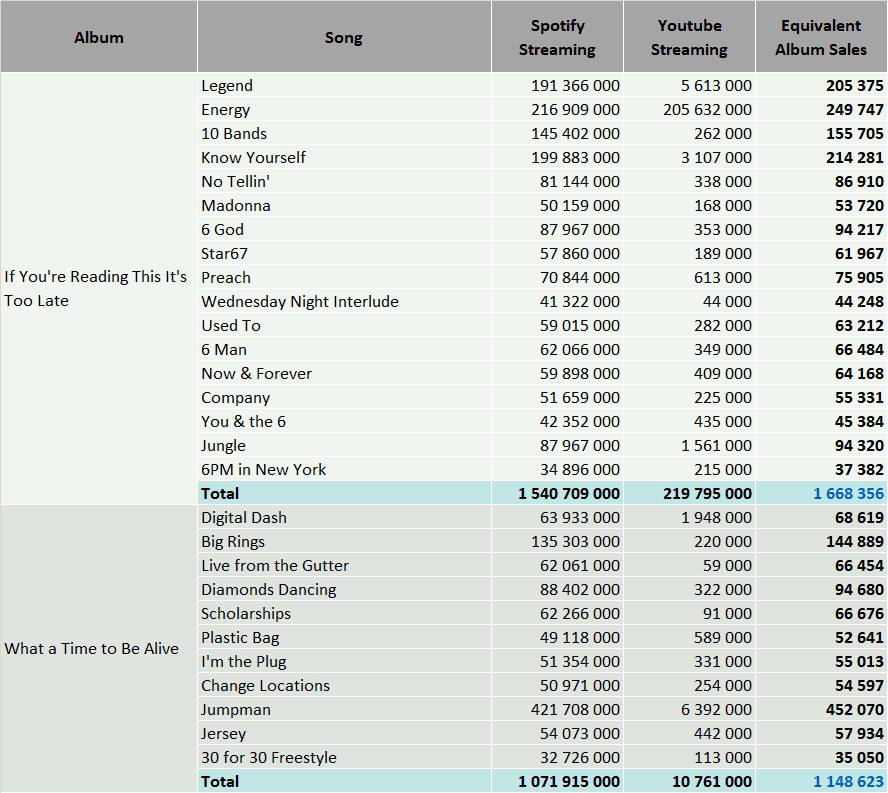 If watching album by album already provides utterly impressive results, when one thinks about the cumulative tally of minutes spent in listening to Drake songs that gets completely mad. Those two mixtapes have all their songs in excess 33 million. In fact, the rap superstar has 152 songs over this tally. It would take someone more than six hours to play all those songs once, let alone 33 million times.
The incredible consistency over all those tracks is the best argument to explain how streaming songs can perfectly be equivalent to album sales. People do not stream one hit or another in the middle of a generic playlist, they really go into Drake's page to play his albums in full. Out of those two records, the biggest hit is Jumpman at 422 million. Obviously, all those numbers are far from being usual for mixtapes.
Streaming Part 4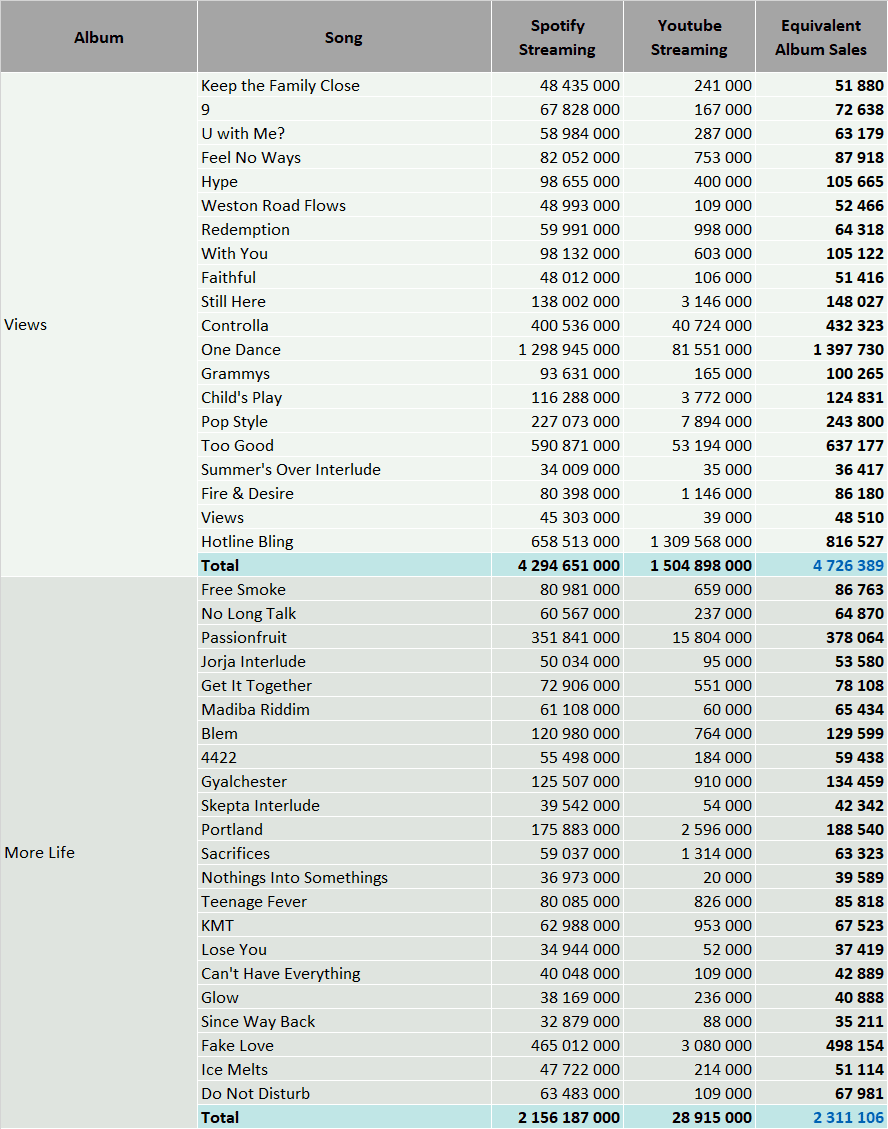 While the consistency doesn't change much from previous albums, the novelty on Views is the terrific hits it contains. Of course, all his previous albums had hits but since they came out before the streaming era, they accumulated plays only as catalog songs, being streamed as a part of their albums quite often. Views got released last year with streaming being already massive when the likes Hotline Bling and Too Good were first issued. Both together are over 1,2 billion streams, a figure One Dance eclipses on its own. How incredible is that feat?
The near-total absence of One Dance from YouTube is one part of the explanation of its unreal Spotify results. Hotline Bling in the other side was huge on both platforms. Unsurprisingly, a streaming success as massive as this means massive equivalent album sales too, a mind-blowing 4,73 million in this case.
More Life has sold less than a fourth of Views units in pure album format. It isn't a good reflection of their respective popularity. Indeed, streams are way more solid for More Life proportionally speaking. Its entire track list is well over 30 million streams at Spotify already. The choice of pushing the more valuable audio streams ahead of video streams is fairly obvious. Both Fake Love and Passionfruit average 400 million, much lower than One Dance but still huge. All in all, the playlist is worth more than 2,3 million equivalent album sales.
Streaming Part 5

Busy issuing seven albums in seven years, Drake also participated in way, way more songs. This list includes Rihanna's Work or A$AP Rocky's F**kin' Problems among many other successful collaborations but also pure Drake hits outside of his studio albums like 0 To 100 / The Catch Up. The total of over 7,3 million equivalent album sales is once again incredible.
Total Album (all types) Sales per Country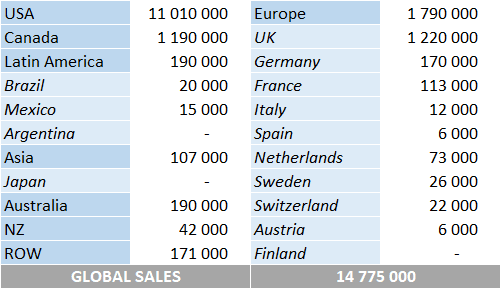 Please note that some of the countries totals may be slightly incomplete when the figure is N/A for minor releases. Countries with too much missing information to be precise enough are listed as N/A.
Drake Career CSPC Results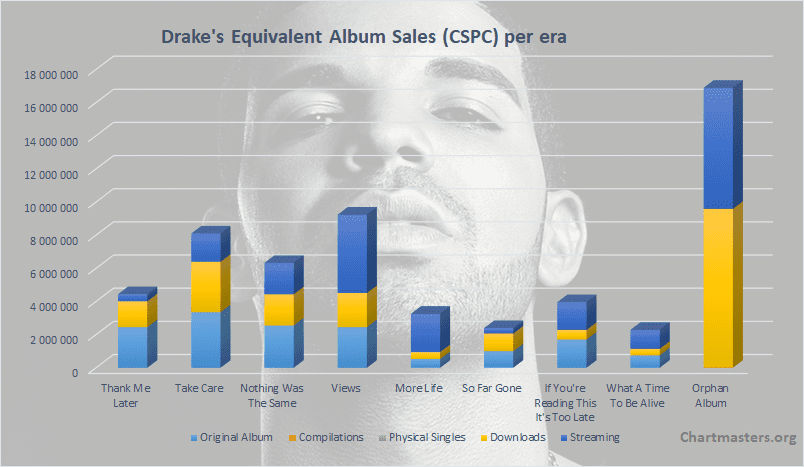 So, after checking all the figures, how many overall equivalent album sales has each Drake album achieved? Well, at this point we hardly need to add up all of the figures defined in this article!
Albums CSPC results
In the following table, all categories display figures that way, e.g. in equivalent album sales. For example, Take Care singles released in digital format sold the equivalent of 3,045,000 albums – 20,300,000 downloads with a 10 to 1,5 weighting.

Studio Album: sales of the original album
Other Releases: sales of compilations generated thanks to the album
Physical Singles: sales of physical singles from the album (ratio 3/10)
Download Singles: sales of digital singles from the album (ratio 1,5/10)
Streaming: equivalent album sales of all the album tracks (ratio 1/1500 for Audio stream and 1/11750 for Video stream)
This is it ! If pure album sales aren't enough to validate the fact that Views is Drake biggest album to date, this turns out to be very clear after adding in all pieces of the jigsaw. Up to 9,24 million, the album is closing in 10 million at fast pace.
While his entire discography has been impressively consistent since his debut, that he grew a lot during later years is obvious when we notice If You're Reading This It's Too Late mixtape is nearly as big as his first LP Thank Me Later. His eight albums / mixtapes comfortably top 2 million equivalent album sales, a very strong feat considering he drops one every year.
His Orphan Album total too is utterly massive at 16,9 million.
Out of all sales figures, the most striking one is that Drake has now sold 56,8 million equivalent album units through all formats. What's more than insane is how all albums and physical singles formats only add for 25,98% of his combined total. Drake's download singles sales and streams are worth 42 million equivalent album units, a figure that keeps on growing incredibly every day.
How much is he increasing? The first version of this article came out on November 11 2016, 290 days ago. By then, he had 12,03 billion streams at Spotify. His total by now is on 19,11 billion, an increase 24,42 million streams per day. This equals to 16,280 equivalent album sales a day, e.g. almost 114,000 album sales every week thanks to audio streams alone.
Singles CSPC results
The list is compiled in album equivalent sales generated by each song. Therefore, these figures are not merged units of singles formats. Instead, it includes weighted sales of the song's physical single, download, ringtone and streaming as well as its share among sales of all albums on which it is featured.
1 2016 – One Dance [Views] – 2,750,000
2 2016 – Hotline Bling [Views] – 1,820,000
3 2011 – The Motto [Take Care] – 1,580,000
4 2013 – Hold On, We're Going Home [Nothing Was the Same] – 1,560,000
5 2009 – Best I Ever Had [So Far Gone] – 1,500,000
6 2013 – Started from the Bottom [Nothing Was the Same] – 1,490,000
7 2016 – Work [Orphan] – 1,400,000
8 2011 – Take Care [Take Care] – 1,280,000
9 2016 – Too Good [Views] – 1,170,000
10 2009 – Forever [Orphan] – 1,020,000
If you feel inspired by this list, we just created this CSPC Drake playlist on Spotify!
Records & Achievements
At 1,299,000,000 streams, One Dance is the most streamed song of all-time at Spotify.
Drake is the most streamed artist ever at Spotify with 19,1 billion streams.
Drake has the most ever songs over 100 million streams at Spotify with 51.
With 10,2 million albums sold in the US since 2010, Drake is the second best selling male artist of the decade behind Justin Bieber.
With 9,2 million equivalent album sales, Views is the World's most successful album from 2016.
Drake charted inside the US Hot 100 for 431 weeks in a row, a streak that lasted from May 23 2009 to August 26 2017.
Drake amassed 157 Hot 100 hits, the highest tally ever, Glee excluded.
Drake holds the record of the most simultaneous hits charted inside the Hot 100 with 24 on April 8 2017.
Drake holds the record of the longest run inside the Hot 100 Top 10 by a male solo artist with 51. He is third overall behind Katy Perry (69) and the Chainsmokers (61).
You may be interested in…
… best-selling artists, albums, and singles
To improve your navigation we created several amazing cross-artists lists posted inside the CSPC: Data Collector article. Click on it to see the full listing of all CSPC results compiled so far!
… similar artists
To put figures from this article into perspective, click on the images below to reach career breakdowns of similar artists:
As usual, feel free to comment and / or ask a question!
Sources: IFPI, Spotify, YouTube, Discogs.