CSPC: Fergie Popularity Analysis
Streaming Sales
Streaming is made up of two families – audio and video. Our CSPC methodology now includes both to better reflect the real popularity of each track. The main source of data for each avenue is respectively Spotify and YouTube. As detailed in the Fixing Log article, Spotify represents 132 million of the 212 million users of streaming platforms, while YouTube is pretty much the only video platform generating some revenue for the industry. Below is the equivalence set on the aforementioned article:
Audio Stream – 1500 plays equal 1 album unit
Video Stream – 11,750 views equal 1 album unit
Thus…
Equivalent Albums Sales = 212/132 * Spotify streams / 1500 + YouTube views / 11750
Streaming Part 1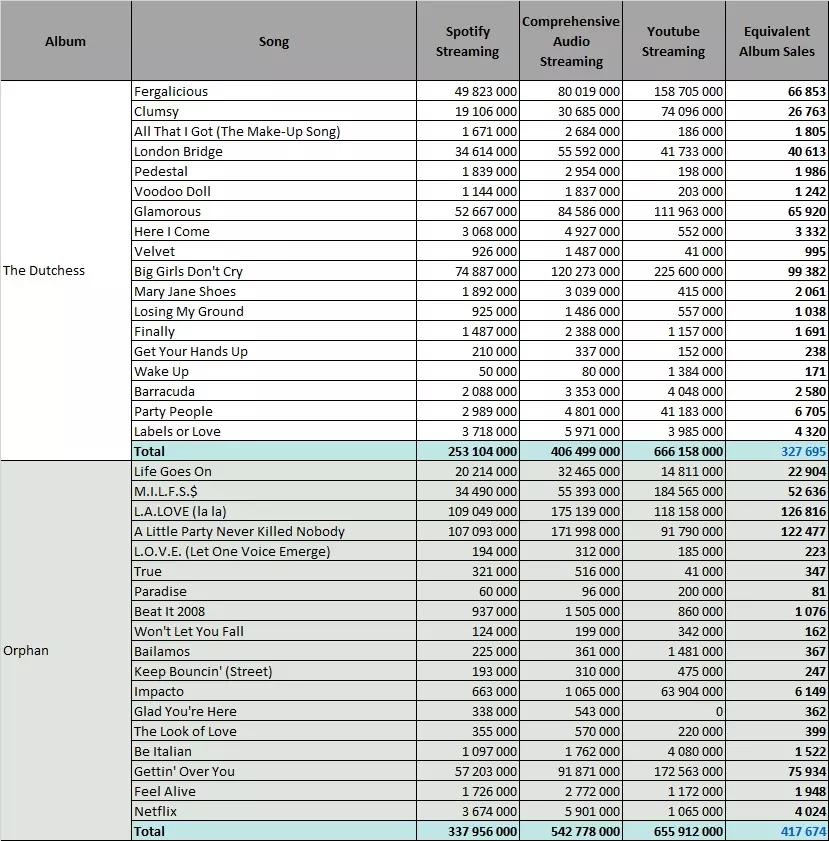 No song from The Dutchess has truly gigantic Spotify streams. Four of them are impressively solid though, with London Bridge at 35 million, Fergalicious at 50 million, Glamorous at 53 million and Big Girls Don't Cry at 75 million. The last three also top easily 100 million YouTube views. The remaining album tracks are not too shabby either, although not that impressive for a relatively recent record. In total, those streams are worth 328,000 equivalent album sales.
The career of Fergie has been messy lately with various songs coming out without the arrival of an album. Some did okay in the streaming area though. Both L.A.LOVE (la la) and A Little Party Never Killed Nobody top 100 million Spotify streams. M.I.L.F.S.$ and Gettin' Over You are closing in on 200 million YouTube views. Thanks to the more favorable streaming market when they were issued, those Orphan songs combined beat the total of tracks from The Dutchess, with a total of 418,000 equivalent album sales.