CSPC: Gorillaz Popularity Analysis
Streaming Sales
Streaming is made up of two families – audio and video. Our CSPC methodology now includes both to better reflect the real popularity of each track. The main source of data for each avenue is respectively Spotify and YouTube. As detailed in the Fixing Log article, Spotify represents 132 million of the 212 million users of streaming platforms, while YouTube is pretty much the only video platform generating some revenue for the industry. Below is the equivalence set on the aforementioned article:
Audio Stream – 1500 plays equal 1 album unit
Video Stream – 11,750 views equal 1 album unit
Thus…
Equivalent Albums Sales = 212/132 * Spotify streams / 1500 + YouTube views / 11750
Streaming Part 1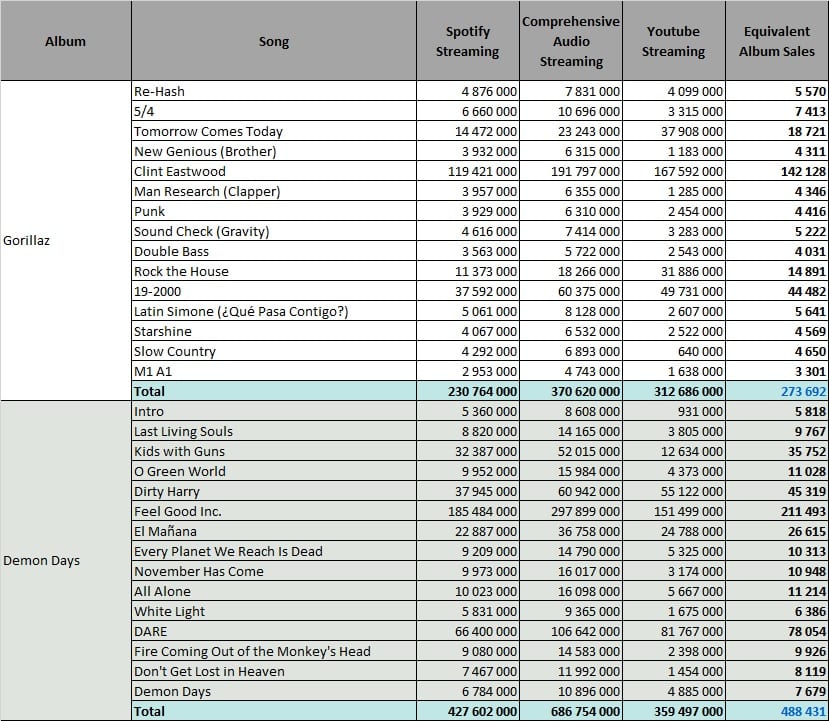 Interestingly, as a virtual band, the Gorillaz suffer from the lack of a possible personification for the watcher. It is fairly obvious with their YouTube views being lower than their audio streams, while acts like Justin Bieber or Miley Cyrus have the opposite results.
Those audio streams are quite massive. Their breakthrough hit Clint Eastwood is up to 119 million plays while Feel Good Inc. is on 185 million, both among the very top tracks from their respective years. Even moderate hits like Dare at 66 million or 19-2000 at 38 million perform better than the biggest hits of stars arguably way more famous than them, such as Madonna or Elvis Presley.
Their album tracks are just as impressive. They are all in the 3-10 million range, a similar tally to those of other artist's with various #1 hits from the past. Those great all-round performers grant Gorillaz 274,000 equivalent album sales from streaming and Demon Days a superb 488,000 units.