CSPC: Frozen OST Popularity Analysis
Streaming Sales
Below table lists Spotify streaming of all songs from the five albums we are studying. The Comprehensive Streaming is reached by multiplying Spotify figures by 68/26. In fact, as shown in IFPI 2015 Report, there were 68 million paying subscribers to all streaming platforms by the end of 2015. While the exact count of Spotify paying subscribers by the end of 2015 is unknown, that figure reached 20 million in June 2015 and 30 million in March 2016, thus an estimated 26 million is used as of the end of 2015.
The equivalent album sales is the division of the comprehensive streaming figure by 1500 as it is now the norm in the new industry model.
Streaming Part 1 – Not that cold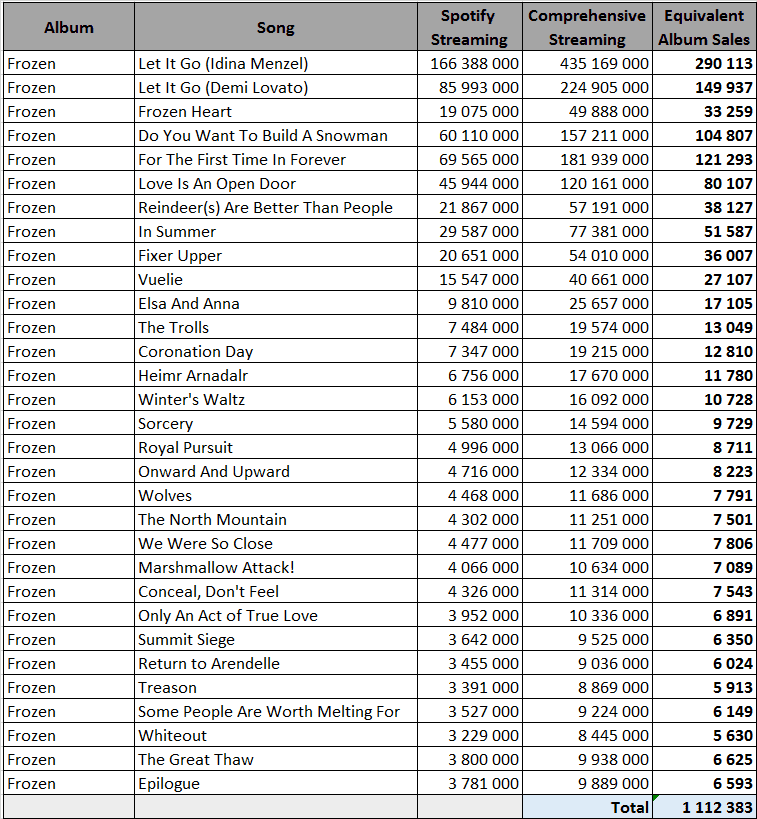 The original Frozen album is made of two main sections. The first one contains 8 new songs, from Let It Go to Fixer Upper. Each of them has 19 million streams or more. This showing turns out to be even more impressive when we consider album tracks aren't available for stream since many months. Obviously, the leading song of the album is Let It Go which cracks 250 million when combining Demi Lovato and Idina Menzel versions.
The second section of the record is made of 22 Christopher Beck score instrumentals. All of them are over 3 million streams, once again an impressive result for such material.
In total, all songs together add for 1,1 million equivalent album sales when converted. Guess what? We aren't done with the album streaming results.