Bob Dylan Career CSPC Results
So, after checking all figures, how many overall equivalent album sales each Bob Dylan album achieved? Well, at this point we barely need to do the addition of all figures defined all over this article!
In the following table, all categories display figures that way, e.g. in equivalent album sales. For example, Blonde On Blonde singles released in digital format sold the equivalent of 270,000 albums – 1,800,000 downloads with a 10 to 1,5 weighting.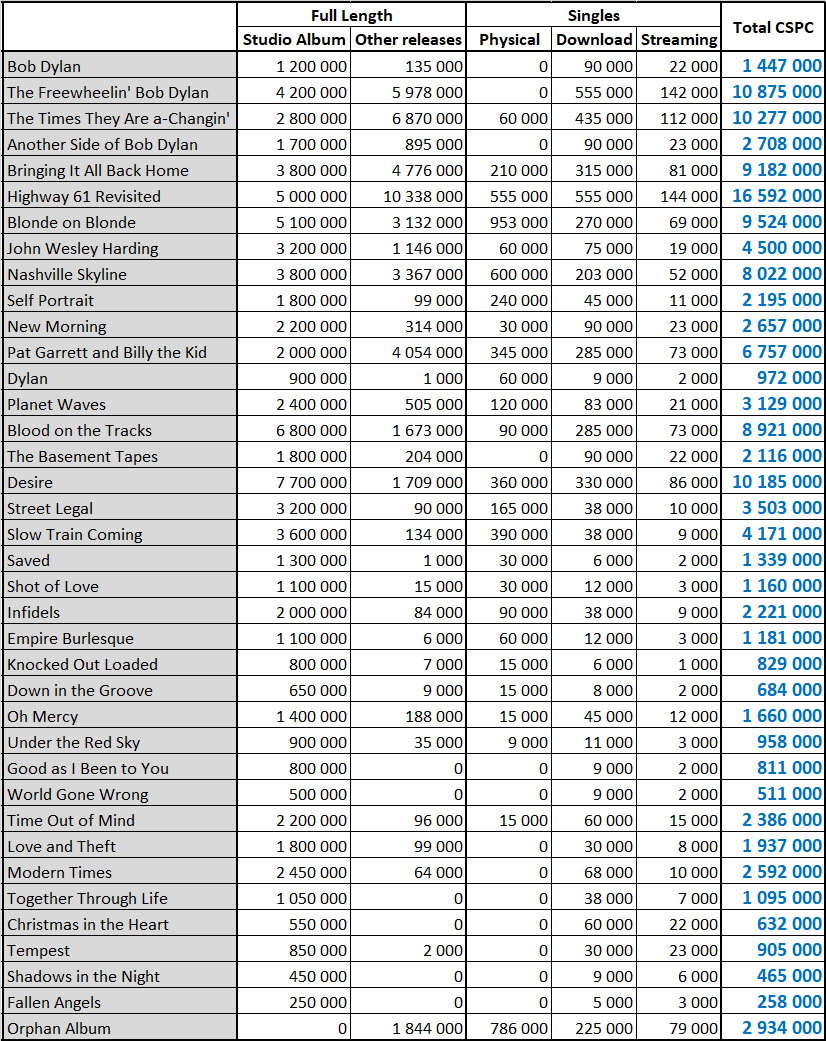 As a reminder:
Studio Album: sales of the original album
Other Releases: sales of compilations generated thanks to the album
Physical Singles: sales of physical singles from the album (ratio 3/10)
Download Singles: sales of digital singles from the album (ratio 1,5/10)
Streaming: equivalent album sales of all the album tracks (ratio 1/1500)
We got there! For most artists studied so far, the norm is that the top selling studio album in its original format is also the artist more popular album. The case of Bob Dylan is quite incredible in this aspect as his Top 3 best sellers in album form are all different from his three more popular records.
In fact, #1 seller Desire, #2 Blood On The Tracks and #3 Blonde On Blonde end up respectively #4, #7 and #5 in overall popularity after combining every sales generated by each album. The main reason for this situation is the Greatest Hits 1967 package, which quickly competed against the singer's early albums, preventing them from accumulating larger catalog sales. In the other side, records like Blood On The Tracks and Desire got their hits covered on strong selling compilations many years after their release, themselves also featuring mostly Bob Dylan hits from the 60s.
The result is that both mid-70s smashes contributed into a relatively low 2 million equivalent album sales each outside of their original format. While this tally is respectable, it is nowhere near the 11 million sales generated in various forms by Highway 61 Revisited, which ultimately finishes as the easy winner in terms of popularity among the artist LPs. Its overall total is quite impressive, at 16,6 million this album is a fully valid challenger against many records perceived as much bigger sellers. That cumulative tally is indeed higher than albums like Metallica's Master Of Puppets, Coldplay's X&Y or Madonna's Music.
In the same way, The Freewheelin' Bob Dylan at 10,9 million, The Times They Are A-Changin' at 10,3 million, Blonde On Blonde at 9,5 million and Bringing It All Back Home at 9,2 million perform incredibly well.
If those albums were already considered successful in their original form, it is less the case for both Nashville Skyline and Pat Garrett & Billy The Kid. Those two records created more than 4 million equivalent album sales each in various forms, completely rewarding their undoubtable successes.
The comprehensive total of Bob Dylan climbs all the way up to 142,3 million equivalent album sales, a number many big pop stars will likely never reach.
I hope you enjoyed this article which was truly exhausting to write. Time to pick up one more cup of coffee for the road!
Do not forget to check our amazing lists posted inside the CSPC: Data Collector which includes the full listing of all CSPC results compiled so far to better gauge her position in the history of the music industry.As usual, feel free to comment and / or ask a question.
Sources: IFPI, Spotify, All Music, Rolling Stone, Chartmasters.org.