Streaming Sales
Streaming is made up of two families – audio and video. Our CSPC methodology now includes both to better reflect the real popularity of each track. The main source of data for each avenue is respectively Spotify and YouTube. As detailed in the Fixing Log article, Spotify represents 132 million of the 212 million users of streaming platforms, while YouTube is pretty much the only video platform generating some revenue for the industry. Below is the equivalence set on the aforementioned article:
Audio Stream – 1500 plays equal 1 album unit
Video Stream – 11,750 views equal 1 album unit
Equivalent Albums Sales (EAS) = 212/132 * Spotify streams / 1500 + YouTube views / 11750
Streaming Part 1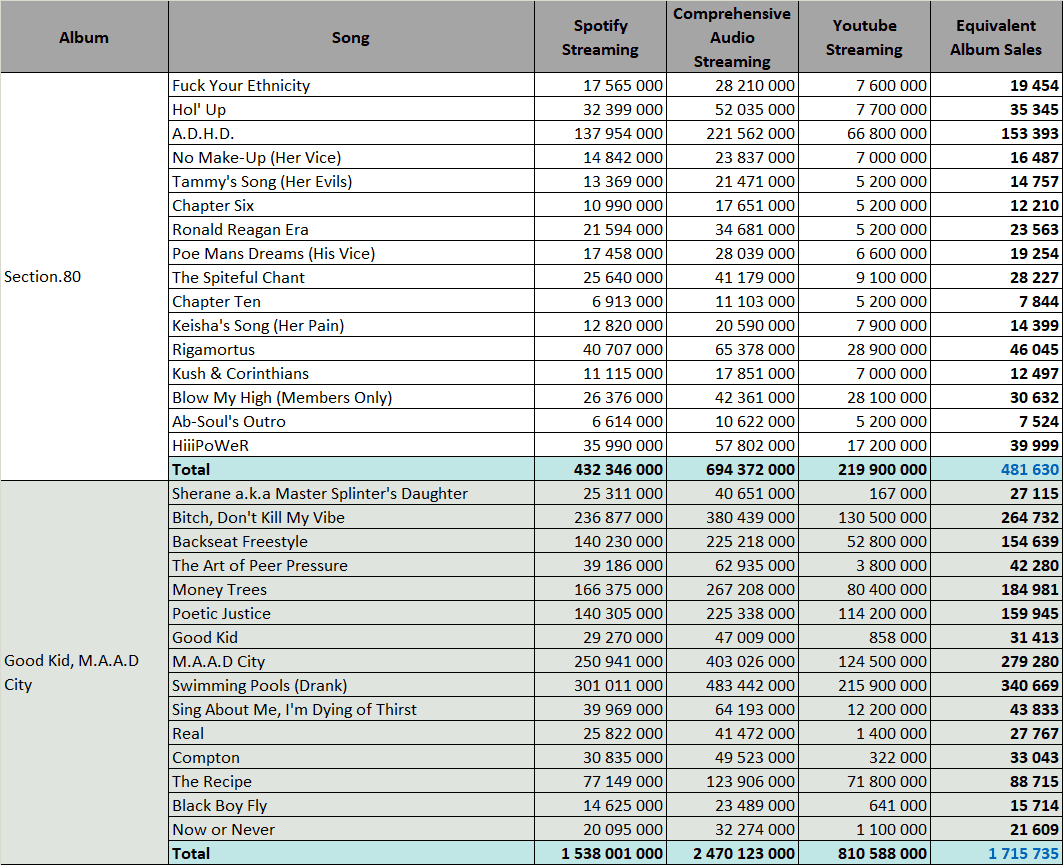 Unnoticed upon release, the reputation of Section.80 has been growing ever since. By now nearly all of its songs are well over 10 million streams on Spotify and the album has a whole has more than 5 million views on YouTube. The album also includes A.D.H.D., a cut that became a delayed hit with 138 million streams on Spotify. Overall, the album enjoys 482,000 equivalent album sales from streams, almost twice more than its pure album sales.
Good Kid, M.A.A.D City is in a whole different dimension. All tracks except the last two are over 25 million streams on Spotify. Swimming Pools (Drank) has now topped 300 million while both M.A.A.D City and Bitch, Don't Kill My Vibe are well over 200 million. As many as 3 more tracks are in 9 digits, including the album cut Money Trees. This impressive all-round performance is worth 1,7 million equivalent album sales.