Streaming Part 2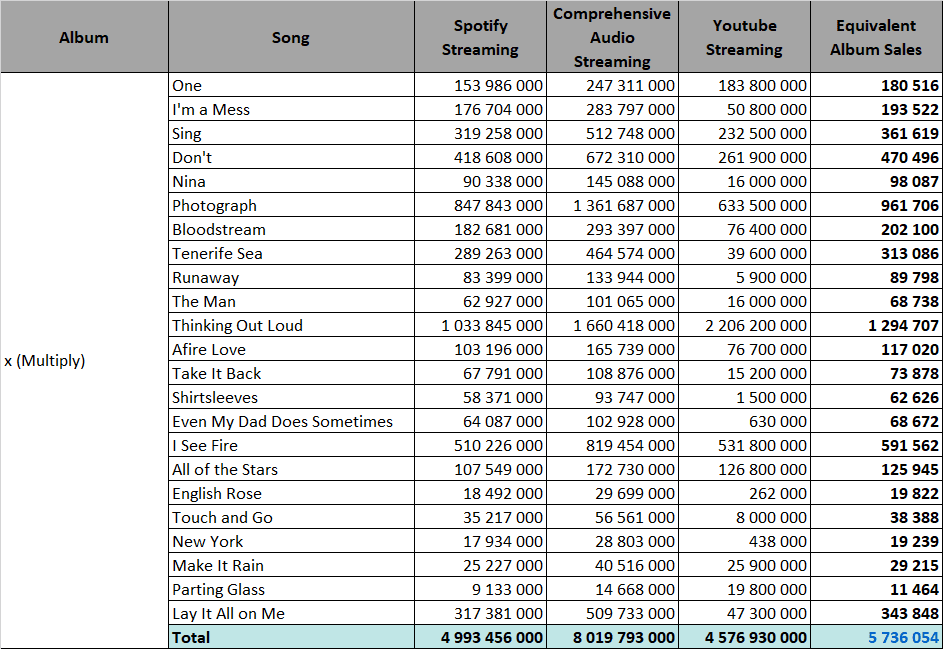 For streaming purpose songs like I See Fire and Lay It All On Me are included into Multiply total since the majority of their plays came well after the release of the album. Both songs are massive hits at over 500 million and 300 million streams on Spotify respectively, the same ballpark as Sing and Don't. Managing 4 songs with a success of this magnitude is insane, but this doesn't even consider the biggest song of the record, Thinking Out Loud.
This tune is the oldest track with more than 1 billion streams on Spotify. YouTube views are insane as well at 2,2 billion. The domination of Sheeran among streaming platform's target audience is although verified with album cuts. All songs from the original track list are close or over 60 million on Spotify, including Tenerife Sea at 289 million. This non-single has streams as big as several of the biggest global hits from 2014.
These extraordinary numbers translate into more than 5,7 million equivalent album sales. Unreal.