Streaming Sales
Streaming is made up of two families – audio and video. Our CSPC methodology now includes both to better reflect the real popularity of each track. The main source of data for each avenue is respectively Spotify and YouTube. As detailed in the Fixing Log article, Spotify represents 132 million of the 212 million users of streaming platforms, while YouTube is pretty much the only video platform generating some revenue for the industry. Below is the equivalence set on the aforementioned article:
Audio Stream – 1500 plays equal 1 album unit
Video Stream – 11,750 views equal 1 album unit
Equivalent Albums Sales (EAS) = 212/132 * Spotify streams / 1500 + YouTube views / 11750
Streaming Part 1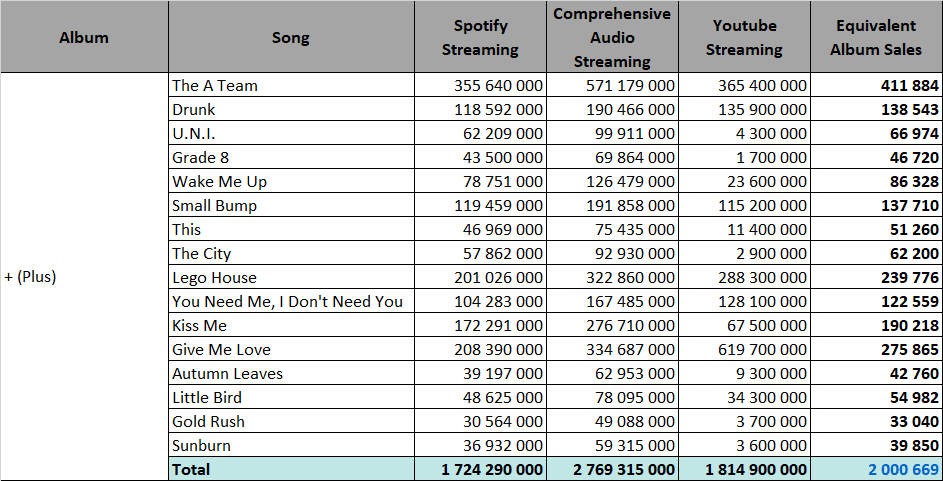 As many as 16 songs are included on Plus, all of which topped 30 million streams on Spotify. The biggest of them is The A Team which is on 356 million streams on Spotify and even more on YouTube. This huge figure for a 2011 song is consolidated by 6 more songs with more than 100 million streams on Spotify, including the album cut Kiss Me.
The total of the entire tracklist is 1,7 billion on Spotify and 1,8 billion on YouTube. These streams are worth just over 2 million equivalent album sales. This is as much as 40% of the album's pure sales total, a terrific ratio for an album from 2011 when streaming platforms had yet to explode.