Streaming Sales
Streaming is made up of two families – audio and video. Our CSPC methodology now includes both to better reflect the real popularity of each track. The main source of data for each avenue is respectively Spotify and YouTube. As detailed in the Fixing Log article, Spotify represents 132 million of the 212 million users of streaming platforms, while YouTube is pretty much the only video platform generating some revenue for the industry. Below is the equivalence set on the aforementioned article:
Audio Stream – 1500 plays equal 1 album unit
Video Stream – 11,750 views equal 1 album unit
Equivalent Albums Sales (EAS) = 212/132 * Spotify streams / 1500 + YouTube views / 11750
Streaming Part 1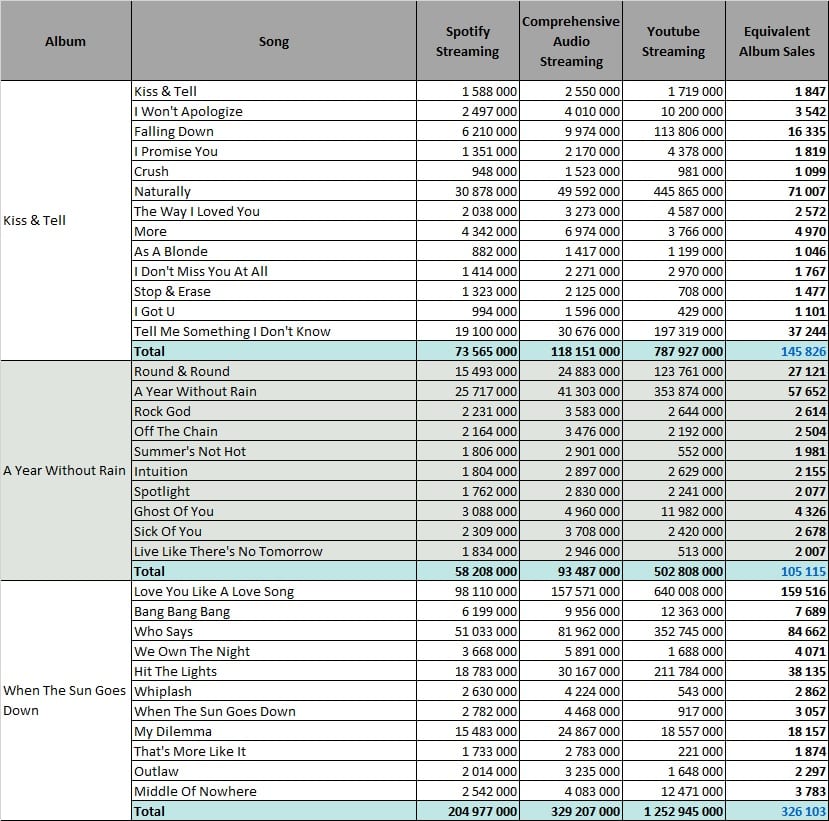 When studying artists like One Direction and Justin Bieber we noticed how strong their entire discography was, including their album tracks. Teen acts tend to rely less on their big hits thanks to their devoted fan base. Surprisingly, Gomez fails to do well with her non-singles, some of which remain under 1 million streams to date on Spotify.
Her first two albums have two songs each inside the 15 to 30 million range on Spotify. Obviously, those numbers pale in comparison to her 132 million Instagram followers. Her strong visual impact, plus her popularity in Latin America, provide her much better looking figures on YouTube. The Spotify-YouTube ratio for her first two albums is an intriguing 1 to 10.
In terms of equivalent album sales (EAS), Kiss & Tell totals 146,000 units while A Year Without Rain is on 105,000 units, both modest totals for recent efforts.
When the Sun Goes Down does better with 326,000 EAS. It is mostly thanks to Love You Like A Love Song which is clearly Gomez's signature song from the first part of her career.