Streaming Sales
Streaming is made up of two families – audio and video. Our CSPC methodology now includes both to better reflect the real popularity of each track. The main source of data for each avenue is respectively Spotify and YouTube. As detailed in the Fixing Log article, Spotify represents 132 million of the 212 million users of streaming platforms, while YouTube is pretty much the only video platform generating some revenue for the industry. Below is the equivalence set on the aforementioned article:
Audio Stream – 1500 plays equal 1 album unit
Video Stream – 11,750 views equal 1 album unit
Equivalent Albums Sales (EAS) = 212/132 * Spotify streams / 1500 + YouTube views / 11750
Streaming Part 1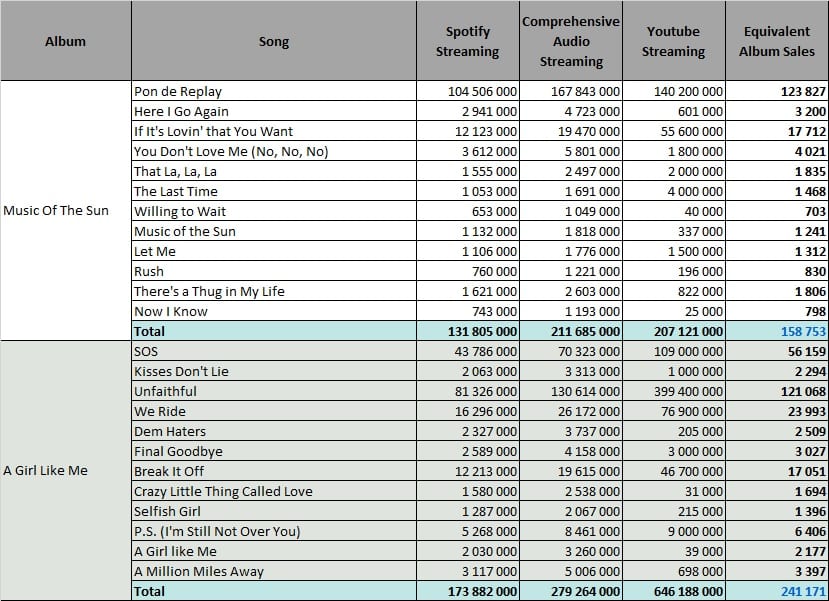 It feels like Pon de Replay was released in a different life due to the immense number of new hits Rihanna has had since then. It remains hot to this day though with over 100 million streams on both Spotify and YouTube. This song is responsible for 124,000 equivalent album sales (EAS) out of the total of 159,000 by Music of the Sun.
A Girl Like Me isn't that much bigger at 241,000 EAS but those sales are spread much better over its track list. Unfaithful stormed over SOS as years passed while both We Ride and Break it Off are still getting some love. The album as a whole is listened to more often with album tracks around 2 million plays at Spotify against 1 million for songs from her debut album.