Bob Marley CAREER CSPC RESULTS
So, after checking all the figures, how many overall equivalent album sales has each album by Bob Marley achieved? Well, at this point we hardly need to add up all of the figures defined in this article!
In the following table, all categories display figures that way, e.g. in equivalent album sales. For example, singles from Exodus released in digital format sold the equivalent of 1,649,000 albums – 10,990,000 downloads with a 10 to 1,5 weighting.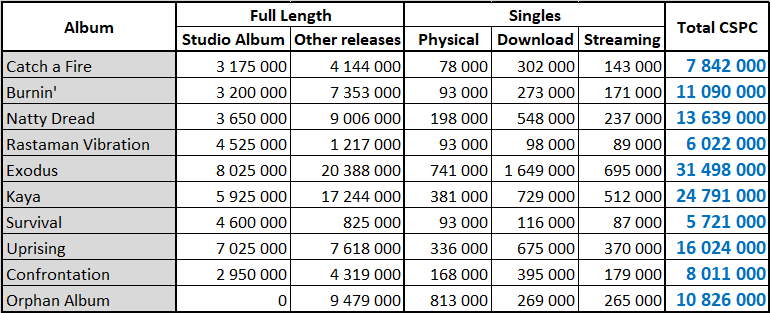 As a reminder:
Studio Album: sales of the original album
Other Releases: sales of compilations generated thanks to the album
Physical Singles: sales of physical singles from the album (ratio 3/10)
Download Singles: sales of digital singles from the album (ratio 1,5/10)
Streaming: equivalent album sales of all the album tracks (ratio 1/1500 for Audio stream and 1/11750 for Video stream)
The icon of a generation, the king of reggae, the face of Jamaica, the legendary singer, the symbol of peace, the flagship of rastas, the defender of the oppressed people, the genius writer, the God of lost minds, the voice of Africa. Marley has been described by more roles than Daenerys Targaryen and his hair is just as known as hers. Although his strength as a super records seller is rarely mentioned, figures don't lie, so you can add massively successful star to his résumé.
Ultimately, there aren't that many Rastafarians, even among people who proudly wear dreadlocks. The message of Marley wasn't his religion though. He wrote his music to support the people who need it the most, to share positive feelings. To denounce abuses and call for respect of every human being. The general public understood it.
Decades after his death it is thus no surprise to see his catalog going stronger than ever. His popularity goes much further than the reggae spectrum, he belongs to the all-time greats. His audio streams are almost on par with acts like Queen and Michael Jackson who are among the leaders in that format. This shows how insanely popular he is also among the youngest public.
Exodus is the best example of this flamboyant appeal. The album is up to a stunning 31,5 million equivalent album sales overall to put it among the very most successful albums of all-time. Kaya is close to 25 million. Uprising comes third among his albums at 16 million. His entire discography is impressive with Burnin' and Natty Dread topping 10 million with ease too.
Rastaman Vibration and Survival are the lowest albums in spite of a truly solid 6 million sales a piece. The posthumous Confrontation has a surprising total of 8 million, but this still falls short of the near incredible 11 million sales of Orphan products. There is nothing to throw away.
Born in Nine Mile, a tiny Jamaican village of 300 inhabitants and having grown up in Trenchtown slums, Marley climbed the ladder to become a global icon, his total of 135,5 million equivalent album sales certainly confirms that. Undoubtedly, his impact among the World cultural heritage goes beyond the numbers.
The following pages list his most successful songs as well as his records and achievements. Do not forget to check our amazing cross-artists lists posted inside the CSPC: Data Collector which includes the full listing of all CSPC results compiled so far to better gauge his position in the history of the music industry.
As usual, feel free to comment and / or ask a question!
Sources: IFPI, Spotify, YouTube, Chartmasters.org.
Pages:
Page

1
,
Page

2
,
Page

3
,
Page

4
,
Page

5
,
Page

6
,
Page

7
,
Page

8
,
Page

9
,
Page

10
,
Page

11
,
Page

12
,
Page

13
,
Page

14
,
Page

15
,
Page

16
,
Page

17
,
Page

18
,
Page

19
,
Page

20
,
Page

21
,
Page

22
,
Page

23
,
Page

24
,
Page

25
,
Page

26
,
Page

27
,
Page

28
,
Page

29
,
Page

30
,
Page

31
,
Page

32
,
Page

33
,
Page

34
,
Page

35
,
Page

36
,
Page

37
,
Page

38
,
Page

39
,
Page

40
,
Page

41
,
Page

42
,
Page

43
,
Page

44
,
Page

45
,
Page

46