Full Length related records Sales – Summary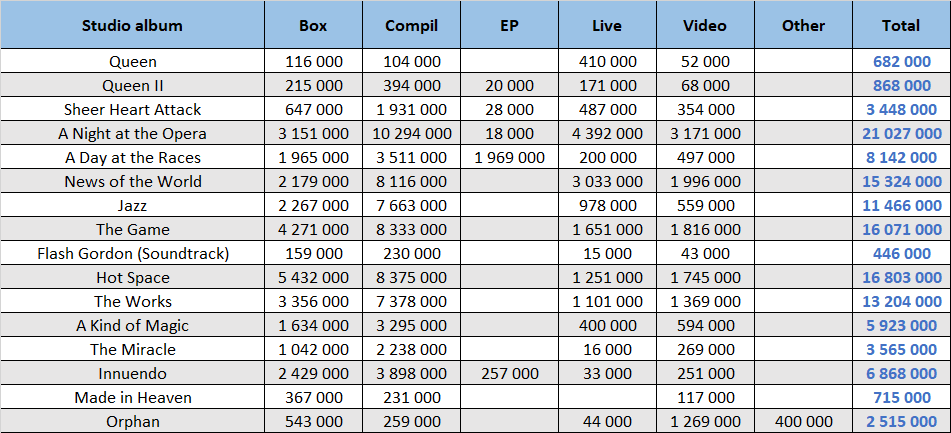 Here is the most underestimated indicator of an album's success – the amount of compilation sales of all kinds it generated. Due to the dependency of sales of the original studio albums on these releases, they are a key piece of the jigsaw.
The success of Queen across various platforms strikes in the face readers of this table. The album Hot Space is the most insane example, the album hasn't sold 3 million units in its original form but still is responsible for a gigantic 16,8 million sales of compilations of every kind.
Most artists have one, at most two, albums receiving the huge majority of sales of their compilations. The catalog of Queen is extensive and full of gems though. The conclusion is as many as 6 albums which boosted from 10 to 20 million sales of compilations. Their entire catalog appears to be incredibly strong.
Their totals per avenue are also absurd – nearly 30 million units from boxes, 66 million compilations, 2,3 million EPs, 14 million live albums, and 14 million music videos. Numbers speak by themselves.
Pages:
Page

1
,
Page

2
,
Page

3
,
Page

4
,
Page

5
,
Page

6
,
Page

7
,
Page

8
,
Page

9
,
Page

10
,
Page

11
,
Page

12
,
Page

13
,
Page

14
,
Page

15
,
Page

16
,
Page

17
,
Page

18
,
Page

19
,
Page

20
,
Page

21
,
Page

22
,
Page

23
,
Page

24
,
Page

25
,
Page

26
,
Page

27
,
Page

28
,
Page

29
,
Page

30
,
Page

31
,
Page

32
,
Page

33
,
Page

34
,
Page

35
,
Page

36
,
Page

37
,
Page

38
,
Page

39
,
Page

40
,
Page

41
,
Page

42
,
Page

43
,
Page

44
,
Page

45
,
Page

46
,
Page

47
,
Page

48
,
Page

49
,
Page

50
,
Page

51
,
Page

52
,
Page

53
,
Page

54
,
Page

55
,
Page

56
,
Page

57
,
Page

58
,
Page

59
,
Page

60
,
Page

61
,
Page

62
,
Page

63