Remaining Long Format – Live Albums Part I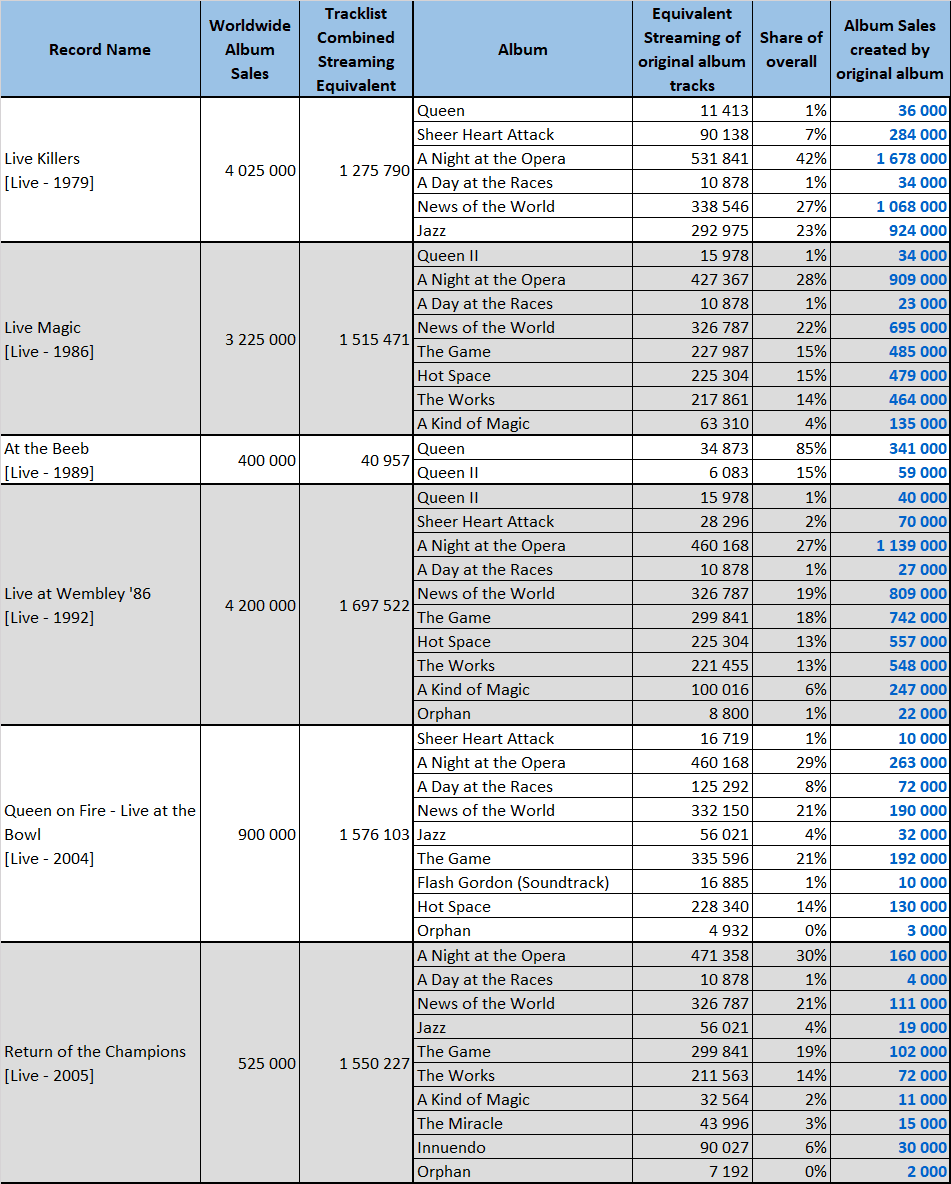 Queen were well-known to be a great live act with the charismatic Freddie leading the show. This reputation is translated in their record sales too with as many as 3 live sets which sold more than 3 million a piece, an impressive figure, even more so for a band that never sold more than 10,5 million copies with a studio album.
Live sets follow mostly the same patterns as remaining compilations in terms of sales distribution. The main difference is that weaker albums get even weaker as their songs weren't sung anymore. For example, as Somebody to Love was rarely part of their tours its parent album A Day at the Races is almost absent from those packages.
In the meantime, albums like A Night at the Opera and News of the World continue to be rewarded with stunning amounts of sales that they generated thanks to their biggest hits.
Pages:
Page

1
,
Page

2
,
Page

3
,
Page

4
,
Page

5
,
Page

6
,
Page

7
,
Page

8
,
Page

9
,
Page

10
,
Page

11
,
Page

12
,
Page

13
,
Page

14
,
Page

15
,
Page

16
,
Page

17
,
Page

18
,
Page

19
,
Page

20
,
Page

21
,
Page

22
,
Page

23
,
Page

24
,
Page

25
,
Page

26
,
Page

27
,
Page

28
,
Page

29
,
Page

30
,
Page

31
,
Page

32
,
Page

33
,
Page

34
,
Page

35
,
Page

36
,
Page

37
,
Page

38
,
Page

39
,
Page

40
,
Page

41
,
Page

42
,
Page

43
,
Page

44
,
Page

45
,
Page

46
,
Page

47
,
Page

48
,
Page

49
,
Page

50
,
Page

51
,
Page

52
,
Page

53
,
Page

54
,
Page

55
,
Page

56
,
Page

57
,
Page

58
,
Page

59
,
Page

60
,
Page

61
,
Page

62
,
Page

63