Remaining Long Format – Greatest Hits series – Boxes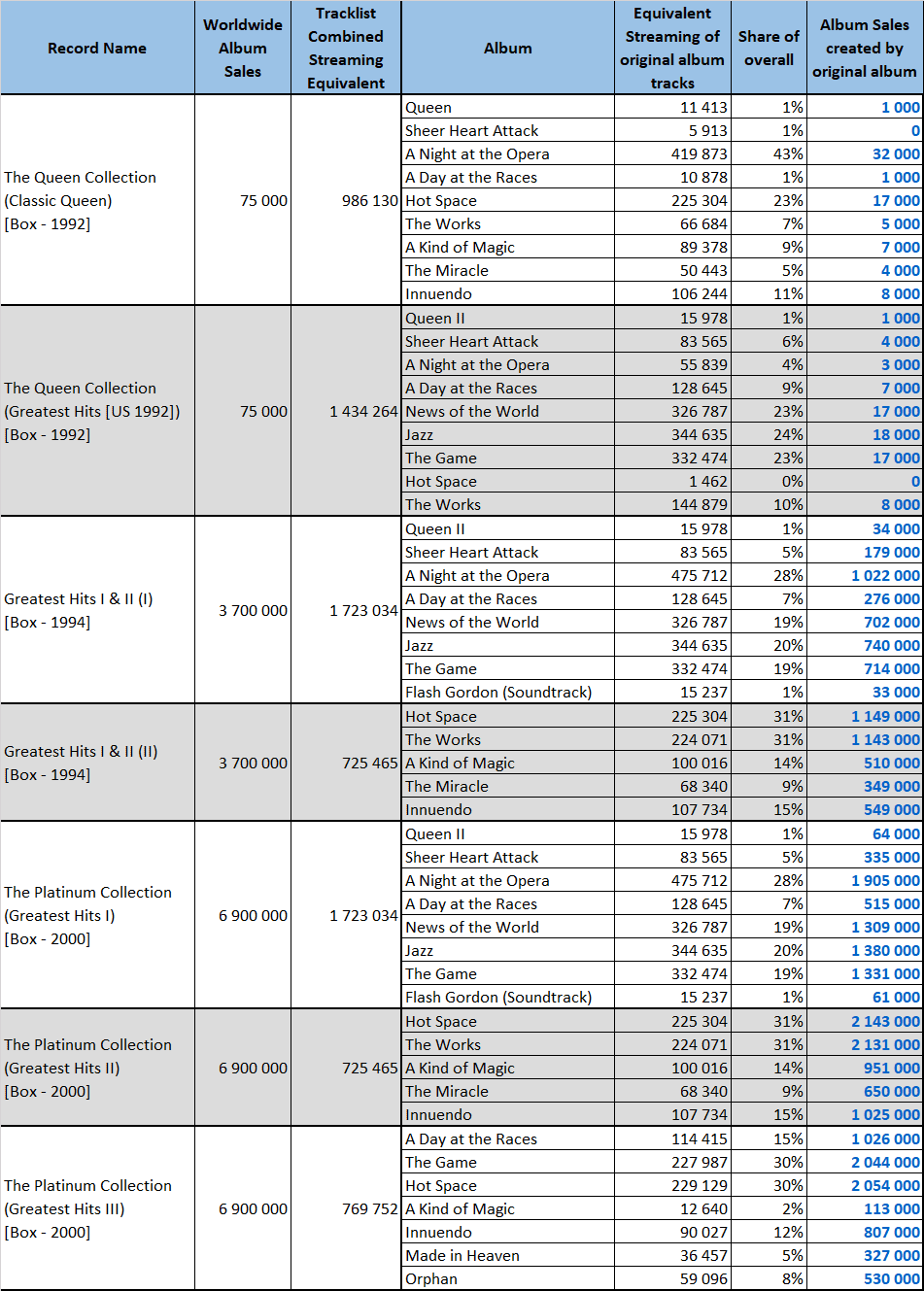 The last piece of this Greatest Hits series is made up of the three 2/3 CD boxes merging different volumes that have been released. The 1994 set joining both I and II's global sets already sold a solid 3,7 million but the Platinum Collection, which includes all 3 best of albums from 1981, 1991 and 1999, did even better at nearly 7 million. It must be said that sales of boxes that hardly sell together distinct records have 100% of their sales assigned into the original packages, here Greatest Hits I, II and III all receive the 6,9 million sales of the Platinum Collection.
As for sales distribution we logically face the same usual suspects that contain the band's biggest hits. We start to understand that pure album sales are already the visible part of the iceberg as albums like A Night at the Opera or News of the World generated numerous sales of distinct products apart from their own sales.
Pages:
Page

1
,
Page

2
,
Page

3
,
Page

4
,
Page

5
,
Page

6
,
Page

7
,
Page

8
,
Page

9
,
Page

10
,
Page

11
,
Page

12
,
Page

13
,
Page

14
,
Page

15
,
Page

16
,
Page

17
,
Page

18
,
Page

19
,
Page

20
,
Page

21
,
Page

22
,
Page

23
,
Page

24
,
Page

25
,
Page

26
,
Page

27
,
Page

28
,
Page

29
,
Page

30
,
Page

31
,
Page

32
,
Page

33
,
Page

34
,
Page

35
,
Page

36
,
Page

37
,
Page

38
,
Page

39
,
Page

40
,
Page

41
,
Page

42
,
Page

43
,
Page

44
,
Page

45
,
Page

46
,
Page

47
,
Page

48
,
Page

49
,
Page

50
,
Page

51
,
Page

52
,
Page

53
,
Page

54
,
Page

55
,
Page

56
,
Page

57
,
Page

58
,
Page

59
,
Page

60
,
Page

61
,
Page

62
,
Page

63