Remaining Long Format – Greatest Hits series – US releases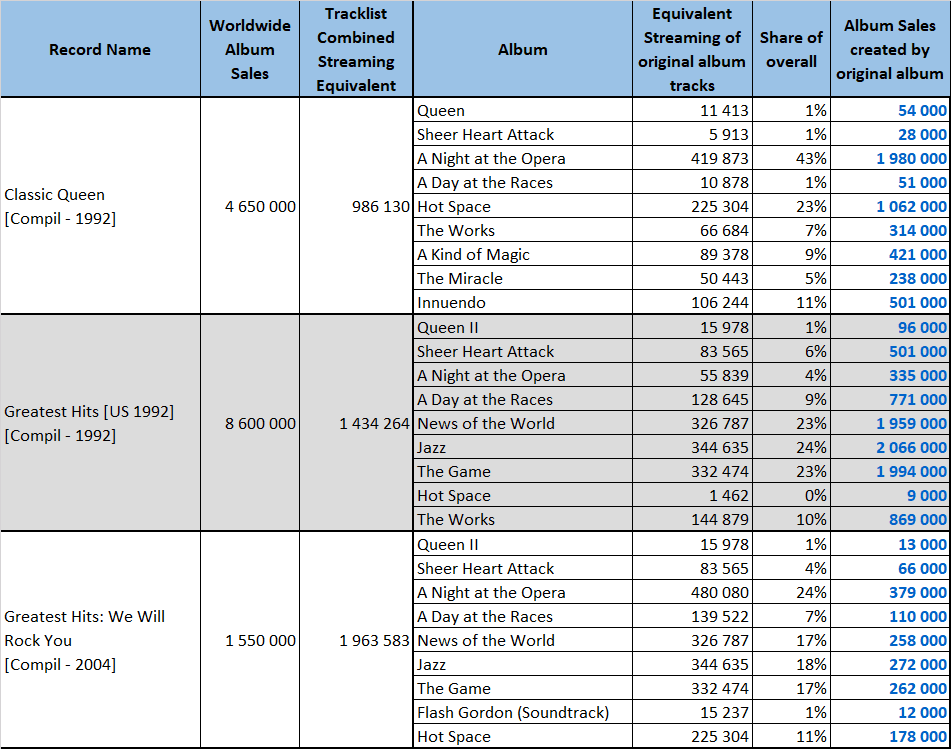 For many years the catalog of Queen was managed by two distinct labels. Elektra and then Hollywood Records in North America and EMI everywhere else. This situation, plus the different evolution of their career popularity-wise, concluded on fully specific best of albums released in the US and in Canada. Their Greatest Hits is often assimilated with the 1981 album of the same name while Classic Queen is mostly merged with Greatest Hits II. This is a very wrong simplification. As it can be seen with the sales distribution across the albums, the US releases aren't era-specific. In fact, Bohemian Rhapsody isn't on Greatest Hits but instead on Classic Queen while I Want to Break Free is a part of the former.
Sales-wise those albums are all monsters considering they are sold only in the US and Canada. If we add sales of all three together plus the original compilations seen on the previous page, we are up to 55 million units sold and that's not all.
Pages:
Page

1
,
Page

2
,
Page

3
,
Page

4
,
Page

5
,
Page

6
,
Page

7
,
Page

8
,
Page

9
,
Page

10
,
Page

11
,
Page

12
,
Page

13
,
Page

14
,
Page

15
,
Page

16
,
Page

17
,
Page

18
,
Page

19
,
Page

20
,
Page

21
,
Page

22
,
Page

23
,
Page

24
,
Page

25
,
Page

26
,
Page

27
,
Page

28
,
Page

29
,
Page

30
,
Page

31
,
Page

32
,
Page

33
,
Page

34
,
Page

35
,
Page

36
,
Page

37
,
Page

38
,
Page

39
,
Page

40
,
Page

41
,
Page

42
,
Page

43
,
Page

44
,
Page

45
,
Page

46
,
Page

47
,
Page

48
,
Page

49
,
Page

50
,
Page

51
,
Page

52
,
Page

53
,
Page

54
,
Page

55
,
Page

56
,
Page

57
,
Page

58
,
Page

59
,
Page

60
,
Page

61
,
Page

62
,
Page

63