Full Length related record Sales
It sounds fairly logical to add together weighted sales of one era – studio album, physical singles, downloads, streams – to get the full picture of an album's popularity. For older releases though, they also generate sales of various live, music videos and compilation albums.
All those packaging-only records do not create value, they exploit the value originating from the parent studio album of each of its tracks instead. Inevitably, when such compilations are issued, this downgrades catalog sales of the original LP. Thus, to perfectly gauge the worth of these releases, we need to re-assign sales proportionally to its contribution of all the compilations which feature its songs. The following table explains this method.
Remaining Long Format – Greatest Hits series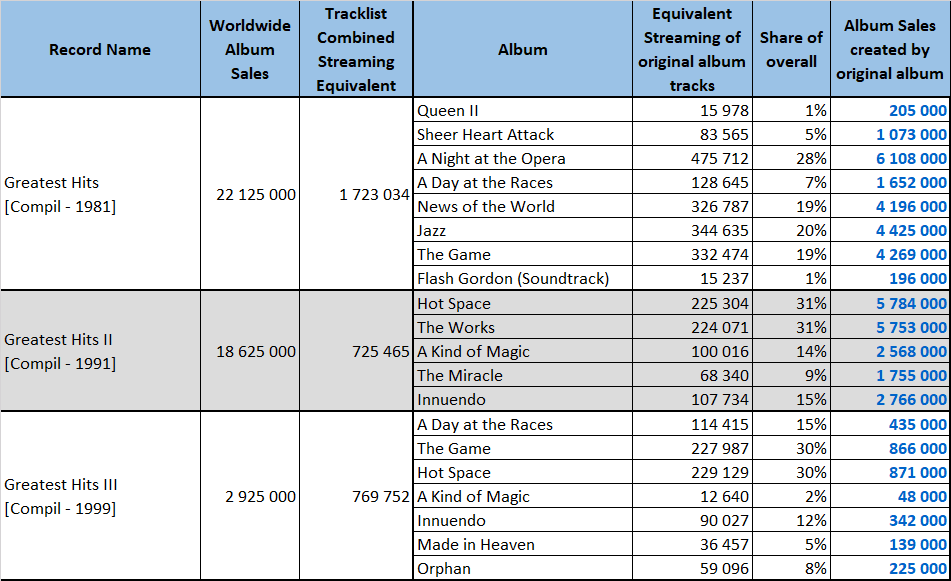 How to understand this table? If you check for example the Greatest Hits compilation line, those figures mean it sold 22,125,000 units worldwide. The second statistics column means all versions of all the songs included on this package add for 1,723,000 equivalent album sales from streams of all types.
The second part on the right of the table shows how many equivalent streams are coming from each original album, plus the share it represents on the overall package. Thus, streaming figures tell us songs from the Jazz album are responsible for 20% of the Greatest Hits track list attractiveness. This means it generated 4,425,000 of its 22,125,000 album sales and so forth for the other records.
During the streaming category we noticed how insanely valuable Queen's songs from various eras were. The cumulative amount of worth is far too massive to sell on 1 CD only. Dividing that discography in distinctive parts makes perfect sense. That's why EMI continued to release multi-CD best of albums for Queen, as one unique disc with their top 15 songs would be wasting a lot of strength.
This strength enables two best of albums to sell 40 million units combined with different songs. The most absurd fact is that those compilations aren't available in the US (although Greatest Hits was during the 80s only) so there are many more millions of sales coming on the next page. Not only that, boxes of the first two or with all three Greatest Hits albums sold millions also.
Sales distribution-wise, we can see that Queen doesn't rely on one or two big hits only. Their discography is full of highly valuable tracks. A Night at the Opera, News of the World, Jazz, The Game, Hot Space, The Works and Innuendo have all had a deep impact on their sales of compilations. Each of them is responsible for at least 4,5 million units sold.
Pages:
Page

1
,
Page

2
,
Page

3
,
Page

4
,
Page

5
,
Page

6
,
Page

7
,
Page

8
,
Page

9
,
Page

10
,
Page

11
,
Page

12
,
Page

13
,
Page

14
,
Page

15
,
Page

16
,
Page

17
,
Page

18
,
Page

19
,
Page

20
,
Page

21
,
Page

22
,
Page

23
,
Page

24
,
Page

25
,
Page

26
,
Page

27
,
Page

28
,
Page

29
,
Page

30
,
Page

31
,
Page

32
,
Page

33
,
Page

34
,
Page

35
,
Page

36
,
Page

37
,
Page

38
,
Page

39
,
Page

40
,
Page

41
,
Page

42
,
Page

43
,
Page

44
,
Page

45
,
Page

46
,
Page

47
,
Page

48
,
Page

49
,
Page

50
,
Page

51
,
Page

52
,
Page

53
,
Page

54
,
Page

55
,
Page

56
,
Page

57
,
Page

58
,
Page

59
,
Page

60
,
Page

61
,
Page

62
,
Page

63