Streaming Part 5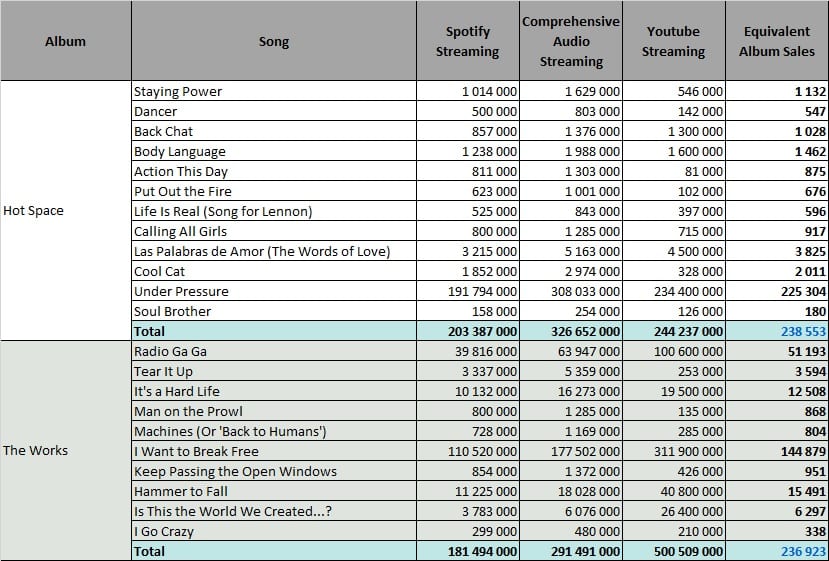 Here is more evidence that Queen weren't about momentum only. After the flop of Flash Gordon, they released the duet with David Bowie, Under Pressure. At 192 million, the band adds one more smash that is by far bigger than the signature song of tons of A-League artists.
I Want to Break Free is on 111 million and 312 million on Spotify and YouTube respectively. Radio Gaga is big while both It's a Hard Life and Hammer to Fall top 10 million.
Hot Space and The Works are almost tied with over 235,000 equivalent album sales each.
Pages:
Page

1
,
Page

2
,
Page

3
,
Page

4
,
Page

5
,
Page

6
,
Page

7
,
Page

8
,
Page

9
,
Page

10
,
Page

11
,
Page

12
,
Page

13
,
Page

14
,
Page

15
,
Page

16
,
Page

17
,
Page

18
,
Page

19
,
Page

20
,
Page

21
,
Page

22
,
Page

23
,
Page

24
,
Page

25
,
Page

26
,
Page

27
,
Page

28
,
Page

29
,
Page

30
,
Page

31
,
Page

32
,
Page

33
,
Page

34
,
Page

35
,
Page

36
,
Page

37
,
Page

38
,
Page

39
,
Page

40
,
Page

41
,
Page

42
,
Page

43
,
Page

44
,
Page

45
,
Page

46
,
Page

47
,
Page

48
,
Page

49
,
Page

50
,
Page

51
,
Page

52
,
Page

53
,
Page

54
,
Page

55
,
Page

56
,
Page

57
,
Page

58
,
Page

59
,
Page

60
,
Page

61
,
Page

62
,
Page

63