Streaming Part 3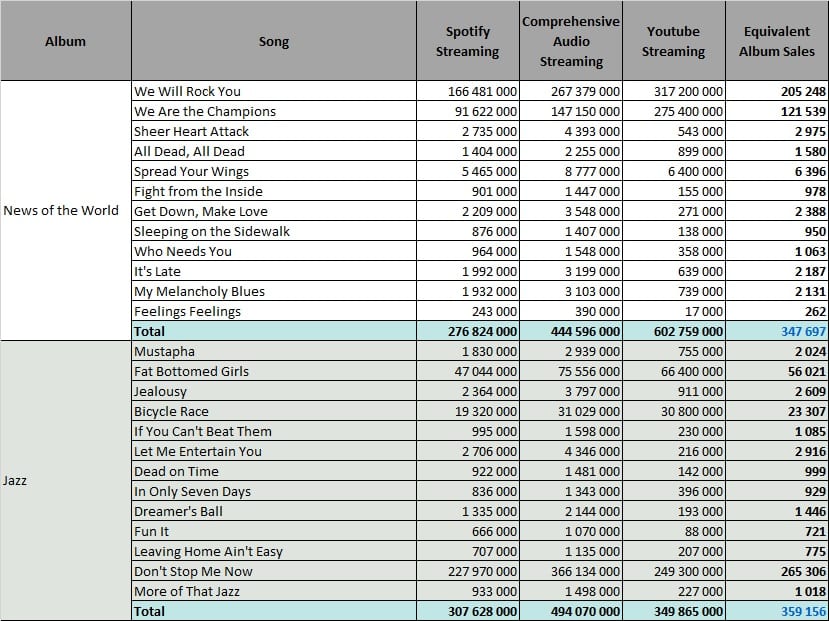 You can hardly start a track list as strong as the one of News of the World. Both We Will Rock You and We Are the Champions are streaming beasts with equivalent album sales on 327,000 units combined.
The main surprise comes from Jazz. It has 3 solid hits, but more than anything it has Don't Stop Me Now over 225 million on both Spotify and YouTube. It is one of the two songs from the 70s which tops this threshold on both platforms, the other one is obviously their own Bohemian Rhapsody. Has someone ever doubted Queen's organic popularity?
Both albums, News of the World and Jazz, are around 350,000 equivalent album sales from streams. This tops albums like Saturday Night Fever and Grease!
Pages:
Page

1
,
Page

2
,
Page

3
,
Page

4
,
Page

5
,
Page

6
,
Page

7
,
Page

8
,
Page

9
,
Page

10
,
Page

11
,
Page

12
,
Page

13
,
Page

14
,
Page

15
,
Page

16
,
Page

17
,
Page

18
,
Page

19
,
Page

20
,
Page

21
,
Page

22
,
Page

23
,
Page

24
,
Page

25
,
Page

26
,
Page

27
,
Page

28
,
Page

29
,
Page

30
,
Page

31
,
Page

32
,
Page

33
,
Page

34
,
Page

35
,
Page

36
,
Page

37
,
Page

38
,
Page

39
,
Page

40
,
Page

41
,
Page

42
,
Page

43
,
Page

44
,
Page

45
,
Page

46
,
Page

47
,
Page

48
,
Page

49
,
Page

50
,
Page

51
,
Page

52
,
Page

53
,
Page

54
,
Page

55
,
Page

56
,
Page

57
,
Page

58
,
Page

59
,
Page

60
,
Page

61
,
Page

62
,
Page

63