Streaming – Evolution over time
As streaming figures of Britney were already fully listed in last August's CSPC analysis, it is possible to display the evolution of each song and album. Below are the main changes since then with some comments.
Let's start with songs from …Baby One More Time.
All figures in thousands.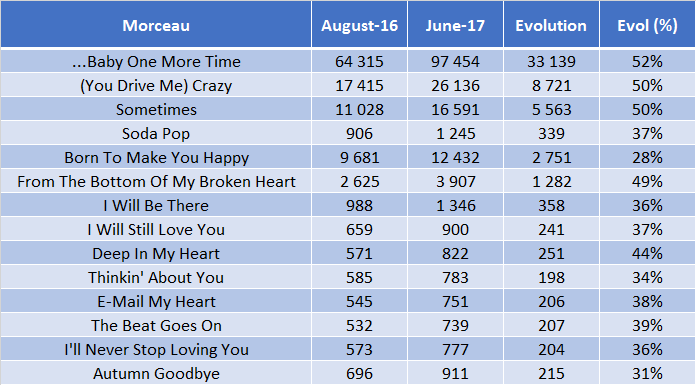 One may expect that since those songs were already catalog tunes when Spotify was introduced, their streams are all evolving with the same proportion. It isn't the case at all as all four singles at the time gained roughly 50% of their previous result. On a less positive note, album tracks are up by only 35% give or take a few percent's.
How can this be explained? Well, there are three reasons. The first is the discovery / nostalgia effect. People downloading the application for the first time will tend to search for their favorite artist and enjoy listening again to old albums. The second reason is the consolidation of the usage of playlists. Most people go by playlists instead of artist pages, therefore most of the big hits will be favored over album tracks. The third reason, and most likely the biggest one, is the share of paid users increasing among all Spotify users. Free users can only use it with random mode, thus listening to album tracks even if they are looking for the big hits. As more and more users switch to a premium subscription, they are free to skip the tracks they don't want to listen to, or playlist only the songs they would like to play.
Now that we noticed the hits are growing more than other songs on Spotify, let's see which hits from which era among Britney's catalog are performing the best. Below list filters all her songs up to Circus with 5 million or more streams.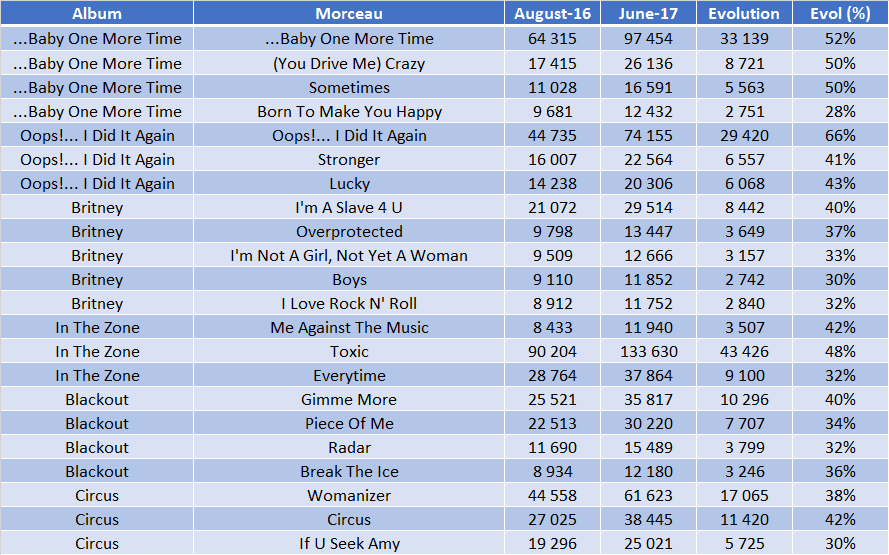 Slowly but surely we can see an erosion of evolutions era after era. While BOMT songs increased by 50%, later singles are mostly under 40%, with If U Seek Amy at +30% only.
The expectation should have been the opposite with older songs becoming more forgotten than recent ones. While the popularity of old songs do slow down year after year, it is more stable than a song which is, say, 5 years old. When Spotify started to grow around 2012/2013, a song like Sometimes was already very old, so it remains as pretty much equally popular now as it was at that time. However, If U Seek Amy was still recent then with strong recurrent streams amassed during that period. This is why it increases in percentage far less than Sometimes in spite of gaining more streams in absolute numbers.
Do we see the same phenomenon on albums from the Spotify era?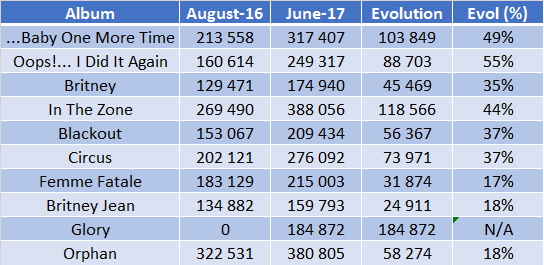 The verdict is very clear with both Femme Fatale and Britney Jean evolving way less than their predecessors. Now that their promotional eras are gone we can see how much less appealing they already are. Britney Jean, which was the most recent album of Britney until Glory, gained a chaotic 25 million streams in 10 months. This is nearly 5 times less than In The Zone, which is poised to keep growing far more than all her other albums. In fact, at 119 million streams it doesn't pale in comparison to Glory although that album was releasing when the last article was published.
Pages:
Page

1
,
Page

2
,
Page

3
,
Page

4
,
Page

5
,
Page

6
,
Page

7
,
Page

8
,
Page

9
,
Page

10
,
Page

11
,
Page

12
,
Page

13
,
Page

14
,
Page

15
,
Page

16
,
Page

17
,
Page

18
,
Page

19
,
Page

20
,
Page

21
,
Page

22
,
Page

23
,
Page

24
,
Page

25
,
Page

26
,
Page

27
,
Page

28
,
Page

29
,
Page

30
,
Page

31
,
Page

32
,
Page

33
,
Page

34