Streaming Part 3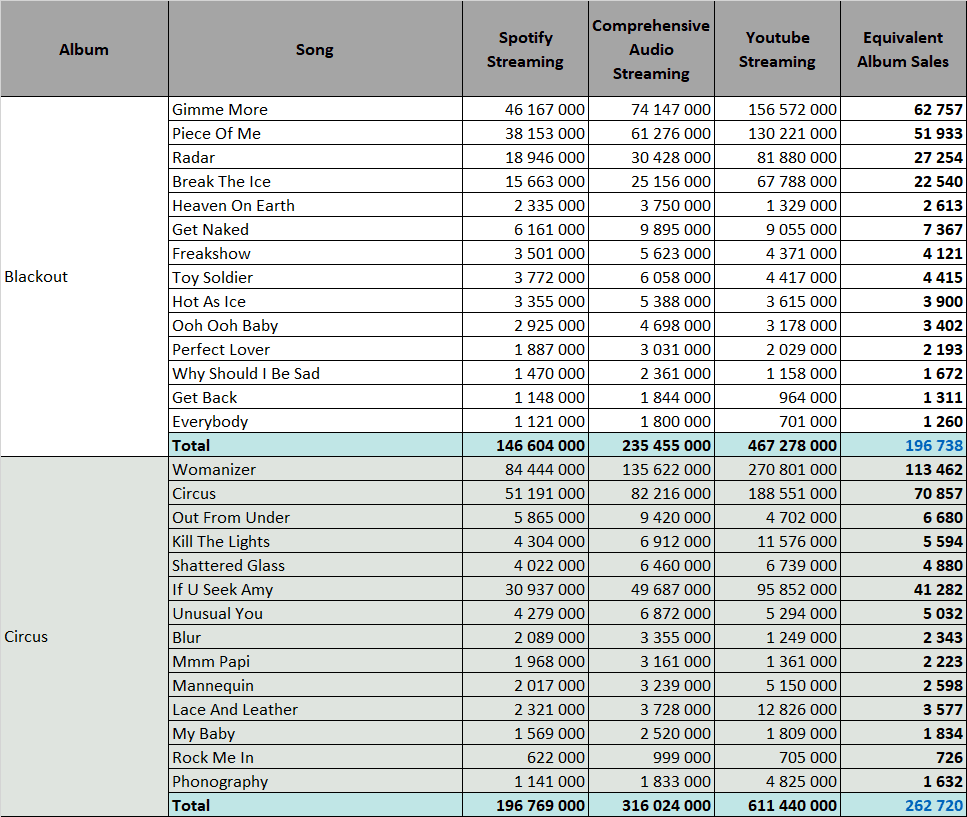 It's pretty much the same story once again with Blackout and Circus. Both released at the very beginning of the streaming era, thus it was far too early to accumulate relevant plays during their promotional campaign. Thus, they enjoy streaming on a catalog basis only.
Still, at less than 350 million streams combined, those two albums pretty much under perform as well in this area.
One pretty interesting highlight is how all Britney's albums so far are rather close, all between 167,000 and 335,000 album sales equivalent, despite having been received very differently upon release. Blackout was a disaster when it came out whereas Circus was a success. Still both are equally popular by now. Blackout even almost ties Oops!… I Did It Again, an album that sold seven times more in original album format. Those figures show that, except for a few singles, her catalog is listened to mostly by fans, interested in all her songs, rather than by casual listeners.
Pages:
Page

1
,
Page

2
,
Page

3
,
Page

4
,
Page

5
,
Page

6
,
Page

7
,
Page

8
,
Page

9
,
Page

10
,
Page

11
,
Page

12
,
Page

13
,
Page

14
,
Page

15
,
Page

16
,
Page

17
,
Page

18
,
Page

19
,
Page

20
,
Page

21
,
Page

22
,
Page

23
,
Page

24
,
Page

25
,
Page

26
,
Page

27
,
Page

28
,
Page

29
,
Page

30
,
Page

31
,
Page

32
,
Page

33
,
Page

34