Streaming Part 2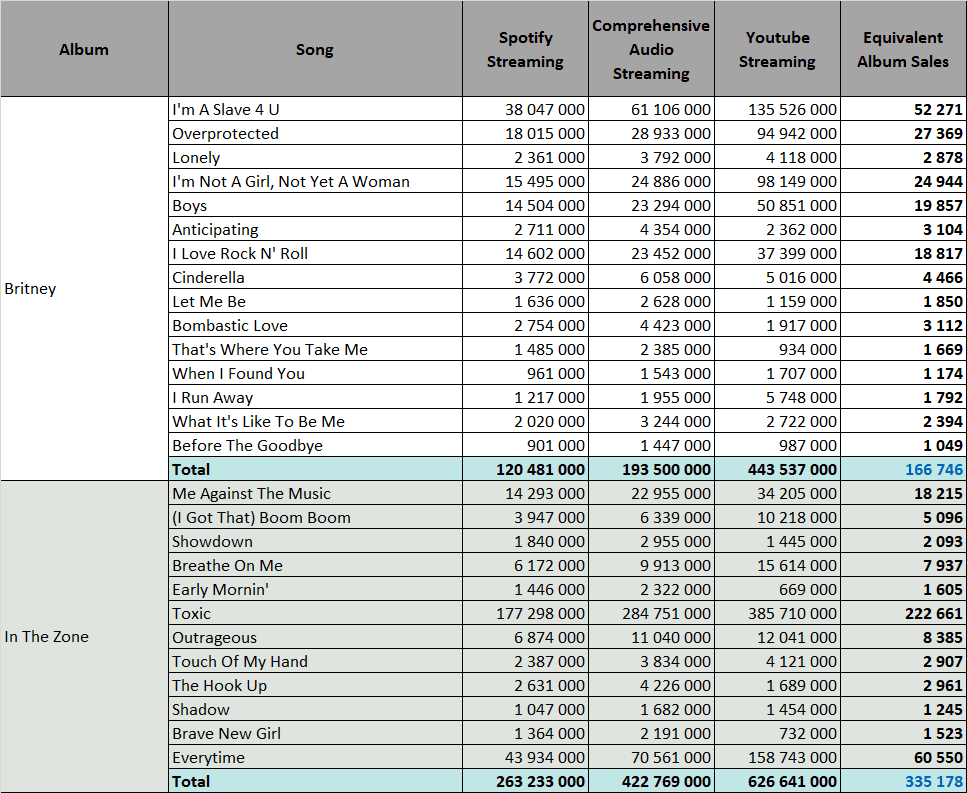 In spite of changing both her image and her music into a more mature nature, the pattern verified on her first two albums is the same for Britney and In The Zone.
A few songs perform well, most notably Toxic which ends up being Britney's signature song as of now. Although both I'm A Slave 4 U and Everytime are not forgotten at all, the fact that all the tracks from Britney combined add for less than Toxic alone says a lot about those streaming figures. Toxic has an impressive showing at 177 million streams on Spotify and 386 million views on YouTube.
As a comparison, Britney's male equivalent from the early 00s, Eminem, is up to more than 1,2 million equivalent album sales with his 2002 The Eminem Show record. This is more than Britney's first four albums combined as they stand on 1,033,000. This is not specific to just Eminem's 2002 blockbuster, as his huge Lose Yourself, from the 8 Mile film soundtrack, crushes alone all the songs from Britney and In The Zone combined.
Pages:
Page

1
,
Page

2
,
Page

3
,
Page

4
,
Page

5
,
Page

6
,
Page

7
,
Page

8
,
Page

9
,
Page

10
,
Page

11
,
Page

12
,
Page

13
,
Page

14
,
Page

15
,
Page

16
,
Page

17
,
Page

18
,
Page

19
,
Page

20
,
Page

21
,
Page

22
,
Page

23
,
Page

24
,
Page

25
,
Page

26
,
Page

27
,
Page

28
,
Page

29
,
Page

30
,
Page

31
,
Page

32
,
Page

33
,
Page

34