Streaming Sales
Streaming is made up of two families – audio and video. Our CSPC methodology now includes both to better reflect the real popularity of each track. The main source of data for each avenue is respectively Spotify and YouTube. As detailed in the Fixing Log article, Spotify represents 132 million of the 212 million users of streaming platforms, while YouTube is pretty much the only video platform generating some revenue for the industry. Below is the equivalence set on the aforementioned article:
Audio Stream – 1500 plays equal 1 album unit
Video Stream – 11,750 views equal 1 album unit
Thus…
Equivalent Albums Sales = 212/132 * Spotify streams / 1500 + YouTube views / 11750
Streaming Part 1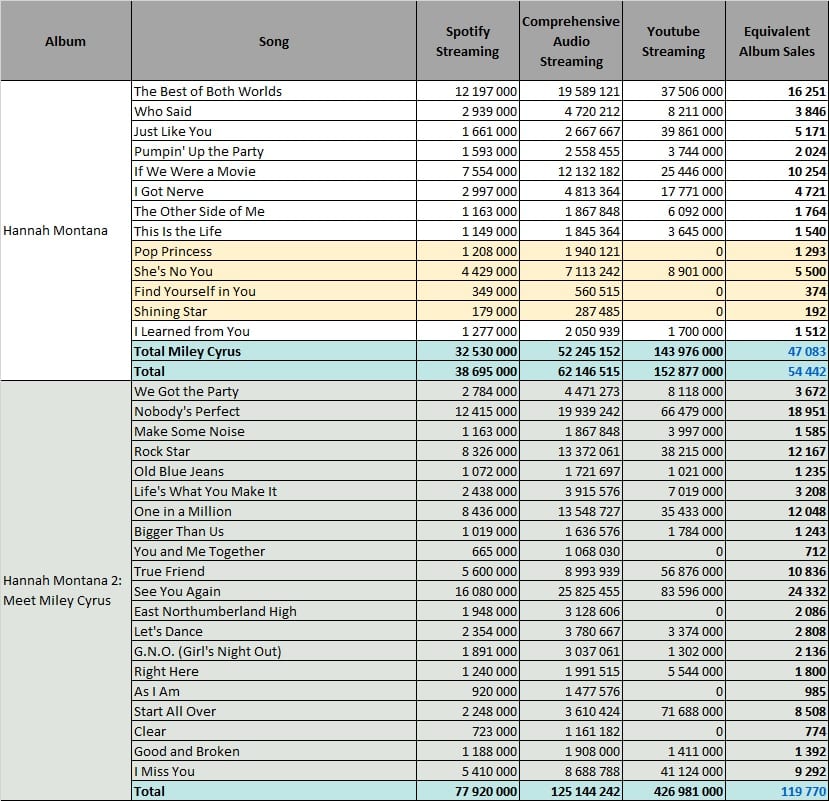 We must remember the early tracks of Miley Cyrus were recorded when she was just 13-14 years old. It means her current fans are not necessarily interested in listening to them as she is now a very different artist. Taking this into account, the results of those albums are still quite respectable. Most tracks are well past 1 million plays on Spotify with five from the second album topping 5 million. YouTube views are all the more strong as they contain the early days of those songs while Spotify came out years later.
In total, their streams in all forms equal to respectively 54,000 and 120,000 units.