Demi Lovato CAREER CSPC RESULTS
So, after checking all the figures, how many overall equivalent album sales has each Demi Lovato album achieved? Well, at this point we hardly need to add up all of the figures defined in this article!
In the following table, all categories display figures that way, e.g. in equivalent album sales. For example, singles from Demi released in digital format sold the equivalent of 1,328,000 albums – 8,850,000 downloads with a 10 to 1,5 weighting.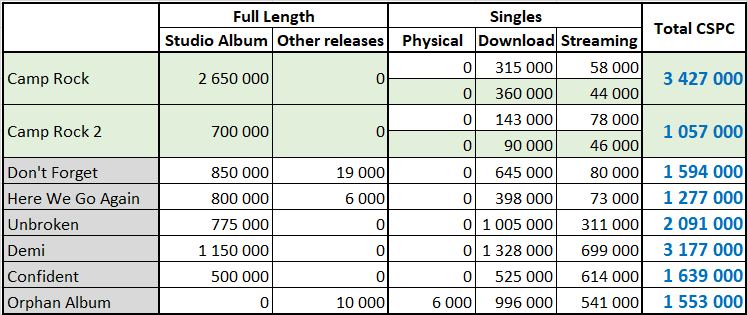 NB: White cells in Camp Rock lines refer to Demi owned material.
Studio Album: sales of the original album
Other Releases: sales of compilations generated thanks to the album
Physical Singles: sales of physical singles from the album (ratio 3/10)
Download Singles: sales of digital singles from the album (ratio 1,5/10)
Streaming: equivalent album sales of all the album tracks (ratio 1/1500 for Audio stream and 1/11750 for Video stream)
Never making it truly big, Demi has proved to be incredibly consistent for various years now. All her albums shifted past 1 million equivalent albums once combining and weighting all formats together. A favorable indicator for her future is the distribution of those sales. In pure album format she sold 4,1 million units while her digital total, made up of both downloads and streaming, amounts for over 8,3 million. Considering the latter format is massively taking over the former one, the fact she is stronger there is a very good sign.
More than a sign, it is an accomplishment that she achieved with Demi, easily topping her first three albums. Its great streaming results push it over 3 million. This is very telling as 3 million in 2013 is a result that puts her in a much higher league than 1 million in 2008. There is still some way before reaching A-League star status but, Demi is surely closer today than she was five years ago.
In total, she sold a combined 11,9 million equivalent album sales.
The following pages list her most successful songs. Do not forget to check our amazing cross-artists lists posted inside the CSPC: Data Collector which includes the full listing of all CSPC results compiled so far to better gauge her position in the history of the music industry.
As usual, feel free to comment and / or ask a question!
Sources: IFPI, Spotify, YouTube, Chartmasters.org.