Full Length related records Sales – Summary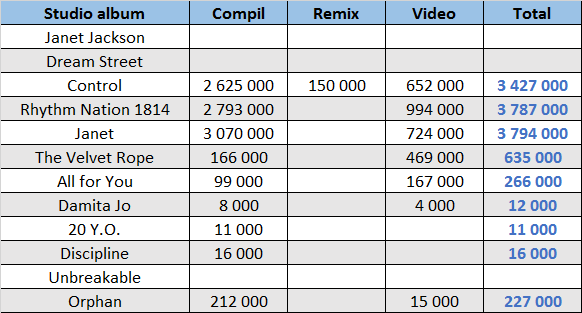 Here is the most underestimated indicator of an album success – the amount of compilation sales of all kinds it generated. Due to the dependency of the own studio album sales on those releases, they are a key piece of the jigsaw.
The overwhelming dominance of Design of a Decade among all those sets logically put Control, Rhythm Nation 1814 and Janet. well ahead of the pack. Both The Velvet Rope and All For You have solid hits but the artist simply hasn't sold enough compilations after their releases.
Pages:
Page

1
,
Page

2
,
Page

3
,
Page

4
,
Page

5
,
Page

6
,
Page

7
,
Page

8
,
Page

9
,
Page

10
,
Page

11
,
Page

12
,
Page

13
,
Page

14
,
Page

15
,
Page

16
,
Page

17
,
Page

18
,
Page

19
,
Page

20
,
Page

21
,
Page

22
,
Page

23
,
Page

24
,
Page

25
,
Page

26
,
Page

27
,
Page

28
,
Page

29
,
Page

30
,
Page

31
,
Page

32
,
Page

33
,
Page

34