Streaming Part 4 – Slowing down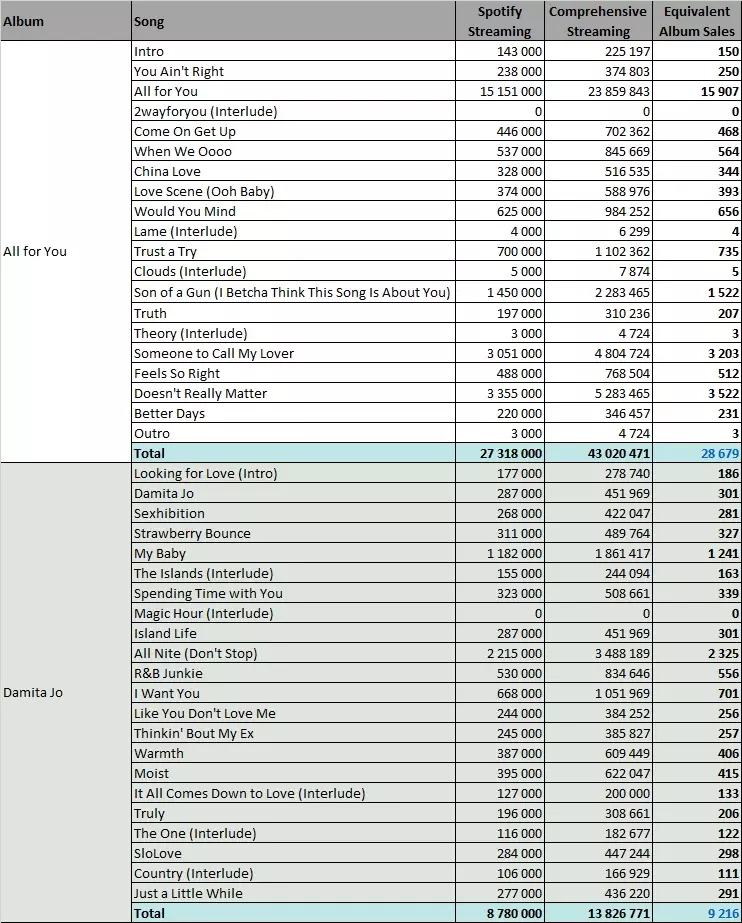 Expectedly, All For You is the diva last big hit. With 15 million plays, it ranks on the same league as her big 90s tunes. Indeed, her top 4 songs are all in the 15-22 million range showing one more time the absence of real signature song in her repertoire.
The collapse is real with Damita Jo which has only 9,000 equivalent album sales, less than a third of All For You.
Pages:
Page

1
,
Page

2
,
Page

3
,
Page

4
,
Page

5
,
Page

6
,
Page

7
,
Page

8
,
Page

9
,
Page

10
,
Page

11
,
Page

12
,
Page

13
,
Page

14
,
Page

15
,
Page

16
,
Page

17
,
Page

18
,
Page

19
,
Page

20
,
Page

21
,
Page

22
,
Page

23
,
Page

24
,
Page

25
,
Page

26
,
Page

27
,
Page

28
,
Page

29
,
Page

30
,
Page

31
,
Page

32
,
Page

33
,
Page

34