Streaming Part 4 – Running Away From the Bees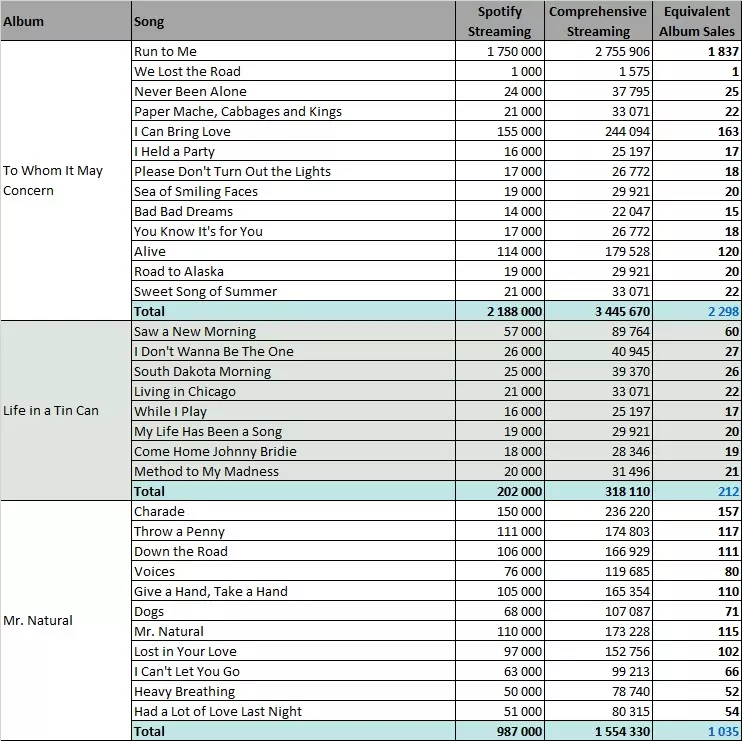 Well, what can be said about such figures? Life In a Tin Can is quite simply the worst performer we have ever met with an unreal 202,000 plays for all songs merged together.
At 1,75m Run To Me is the only song from those albums over 155,000 streams. Who could have guessed at the time that Gibbs brothers were going to drop the biggest album of all-time a few years later ?
Pages:
Page

1
,
Page

2
,
Page

3
,
Page

4
,
Page

5
,
Page

6
,
Page

7
,
Page

8
,
Page

9
,
Page

10
,
Page

11
,
Page

12
,
Page

13
,
Page

14
,
Page

15
,
Page

16
,
Page

17
,
Page

18
,
Page

19
,
Page

20
,
Page

21
,
Page

22
,
Page

23
,
Page

24
,
Page

25
,
Page

26
,
Page

27
,
Page

28
,
Page

29
,
Page

30
,
Page

31
,
Page

32
,
Page

33
,
Page

34
,
Page

35
,
Page

36
,
Page

37
,
Page

38
,
Page

39
,
Page

40
,
Page

41
,
Page

42
,
Page

43
,
Page

44
,
Page

45
,
Page

46
,
Page

47
,
Page

48
,
Page

49
,
Page

50
,
Page

51
,
Page

52
,
Page

53
,
Page

54
,
Page

55
,
Page

56
,
Page

57
,
Page

58
,
Page

59
,
Page

60
,
Page

61
,
Page

62
,
Page

63
,
Page

64
,
Page

65
,
Page

66
,
Page

67