Streaming Sales
As seen with the example of the Beatles, today weight of Spotify is steadily increasing, representing as much as 63,5% of overall streams on their example. The Swedish giant recently announced they broke the 50-million barrier of paid subscribers.
We will keep that ratio Spotify-All Audio Streaming services updated as much as possible, especially when next IFPI RIN comes out next month covering 2016 Global market. For now, we will be sticking with this 63,5% rate.
What is this section about? Here we will be reviewing streams from all songs and all albums of today artist, converting each of them into equivalent album sales. The equivalent album sales is the division of the comprehensive streaming figure by 1500 as it is now the norm in the new industry model.
Streaming Part 1 – Golden Era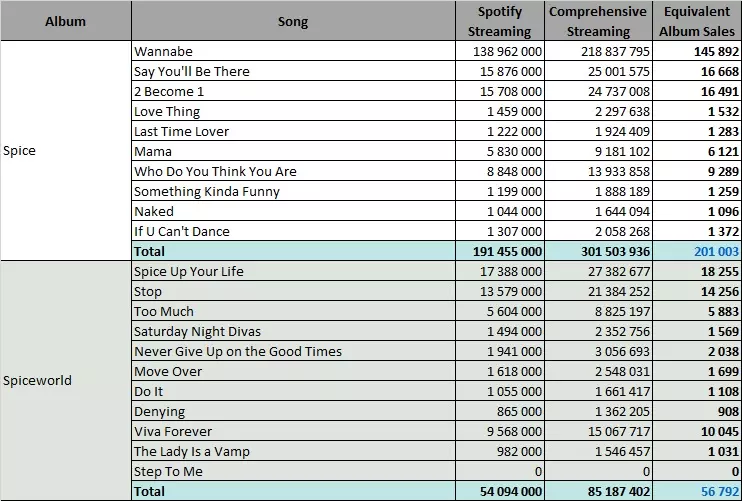 Here comes a surprising feat – most Spice and Spiceworld album tracks are past 1 million streams. Giving how weak their catalog sales are, this is the trademark of an ever-lasting fan base which keeps on playing their material. Those fans obviously own those albums for long which is why sales are so bad in the other side.
In fact, streaming gives the Spice Girls some credit back. Not many people will likely buy their albums or even download their singles tomorrow, yet many will enjoy listening to a couple of tracks on a party. This is visible with all Say You'll Be There, 2 Become 1, Spice Up Your Life and Stop being around 15 million plays a piece.
What can we say about Wannabe then? Up to 139 million streams, this gigantic smash remains as popular as ever. An obvious favorite for 90s, girls or party themed playlists, it isn't going to slow down anytime soon.
That track alone is responsible for the huge difference between both albums totals. As a result, Spice has 201,000 equivalent album sales while Spiceworld is much lower at 57,000 units.