Streaming Part 6 – No Revolution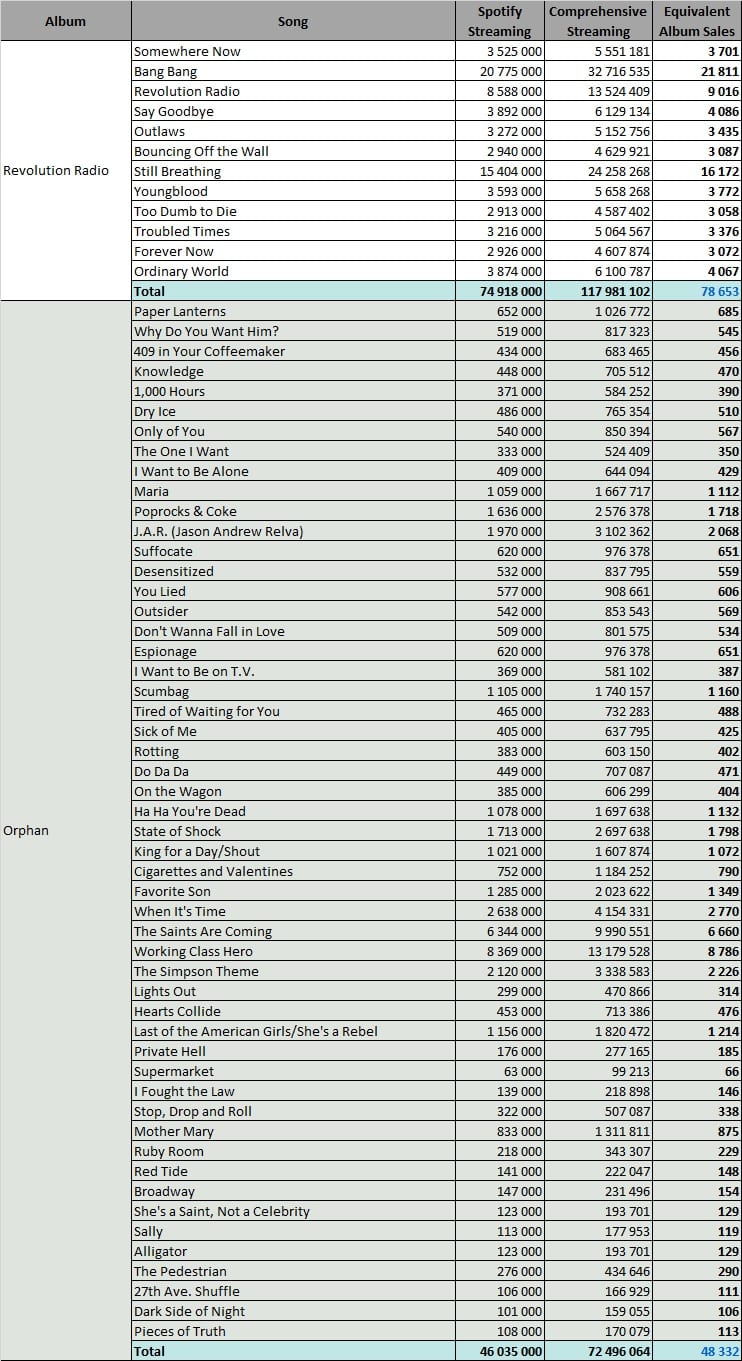 While just watching for figures Revolution Radio looks stronger than previous albums, it is enjoying a streaming market way bigger than a few years ago. Both #1 Alternative Songs on US radios are on 15-20 million, yet for this day and age those are truly unimpressive numbers. In fact, out of all 16 #1s of 2016 in Billboard Alternative Songs ranking, Green Day's Bang Bang is the 14th worst performer ahead only of Trip Switch by Nothing But Thieves and Mess Around by Cage the Elephant, both of which are very close anyway on 18-20 million. In the other side of the spectrum, the Top 4 of those 16 tracks, all by Twenty One Pilots and Coldplay, register at least 350 million streams each.
Those figures highlight an obvious lack of crossover appeal outside of the Rock box from Green Day new songs. All told, Revolution Radio is on 79,000 equivalent album sales, while all non-album tracks listed within' the Orphan Album folder add for 48,000 units.
Pages:
Page

1
,
Page

2
,
Page

3
,
Page

4
,
Page

5
,
Page

6
,
Page

7
,
Page

8
,
Page

9
,
Page

10
,
Page

11
,
Page

12
,
Page

13
,
Page

14
,
Page

15
,
Page

16
,
Page

17
,
Page

18
,
Page

19
,
Page

20
,
Page

21
,
Page

22
,
Page

23
,
Page

24
,
Page

25
,
Page

26
,
Page

27
,
Page

28
,
Page

29
,
Page

30
,
Page

31
,
Page

32
,
Page

33
,
Page

34
,
Page

35