Streaming Part 4 – Successful holidays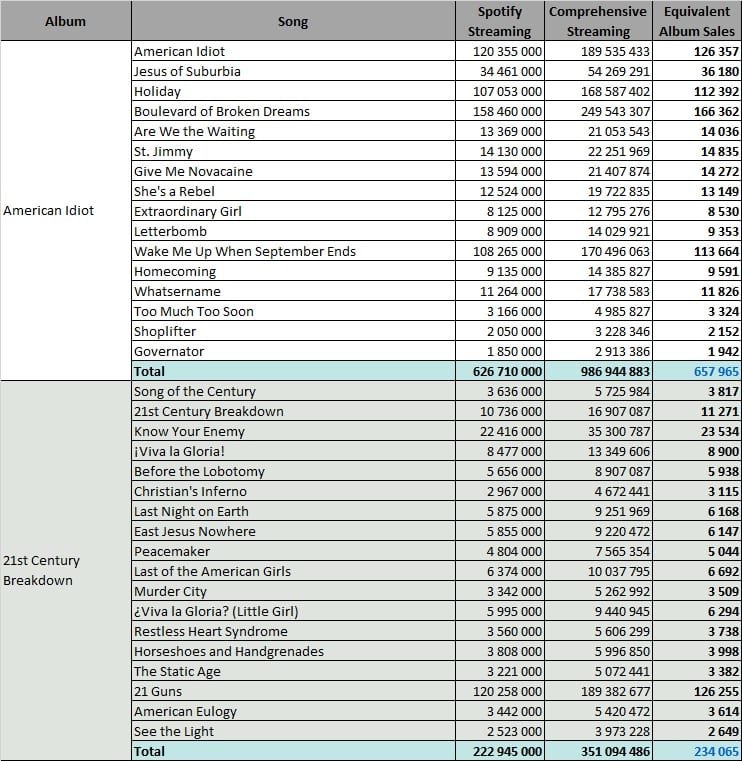 The unexpected and terrific return to form of Green Day with American Idiot album wasn't the result of luck. The record contains as much as 4 massively loved songs. The title track, Holiday, Boulevard of Broken Dreams and Wake Me Up When September Ends all crack the magical 100-million threshold. With nearly 1 billion comprehensive streams, the album is up to 658,000 equivalent album sales.
While nowhere near as big 21st Century Breakdown performs pretty decently. With most album tracks around 3 million and singles topping 10 million, it is close to Dookie. It also has one mega-smash with 21 Guns, a 120 million streams song. The album amasses 234,000 equivalent sales.
Pages:
Page

1
,
Page

2
,
Page

3
,
Page

4
,
Page

5
,
Page

6
,
Page

7
,
Page

8
,
Page

9
,
Page

10
,
Page

11
,
Page

12
,
Page

13
,
Page

14
,
Page

15
,
Page

16
,
Page

17
,
Page

18
,
Page

19
,
Page

20
,
Page

21
,
Page

22
,
Page

23
,
Page

24
,
Page

25
,
Page

26
,
Page

27
,
Page

28
,
Page

29
,
Page

30
,
Page

31
,
Page

32
,
Page

33
,
Page

34
,
Page

35