Streaming Part 3 – Calm before the Storm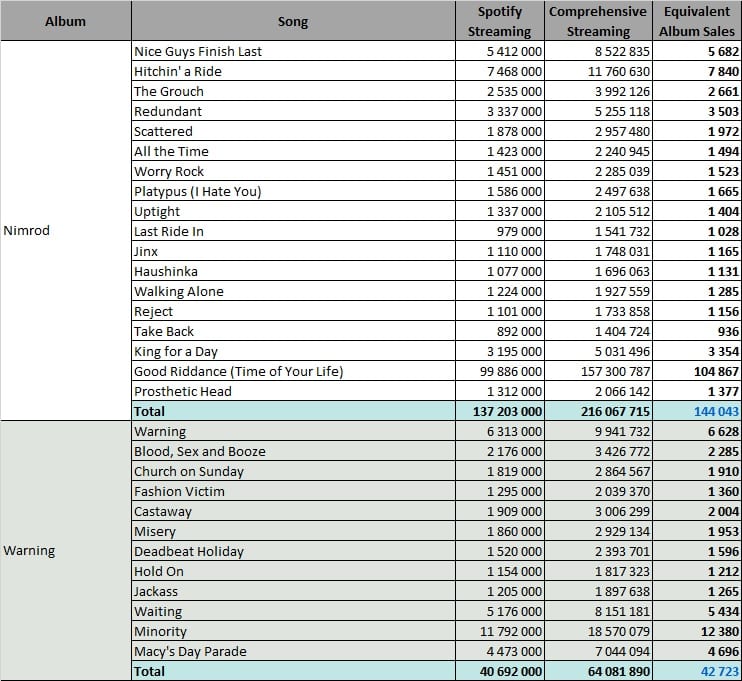 Both Nimrod and Warning had similar receptions to Insomniac when they got first released, all of them selling pretty much the same number of copies in their first 12 months.
Good Riddance (Time of Your Life) started to be used as some kind of celebration tune. One that you will air at funerals or when completing your university. This raised its status over years, climbing now to a huge 100 million mark. That song alone gets nearly as much streams as all other tracks from Insomniac, Nimrod and Warning combined. Home of this hit, Nimrod is the one enjoying those results with 144,000 equivalent album sales.
Pages:
Page

1
,
Page

2
,
Page

3
,
Page

4
,
Page

5
,
Page

6
,
Page

7
,
Page

8
,
Page

9
,
Page

10
,
Page

11
,
Page

12
,
Page

13
,
Page

14
,
Page

15
,
Page

16
,
Page

17
,
Page

18
,
Page

19
,
Page

20
,
Page

21
,
Page

22
,
Page

23
,
Page

24
,
Page

25
,
Page

26
,
Page

27
,
Page

28
,
Page

29
,
Page

30
,
Page

31
,
Page

32
,
Page

33
,
Page

34
,
Page

35