Streaming Part 2 – mid-90s hits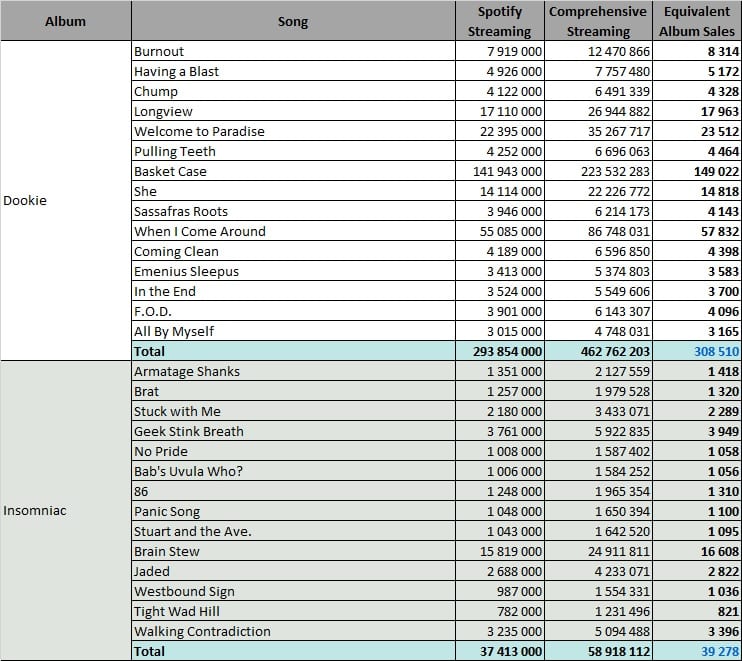 With Dookie, Green Day dimension completely changed. That situation remains true in Streaming World. All songs from it top 3 million, a tremendous showing for a 15-tracks 1994 album. Its 5 singles from the original era are all on 14 million or more. The leading force is easily Basket Case at an impressive 142 million plays. Such solid results are reflected with 309,000 equivalent album sales.
Insomniac is nowhere near its predecessors. In spite of a good overall showing, only Brain Stew faced well the test of time at 16 million streams. Overall, the LP registers 39,000 equivalent album sales.
Pages:
Page

1
,
Page

2
,
Page

3
,
Page

4
,
Page

5
,
Page

6
,
Page

7
,
Page

8
,
Page

9
,
Page

10
,
Page

11
,
Page

12
,
Page

13
,
Page

14
,
Page

15
,
Page

16
,
Page

17
,
Page

18
,
Page

19
,
Page

20
,
Page

21
,
Page

22
,
Page

23
,
Page

24
,
Page

25
,
Page

26
,
Page

27
,
Page

28
,
Page

29
,
Page

30
,
Page

31
,
Page

32
,
Page

33
,
Page

34
,
Page

35