David Bowie Career CSPC Results
So, after checking all figures, how many overall equivalent album sales each David Bowie album achieved? Well, at this point we barely need to do the addition of all figures defined all over this article!
In the following table, all categories display figures that way, e.g. in equivalent album sales. For example, Let's Dance singles released in digital format sold the equivalent of 270,000 albums – 1,800,000 downloads with a 10 to 1,5 weighting.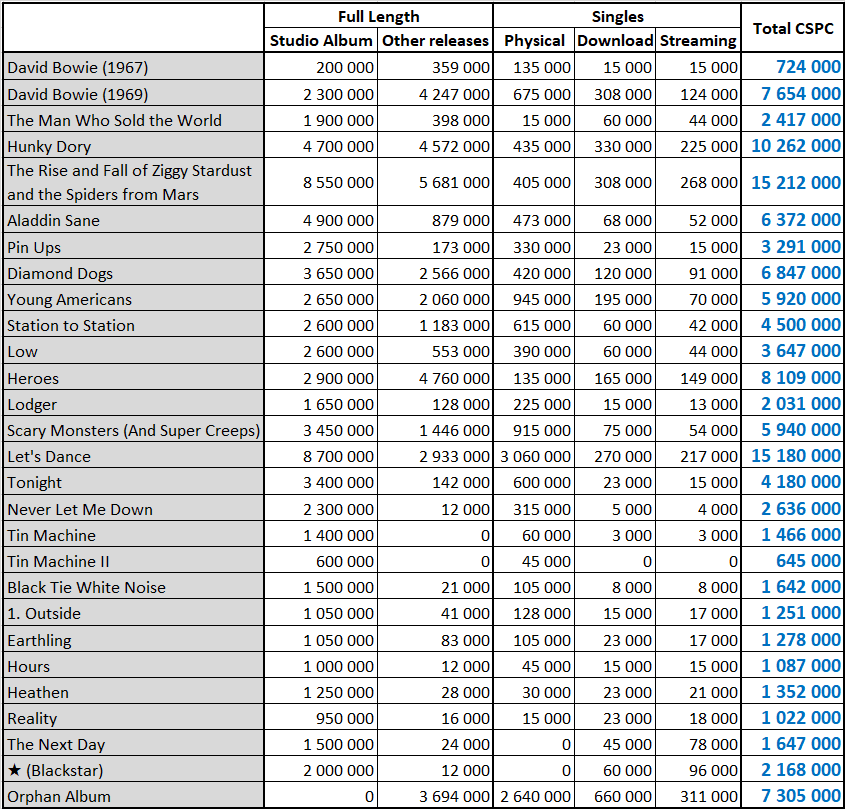 As a reminder:
Studio Album: sales of the original album
Other Releases: sales of compilations generated thanks to the album
Physical Singles: sales of physical singles from the album (ratio 3/10)
Download Singles: sales of digital singles from the album (ratio 1,5/10)
Streaming: equivalent album sales of all the album tracks (ratio 1/1500)
Thanks to all compilation and live albums sold on the back of its songs, The Rise And Fall of Ziggy Stardust and the Spiders from Mars ends up beating Let's Dance by a few units, both at roughly 15 million equivalent album sales.
Just under Aladdin Sales in album sales only, Hunky Dory appears to be much bigger overall thanks to larger hits, it is his third album over 10 million. David Bowie (1969), Heroes, Diamond Dogs, Aladdin Sane, Scary Monsters and Young Americans all passed the 5 million mark.
Maybe even more important to highlight is the way the singer managed to stick over 1 million with all his releases except one during his last 30 years in spite of getting no hits at all in this time frame.
Guess what? A couple of albums at 15 million or 50 years of albums over 1 million is still less significant than the impressive total of 125,8 million equivalent album sales David Bowie amassed over his legendary career. Following pages list the most successful songs of the artist.
Do not forget to check our amazing lists posted inside the CSPC: Data Collector which includes the full listing of all CSPC results compiled so far to better gauge her position in the history of the music industry.
As usual, feel free to comment and / or ask a question!
Sources: IFPI, Spotify, Chartmasters.org.
Pages:
Page

1
,
Page

2
,
Page

3
,
Page

4
,
Page

5
,
Page

6
,
Page

7
,
Page

8
,
Page

9
,
Page

10
,
Page

11
,
Page

12
,
Page

13
,
Page

14
,
Page

15
,
Page

16
,
Page

17
,
Page

18
,
Page

19
,
Page

20
,
Page

21
,
Page

22
,
Page

23
,
Page

24
,
Page

25
,
Page

26
,
Page

27
,
Page

28
,
Page

29
,
Page

30
,
Page

31
,
Page

32
,
Page

33
,
Page

34
,
Page

35
,
Page

36
,
Page

37
,
Page

38
,
Page

39
,
Page

40
,
Page

41
,
Page

42
,
Page

43
,
Page

44
,
Page

45
,
Page

46
,
Page

47
,
Page

48
,
Page

49
,
Page

50
,
Page

51
,
Page

52
,
Page

53
,
Page

54
,
Page

55
,
Page

56
,
Page

57
,
Page

58
,
Page

59
,
Page

60