Streaming Sales
The below table lists Spotify streaming of all songs from the five albums we are studying. The Comprehensive Streaming is reached by multiplying Spotify figures by 68/26. In fact, as shown in the IFPI 2015 Report, there were 68 million paying subscribers to all streaming platforms by the end of 2015. While the exact count of Spotify paying subscribers by the end of 2015 is unknown, that figure reached 20 million in June 2015 and 30 million in March 2016, thus an estimated 26 million is used as of the end of 2015.
The equivalent album sales is the division of the comprehensive streaming figure by 1500, as is now the norm in the new industry model.
Streaming Part 1 – Mixtaping Hits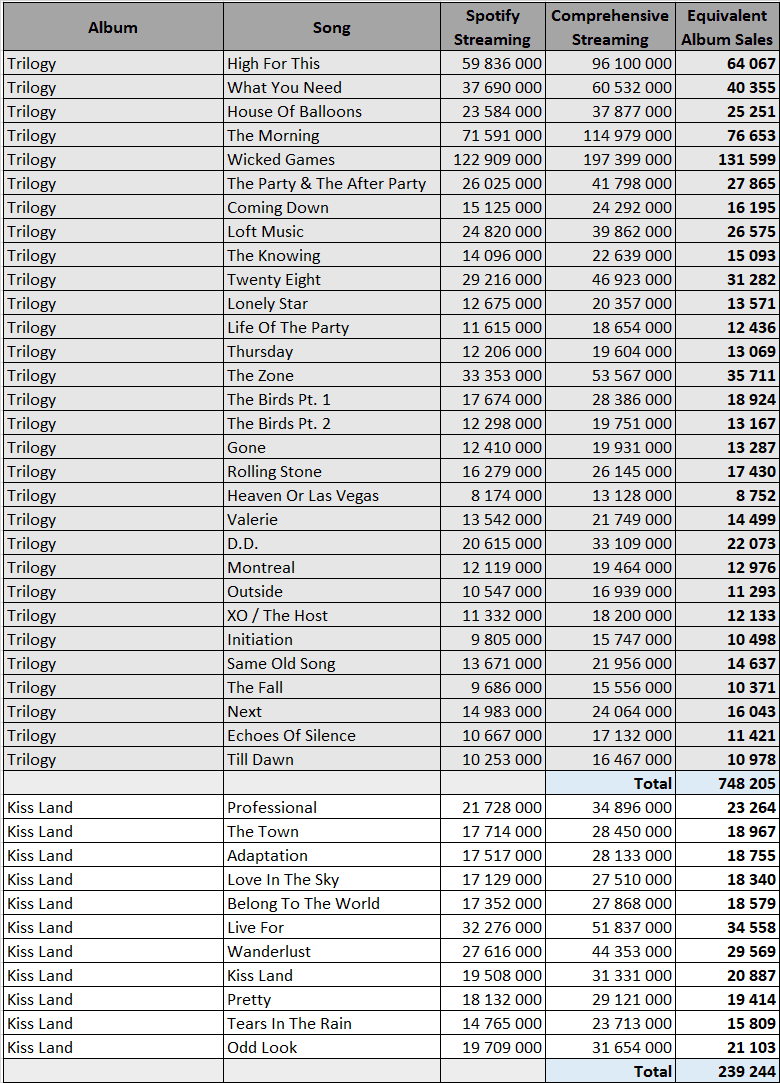 Due to it combining three mixtapes, Trilogy runs for as many as 30 tracks and 159 minutes. Released before the streaming explosion, the package still proves to be insanely attractive as every single song tops 8 million plays, 29 of which are on 9,7 million or more.
Such an outstanding consistency is translated into 748,000 equivalent album sales in spite of the lack of a truly big hit.
Kiss Land suffers from having far less songs as on a per-song basis. Still, it is impressive as well with every track over 14,8 million.