Streaming Part 2 – Success Was The Same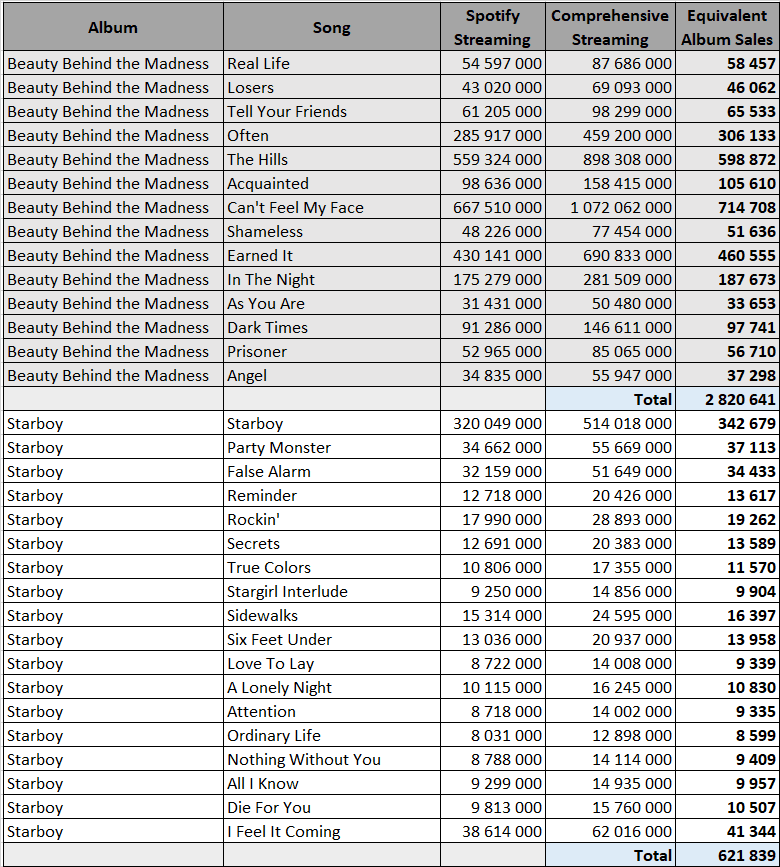 With Beauty Behind the Madness, The Weeknd entered the club of big music stars. The album is ridiculously consistent with all songs over 31,4 million plays, but also impresses with a top 3 of songs that averages more than 550 million streams a piece. No doubt why the set was named Spotify's Global #1 Album of 2015.
In terms of equivalent album sales, this represents nearly 4,6 million units, more than twice as much as the original album sales.
Available for a mere 8 days, Starboy achieves superb results. The title track, used as the leading single had more time to amass streams, being up to 320 million already. All tracks are just incredibly strong though with each of them over 8 million. It won't be long before they all top 10 million. One may notice how many songs the album contains – 18. This is the same number of tracks Purpose by Justin Bieber had. Views by Drake raised the bar even more with 20 songs, roughly twice as many as most popular albums from the 90s. In an era where artists and majors are paid per song streamed, instead of per album sold, the more songs an album has the more profitable it will be.