Full Length related records Sales
Shakira is part of that generation of artists that released enough material to justify a compilation album once those packages were already losing their relevance, thus, never releasing one. To exploit her new popularity reached in 2001 yet, Sony did issue Grandes Exitos combining her most popular Spanish tunes up to that point. Various successful live albums have been dropped during her career as well.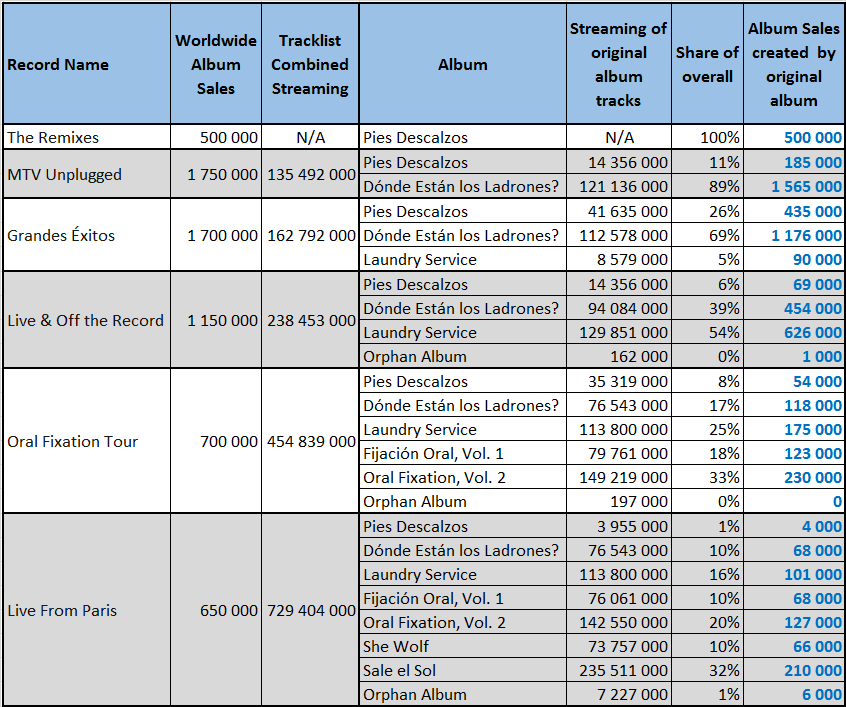 How to understand this table? If you check for example MTV Unplugged live album line, those figures mean it sold 1,750,000 units worldwide in both album and video format. The second statistics column means all versions of all songs included on this package add for 135 million streaming plays on Spotify as of November 12th 2016.
The second part at the right of the table shows how many streams are coming from each original album plus the share it represents on the overall package streams. Thus, streaming figures tell us Dónde Están los Ladrones? songs are responsible for 89% of the MTV Unplugged tracklist attractiveness, which means it generated 1,565,000 of its 1,750,000 album sales and so on for the other records.
For most artists, live and compilations sales got generated by singles of their biggest albums, which is quite normal as it usually features the artist biggest hits. This isn't the case at all for Shakira. Both MTV Unplugged and Grandes Exitos sold very well and both are massively droven by songs of Dónde Están los Ladrones?. This is why there isn't that much of a gap in album sales between that album and Pies Descalzos in spite of its arguably more popular songs, because quickly after its release its sales got translated into different packages.
Live From Paris track list is the closest we can get to a career spanning compilation and highlights how each and every album from Shakira is home of relevant hits.