Streaming Sales
Below table lists Spotify streaming of all songs from the five albums we are studying. The Comprehensive Streaming is reached by multiplying Spotify figures by 68/26. In fact, as shown in IFPI 2015 Report, there were 68 million paying subscribers to all streaming platforms by the end of 2015. While the exact count of Spotify paying subscribers by the end of 2015 is unknown, that figure reached 20 million in June 2015 and 30 million in March 2016, thus an estimated 26 million is used as of the end of 2015.
The equivalent album sales is the division of the comprehensive streaming figure by 1500 as it is now the norm in the new industry model.
Streaming Part 1 – Latin America Storm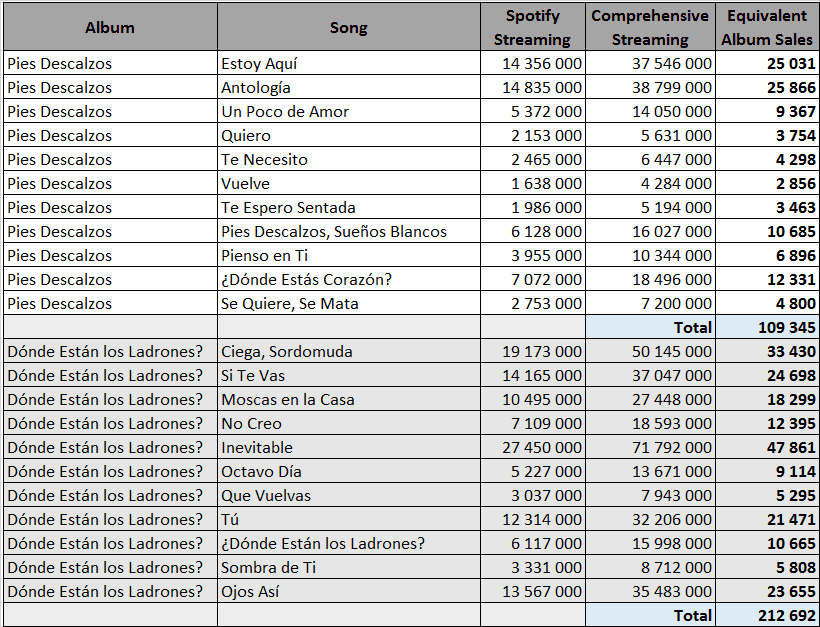 A few days ago, I posted the CSPC article of Shania Twain discography. On it, I mentioned how 255,000 equivalent album sales was somehow not that impressive for her juggernaut album Come On Over. Believe it or not, Shakira Spanish album from the same era Dónde Están los Ladrones? is quite close from it at 213,000 units.
This is the illustration of how utterly massive it has been in the Spanish world. Very few catalog songs in foreign languages topped the 10 million mark at Spotify so far, yet as many as 6 did it from that album alone. Still not convinced? Those two Spanish records have as many 10+ million songs than Madonna first 9 albums combined.
Some intriguing fact to take off those mind-blowing results is how Dónde Están los Ladrones? crushes Pies Descalzos by almost 2 to 1 although they sold similar amounts of studio albums. We will be understanding why within' a few more pages.