Destiny's Child & Beyonce CSPC Results
So, after checking all figures, how many overall album sales equivalent each Destiny's Child and Beyoncé album achieved? Who's ahead overall? Is the diva the highest selling artist since she first came out? Let's summarize everything together!
In the following table, all categories display figures that way, e.g. in equivalent album sales. For example, B'Day singles released in digital format sold the equivalent of 4,065,000 albums – 26,300,000 downloads with a 10 to 1,5 weighting.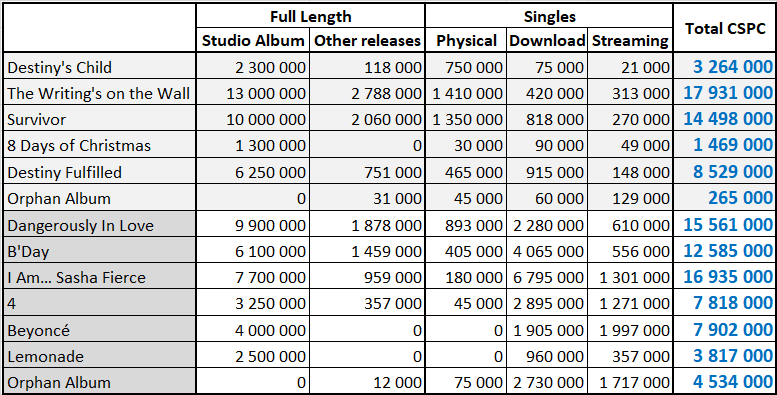 As a reminder:
Studio Album: sales of the original album
Other Releases: sales of compilations generated thanks to the album
Physical Singles: sales of physical singles from the album (ratio 3/10)
Download Singles: sales of digital singles from the album (ratio 1,5/10)
Streaming: equivalent album sales of all the album tracks (ratio 1/1500)
Leading all the three categories made of physical sales / long formats, The Writing's on the Wall remains the biggest album of the comprehensive career of both artists. Its lead is far from being large though as a trio of albums follow with very close numbers, all in the 14,5-16,9 million range, Survivor, Dangerously In Love and I Am… Sasha Fierce. As the strongest catalog album, this latter should ultimately solely claim the top spot.
B'Day comes next with a very solid 12,6 million while Destiny Fulfilled, Beyoncé and 4 stand around 8/8,5 million a piece. Beyoncé is still going very strong in streaming so topping the last effort from the Destiny's Child isn't out of reach.
While no album really crack all-time lists numbers, the fact no album from their 1999 true breakthrough until 2016 Beyoncé's set Lemonade dropped below 7,8 million is very impressive.
Cumulatively, the Destiny's Child catalog is up to 45,95 million equivalent albums units through all formats. On her side, Beyoncé claims 69,15 million equivalent album sales. This is the perfect illustration of the less dominant position of the album format lately as the similar number of albums sold by both acts is strongly contradicted by the 23 million gap when all formats are took into consideration.
As for the question about Beyoncé being the highest selling artist right now, the answer is no. Adele, at nearly 77 million as of last July 2016 or Rihanna, at 75 million as of June 2016, are examples of artists that first came out years after Beyoncé who are already well past her total. At 68,5 million Taylor Swift is coming to her heels too. Her sales are easily enough to make Beyoncé one of the biggest artist of the last 15 years still.
Over the next pages, you will first find the same information exploded into each singles rather than albums to define the most successful ones.
Do not forget to check our amazing lists posted inside the CSPC: Data Collector which includes the full listing of all CSPC results compiled so far to better gauge her position in the history of the music industry.
As usual, feel free to comment and / or ask a question!
Sources: IFPI, Spotify, Hits Daily Double, Chartmasters.org.