Streaming Part 6 – Marketing tricks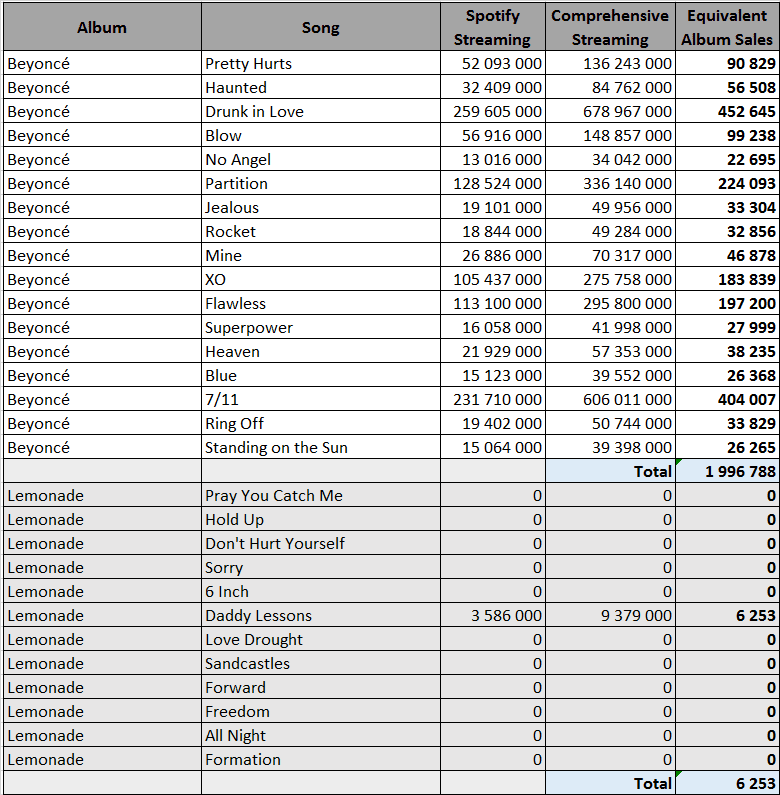 The first album fully released during the streaming era, the eponymous record Beyoncé has been one of streamers favorite albums since it came out. Once again numbers speak by themselves – 5 hits over 100 million and all its 17 tracks over 15 million. The album is a shy of 2 million equivalent units sold.
Then comes Lemonade at 6,000 equivalent album sales. Well, as you can guess there is a trick behind that number. To promote the platform on which Beyoncé and her husband invested TIDAL the album was released to stream exclusively on that software. No worries, there is always a way to value accurately figures! The wonderful site Hits Daily Double posted a few days ago the Year End chart of streaming albums in the US. Lemonade appeared on that ranking with 336,56 million streams for the country. As the album sold 1,6 million of its 2,5 million units in the US, we can extrapolate its streams accordingly to 525,87 million. Applying the 1500 to 1 ratio between streaming plays and album sales, this brings an additional 351,000 album sales to the record. This clearly pales in comparison to her previous albums. With barely 4 million paying subscribers on TIDAL, the lack of availability from much stronger sites like Spotify (40 million) or Apple Music (17 million) strongly impacted its total. In the other side, this explains why Lemonade sales aren't that far from Beyoncé at 2,5 million against 4 million in spite of much weaker success overall.