Streaming Sales
Below table lists Spotify streaming of all songs from the five albums we are studying. The Comprehensive Streaming is reached by multiplying Spotify figures by 68/26. In fact, as shown in IFPI 2015 Report, there were 68 million paying subscribers to all streaming platforms by the end of 2015. While the exact count of Spotify paying subscribers by the end of 2015 is unknown, that figure reached 20 million in June 2015 and 30 million in March 2016, thus an estimated 26 million is used as of the end of 2015.
The equivalent album sales is the division of the comprehensive streaming figure by 1500 as it is now the norm in the new industry model.
Streaming Part 1 – Say Their Name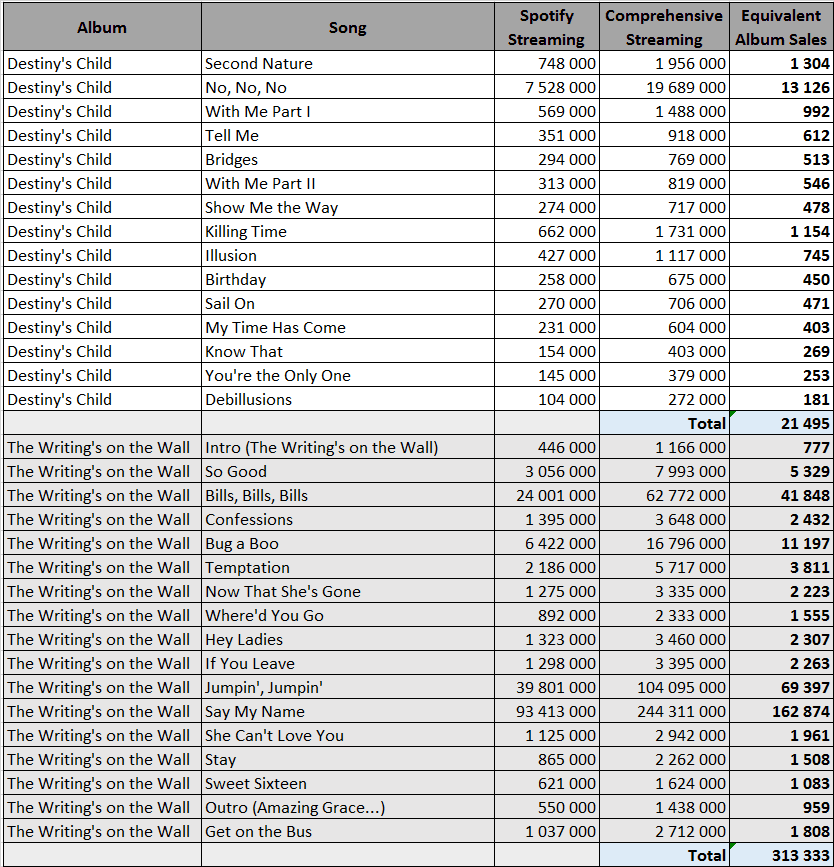 I mentioned already many times in the past how much streaming reveal the real popularity of songs. The low catalog sales of Destiny's Child debut album even during the huge eras that followed it has always been quite bizarre. With those awful streaming results, we understand that its tracks were simply not popular at all and still aren't. Even No, No, No, their largest seller ever in physical single format, has only 7,5 million streams as of now.
The situation of The Writing's on the Wall is clearly different. Say My Name is still hugely popular getting closer and closer to the 100 million plateau. At 64 million combined, Jumpin', Jumpin' and Bills, Bills, Bills remain 90s R&B favorites. Overall, the album sums 313,000 equivalent album sales from streaming which is a huge number for such a old record.